UBC 3MT finalist calls for more science communication
---
Tuesday, August 30, 2022
Trainees
This post was written by Ardin Sacayanan, an undergraduate student, and edited by Loulou Cai, a PhD student. Ardin and LouLou are trainees at the Centre for Blood Research at the University of British Columbia. The post originally appeared on the Centre for Blood Research blog in August 2022. 
Nicolas Pereyra is a graduate student in the laboratory of Dr. Dana Devine, Canadian Blood Services chief scientist, located at the Centre for Blood Research.  
We are happy to congratulate Nicolas Pereyra for placing in the top three of this year's UBC Three Minute Thesis (3MT)!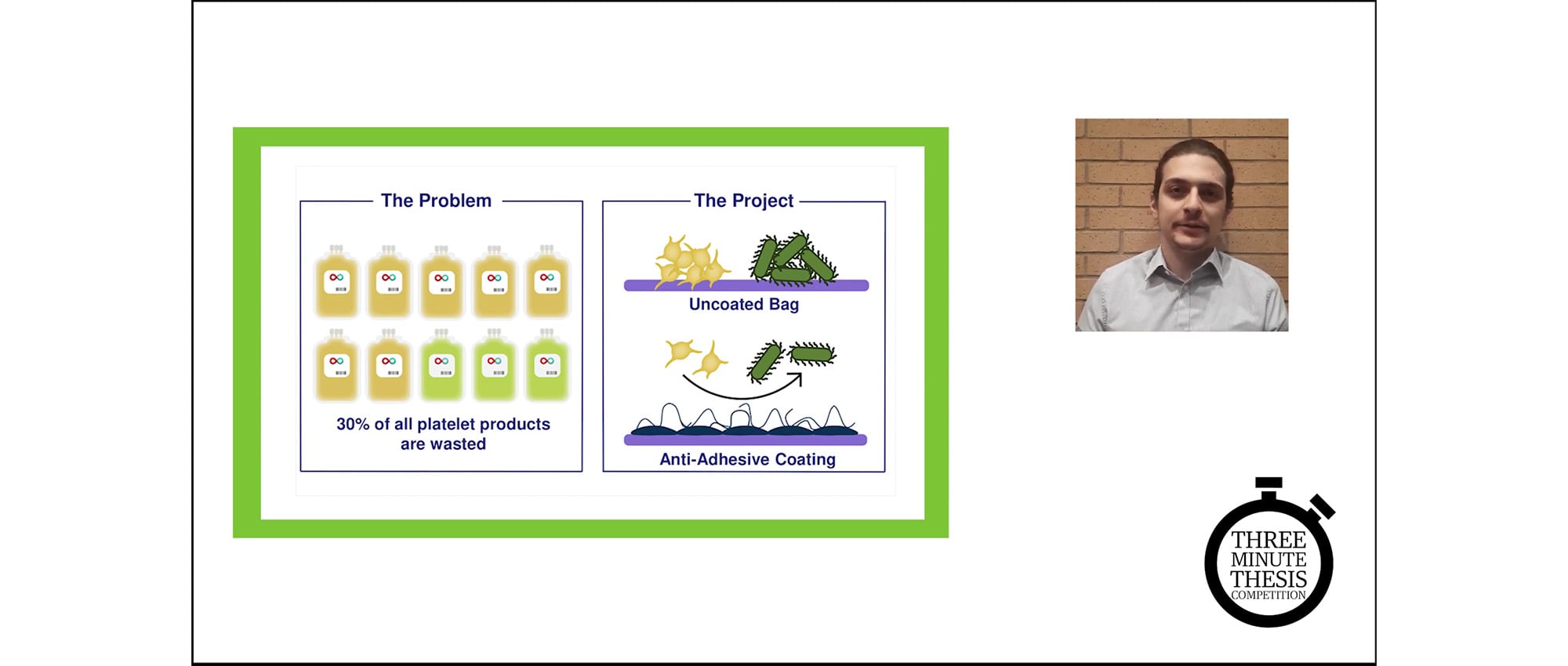 The 3MT is an academic competition that challenges students to hone their presentation and communication skills, as participants only have 3 minutes to explain the breadth and impact of their research to a general audience. The competition is held at universities across the world, showcasing research and discoveries from health science to engineering.  
This year, Nicolas presented his graduate research project on extending the shelf-life of blood products, by designing a coating that protects the cells inside these packages. Specifically, he is modifying platelet storage bags, which hold important and irreplaceable blood clotting factors.  
"You can replace somebody's heart and they will live. You can put people on dialysis or artificial lungs, but there is no replacement for blood products. That just doesn't exist yet," said Nicolas, a MSc Student in the Devine Lab. "Maintaining the quality of blood products is essential for anything that comes into contact with blood, from COVID vaccines to implantables and prosthetics." 
He was inspired to participate in the UBC 3MT due to his love for public speaking, and to share his work and dedication to science.  
"The ability to explain something in a simple way, to people that don't know anything about science, is super valuable," said Nicolas. "Public speaking skills are useful for communicating with anyone, from any discipline. You have to be able to speak the layman's language, otherwise collaborative work becomes nigh impossible. You can't live your whole life speaking in fancy acronyms when other people have wildly different educational backgrounds." 
Nicolas then affirmed the value of intercommunication between scientists and the general public. "You have a responsibility, at the end of the day, to communicate about the important and cool work that you do, to a world that doesn't know what you're doing." 
He also feels that science communication tools are not easily accessible to students, and hopes there are more readily available resources. 
"I would love to do more science communication-type stuff like public speaking, but it's tough," he said. "Maybe a takeaway from this experience is trying to find a little hub where people can go to find all of the current opportunities for public speaking and communication, because I'm sure there's interest for it." 
Although Nicolas tied for third, he's got his eyes on first place and is ready to come back again next year. He plans to compete in several other pitch competitions as well. In the meanwhile, you can find Nicolas in Dr. Dana Devine's laboratory as he continues to work on his research. Stay tuned! 
-------------------------- 
DYK: Canadian Blood Services and the Centre for Blood Research are running a Research 180 Video Competition for trainees? It's open for entries until October 31, 2022. Check out the Competition page or last week's R.E.D. blog post for the details!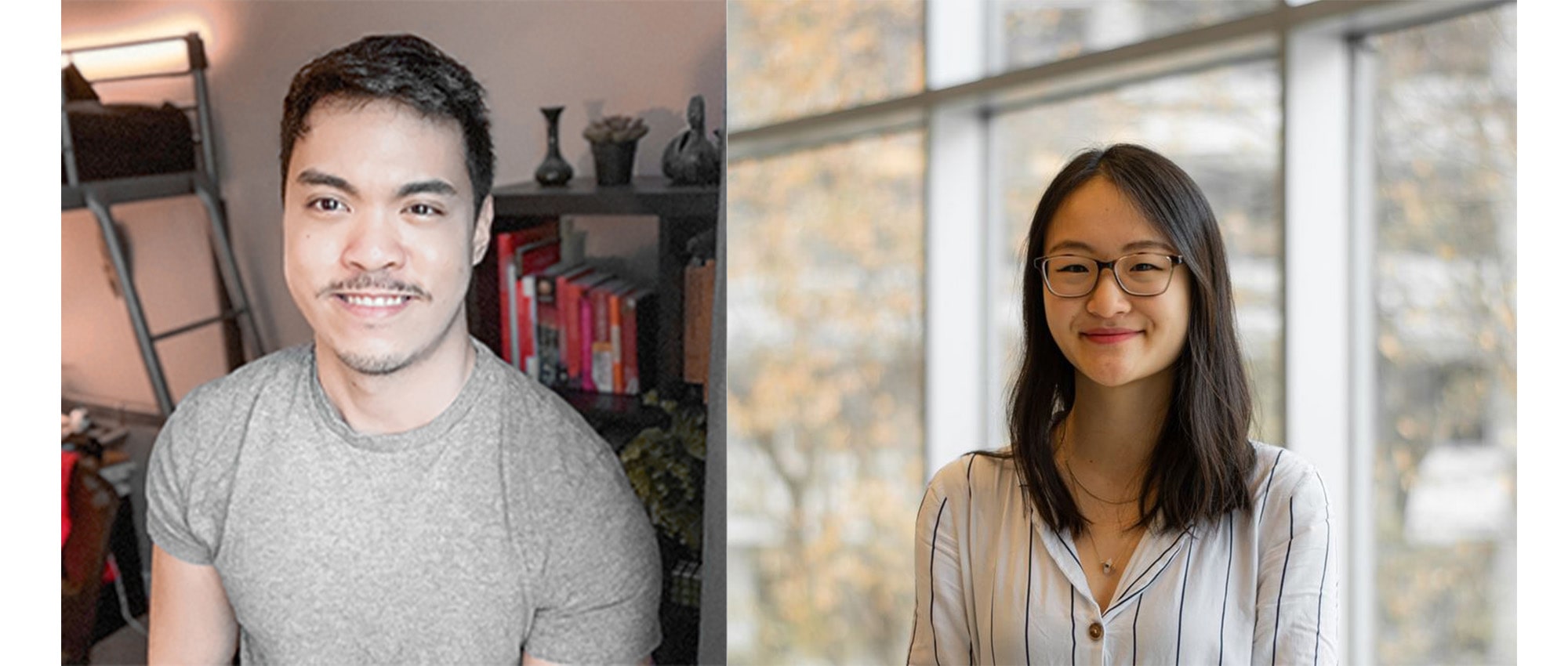 ---
Canadian Blood Services – Driving world-class innovation 
Through discovery, development and applied research, Canadian Blood Services drives world-class innovation in blood transfusion, cellular therapy and transplantation—bringing clarity and insight to an increasingly complex healthcare future. Our dedicated research team and extended network of partners engage in exploratory and applied research to create new knowledge, inform and enhance best practices, contribute to the development of new services and technologies, and build capacity through training and collaboration. Find out more about our research impact.  
The opinions reflected in this post are those of the author and do not necessarily reflect the opinions of Canadian Blood Services nor do they reflect the views of Health Canada or any other funding agency. 
Related blog posts
---
Thursday, August 25, 2022
Dr. Geraldine Walsh
Canadian Blood Services, in partnership with the Centre for Blood Research, just launched our first ever Research 180 Video Competition for trainees. Read on to learn more!
---
Thursday, June 02, 2022
Canadian Blood Services trainees
The 11th annual Centre for Blood Research Norman Bethune Symposium was held on April 6, 2022. With a focus on recent research advances in bleeding and thrombosis, the symposium engages scientists and clinicians at all levels of training.
---
Thursday, February 03, 2022
Andy An
Imagine a cut on your hand gets infected. It gets hot, swollen, painful – but it means your immune system is fighting off that infection. Now imagine that happening throughout your entire body because the infection spread everywhere through your bloodstream. This is sepsis – a life-threatening blood infection. Read on to learn what we know and don't know about sepsis, the link to COVID-19, and why we're entering a new era of heightened interest in sepsis research.