The 2022 Norman Bethune Symposium was held in a hybrid format, with some attendees in person in Vancouver, BC, and others attending virtually via Zoom. In today's post, we hear from two trainees about their experience attending – one who attended and presented virtually, and one who was there in person. 
Sylvia Ighem Chi
Postdoctoral Fellow in Dr. Sandra Ramirez Arcos' lab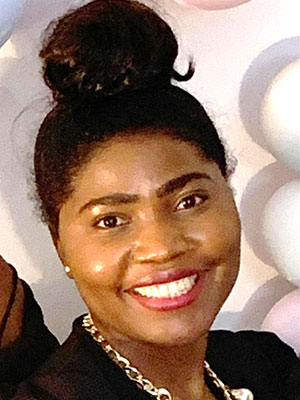 Did you attend virtually or in person? 
I attended the 11th Norman Bethune symposium virtually from Ottawa. 
Did you present? And if so, tell us about the research you presented. 
I was excited not just to attend this symposium but also to present my current work orally. My presentation title was "Staphylococcus aureus exotoxins: potential biomarkers for bacterial contamination in platelet components". S. aureus is a longstanding threat to transfusion medicine. It's the principal cause of false-negative transfusion reactions involving platelets due to its production of exotoxins that cause septic shock symptoms. My current project at Dr. Ramirez's lab aims to identify biomarkers to tracking bacterial contaminants in platelet components. Our analyses indicate that exotoxins exhibit characteristics of biomarkers, as we detected increased exotoxins expression in platelets components contaminated by S. aureus. Therefore, I propose exotoxins as valuable biomarkers for identifying platelet components that are contaminated by S. aureus.  
What was the most exciting talk at the Symposium?  
At the symposium, several presentations were interesting; for instance, the ways to improve blood safety using an infection-resistant storage device by Helen Chen and physical biomarker talk by Dr. Hongshen Ma, both from UBC. However, the most exciting talk was presented by Dr. Andreas Greinacher, from Greifswald, Germany, on vaccine induced thrombotic thrombocytopenia. It was informative to know that vaccines can cause a disorder that results in platelets clumping in small blood vessels. 
Any other comments about your experience at the 2022 Norman Bethune Symposium? 
The hybrid symposium this year was successful as it was possible for me attending virtually to hear and see the participants and presenters. However, it was not easy to evaluate the posters virtually, especially when asking questions and getting responses from the poster presenters. Overall, the symposium this year was great and many thanks to the organizers. 
Want to learn more about the research that was presented at the 2022 Norman Bethune Symposium? Go to the Centre for Blood Research webpage to read the program and view a recording of the symposium presentations and check out their blog for a report on the day's events (coming later in June). 
Alexandra Witt
Master's student in Dr. Ed Pryzdial's lab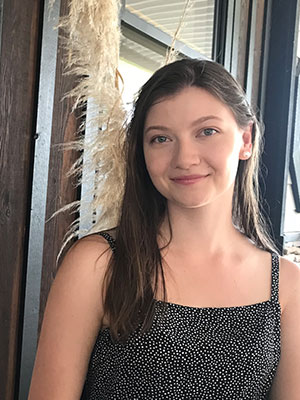 Did you attend virtually or in person? 
I attended in-person. 
Did you present? And if so, tell us about the research you presented. 
I presented a poster on the generation of a double mutant clotting factor X (FX) to act as a new clot-busting drug. My research looks to use a non-enzymatic enhancer of fibrinolysis, or the clot busting process, to replace Alteplase as the current gold-standard drug for the treatment of heart attacks and stroke. Where the fibrinolytic process has already begun, enzymes generated in that area can cleave FX into a protein capable of accelerating clot breakdown. After successfully mutating the protein to inhibit its natural clotting ability and give it a longer half-life, my job is to test the new protein's ability to bust clots both in vitro and in vivo. 
What was the most exciting thing you learned at the Symposium?  
As an overall theme, the most exciting thing that I learned at the 2022 Norman Bethune Symposium was that accessible science is the best science. Between posters, presentations, and generally talking to attendees about their work, the ability to communicate what you do and why you do it to people outside of your field is incredibly important. 
Any other comments about your experience at the 2022 Norman Bethune Symposium? 
As an adjunct to my previous point, I am grateful that the Centre for Blood Research is able to bring in a patient to share their story each year. As with Norman Bethune's work and everything we do, it's important to keep in mind who we truly do this for. 
Canadian Blood Services are proud to partner with the Centre for Blood Research to deliver training and education events including the annual Norman Bethune Symposium. 
Do you enjoy symposia and conference reports from our network? The 2022 Canadian Society for Transfusion Medicine conference just took place at the end of May, in person in Toronto, ON. Watch this space over the coming weeks to learn more about that event and our network's contributions to it. 
---
Canadian Blood Services – Driving world-class innovation
Through discovery, development and applied research, Canadian Blood Services drives world-class innovation in blood transfusion, cellular therapy and transplantation—bringing clarity and insight to an increasingly complex healthcare future. Our dedicated research team and extended network of partners engage in exploratory and applied research to create new knowledge, inform and enhance best practices, contribute to the development of new services and technologies, and build capacity through training and collaboration. Find out more about our research impact.  
The opinions reflected in this post are those of the author and do not necessarily reflect the opinions of Canadian Blood Services nor do they reflect the views of Health Canada or any other funding agency.
Related blog posts
---
Friday, July 09, 2021
Dr. Basit Yousuf
Postdoctoral fellow, Dr. Basit Yousuf, describes his experience attending and presenting at the 10th annual Norman Bethune Symposium.
---
Thursday, April 21, 2022
Alexandra Witt
Read the entry that was awarded first place in this year's "Science behind the scenes" Lay Science Writing Competition! Congratulations to the winner, graduate student Alexandra Witt. She identified high school students as her target audience and wrote an engaging piece that sheds light on the questions scientists ask when developing a new drug.
---
Tuesday, August 03, 2021
Dr. Geraldine Walsh
For the second year, the International Society of Blood Transfusion (ISBT) offered their annual congress online. In June 2021, the virtual "ISBT In Focus" explored the latest in transfusion medicine and science, immunohematology and cellular therapies. In today's blog, two Canadian Blood Services' delegates describe their experiences at the congress.