A transplant journey: Meet Centre for Innovation's Everad Tilokee
---
Friday, April 28, 2017
Jenny Ryan
This week is National Organ and Tissue Donation Awareness Week and 2017 marks the 20th anniversary of NOTDAW. Legislation creating the week was brought forward by former Member of Parliament Dan McTeague as a tribute to the family of pediatric organ donor Stuart Herriott, whose gift saved four lives and whose memory continues to inform people of the critical need for more organ and tissue donors in Canada.
Image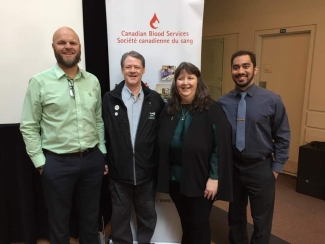 Left to right: Sean Delaney, kidney transplant recipient and associate director for Canadian Transplant Registry Listing and Allocation at Canadian Blood Services; Larry – a double lung recipient from Ottawa, Sandra Holdsworth – a liver recipient and board member with the Canadian Transplant Association, and Everad Tilokee, Research and Training Program coordinator at Canadian Blood Services' Centre for Innovation.  
Everad Tilokee's transplant journey
Meet Everad Tilokee, Research and Training Program coordinator at Canadian Blood Services' Centre for Innovation. He's also a heart transplant recipient.
Everad was diagnosed with heart failure when he was 13. This diagnosis turned a once active life upside down. No more competitive soccer, an array of meds along with their side effects and eventually, in 2010, after suffering a heart attack he had a defibrillator put in his chest.
Image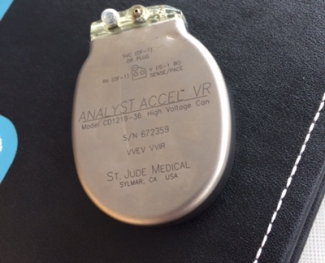 "In addition to having a metal device roughly 5 cm in length in my chest just under my skin, I began taking warfarin (an anticoagulant to prevent blood clots)," Everad explains. "This meant I had to go for blood tests very frequently to measure the medication levels in my blood. It also meant I had to avoid falls, and be extremely careful about my diet because of interactions with the medication." 
His health didn't hold him back from his studies – at first. After high school, Everad went to McMaster to study biology – he had a keen interest in cardiology. And, no wonder. After graduation, he decided to pursue a Master's degree through the University of Ottawa and the Heart Institute.   
He'd just submitted his Master's thesis, titled "Genetic modification of cardiac stem cells with stromal cell-derived factor 1α to enhance myocardial repair", when he got a virus that accelerated the heart failure. His doctors started testing… by early May 2014 he was at the top of the waitlist. Three weeks later, on May 24, he received a heart transplant. He was the Ottawa Heart Institute's 545th heart transplant. A tragic motorcycle accident and the generosity and forethought of a donor and his family changed everything for Everad.
Did you know there is a National Organ Waitlist? When organs become available, transplant programs and organ procurement organizations can access a National Organ Waitlist online to identify patients in most critical need of an organ anywhere in Canada.  
The transplant was "textbook" with no complications.
"I was extremely fortunate to not require a blood transfusion which is quite common during transplant surgeries. The medical staff were professional and had me on the road to recovery in no time," says Everad. "I was also lucky to have had an extremely strong support network behind me that included my family, friends, and random acts of kindness from strangers. That certainly helped me as well."
Everad recovered quickly and returned to his home and family in Burlington. It wasn't long before he was back in Ottawa to successfully defend that Master's thesis and, one-year post transplant, to run the 5 km event during Ottawa Race Weekend 2015.
Image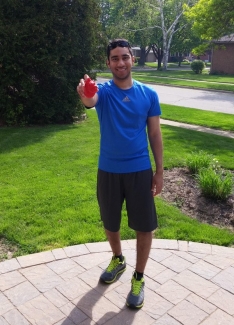 Now Everad's back in Ottawa for good with a new job in our Centre for Innovation inspiring us with his talent, passion and love for life.
Everad's appreciation for his donor and second chance at life is clear. He lives every day to the fullest, cycles and runs in his donor's honour. We're lucky to have him as part of the Canadian Blood Services' team.
"Post-transplant I discovered a road cycling. I bought an expensive road bike and figured it was a nice way to honour my donor's legacy and stay in shape," says Everad. "While I'm struggling up a steep climb, I like to think that his gift is my secret weapon getting me to the top. This spring and summer I intend on riding to work everyday, something that three years ago was completely inconceivable."
On Monday, Everad attended our National Organ and Tissue Donation Awareness Week kick-off event at head office. 
What can you do to help?
Learn more about organ and tissue donation and register your intent to donate, visit organtissuedonation.ca
Have that all important conversation with loved ones about organ donation and your wishes.
---
Canadian Blood Services works with the Organ and Tissue Donation and Transplantation community to improve national system performance. We do this through the development of leading practices, professional education, public awareness and data analysis and reporting. We also manage clinical programs that support interprovincial sharing of organs.
Canadian Blood Services – Driving world-class innovation
Through discovery, development and applied research, Canadian Blood Services drives world-class innovation in blood transfusion, cellular therapy and transplantation—bringing clarity and insight to an increasingly complex healthcare future. Our dedicated research team and extended network of partners engage in exploratory and applied research to create new knowledge, inform and enhance best practices, contribute to the development of new services and technologies, and build capacity through training and collaboration.
The opinions reflected in this post are those of the author(s) and do not necessarily reflect the opinions of Canadian Blood Services.
Related blog posts
---
Tuesday, November 15, 2016
Marco Ouji
Documentary brings to the screen the lasting impact and major importance of organ donation across the country.