Suite of resources available to hospitals as pathogen-reduced platelet roll-out continues
---
Tuesday, April 25, 2023
Amanda Nowry
Pathogen-reduced platelets are one of the newest blood components manufactured by Canadian Blood Services. Pathogen-reduced platelets, also known as pooled platelets psoralen-treated or "PPPT", were first introduced to hospitals served by our Ottawa production site in January 2022. In March 2023, their roll-out continued to include hospitals served by our Dartmouth production site.   
Why manufacture pathogen-reduced platelets?
By implementing pathogen-reduced platelets, Canadian Blood Services joins many other countries around the world who are using pathogen inactivation technology. The technology effectively inactivates potential pathogens – including emerging pathogens or those that can't yet be tested for—to provide an extra layer of safety on top of the measures already used before, during, and after collection to reduce the risk of pathogens in blood components.  
See the PPPT manufacturing steps at Canadian Blood Services depicted in this short animation:  
Pathogen-reduced platelets do not need to undergo the bacterial testing process routinely used for untreated (not pathogen-reduced) platelets – meaning they can be released to hospitals sooner after manufacturing – and they don't need to be irradiated, a process that would typically be used to inactivate any white blood cells that might remain after filtration.  
Implementing pathogen-reduced platelets 
Introducing pathogen-reduced platelets to Canadian hospitals involved the work of dedicated teams at Canadian Blood Services. From the initial development and validation of the manufacturing process to the final steps of providing the platelets to hospitals and the many steps in between, these efforts help ensure a safe blood supply for patients in Canada.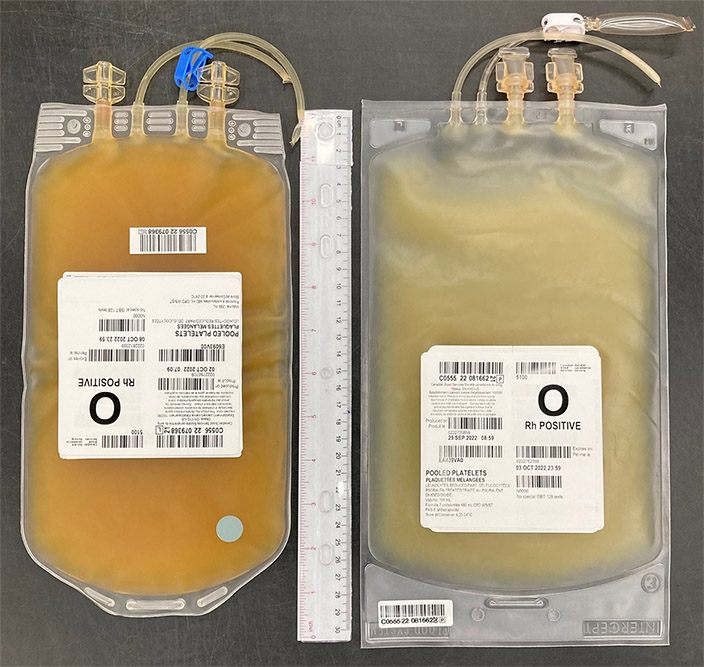 A suite of additional resources 
To support the implementation process, Canadian Blood Services has provided health-care providers with different ways to learn about pathogen-reduced platelets:  
A new addition to Canadian Blood Services' Clinical guide to transfusion provides a wealth of information and additional resources such as narrated videos, downloadable slide decks, a list of frequently asked questions, and animations depicting the new manufacturing process. All hospitals are encouraged to use the suite of additional resources available in the Clinical guide to transfusion Chapter 19: Pathogen-reduced platelets.
An initial set of Town Hall events, hosted by Canadian Blood Services' hospital liaison specialists and medical officers throughout October and November 2022, allowed hospital staff to ask questions in a live, virtual format. Town Hall events were also hosted for Manitoba hospitals in April 2023 in lead up to implementation at the Winnipeg production site.
Amanda Nowry is a Canadian Blood Services hospital liaison specialist that was involved in the development of the communication plan and resources supporting this roll-out. Says Amanda, "Following Dartmouth's roll-out in March 2023, we're aiming to introduce pathogen-reduced platelets in Winnipeg in May 2023." 
In addition to the continuation of the PPPT roll-out in 2023, Health Canada approval is being sought for the introduction of another type of pathogen-reduced platelet, called "APPT" or apheresis platelets psoralen-treated, at the Ottawa production site in mid-2023. 
---
Canadian Blood Services – Driving world-class innovation
Through discovery, development and applied research, Canadian Blood Services drives world-class innovation in blood transfusion, cellular therapy and transplantation—bringing clarity and insight to an increasingly complex healthcare future. Our dedicated research team and extended network of partners engage in exploratory and applied research to create new knowledge, inform and enhance best practices, contribute to the development of new services and technologies, and build capacity through training and collaboration. Find out more about our research impact.  
The opinions reflected in this post are those of the author and do not necessarily reflect the opinions of Canadian Blood Services nor do they reflect the views of Health Canada or any other funding agency.
Related blog posts
---
Thursday, March 24, 2022
Dr. Geraldine Walsh
In January 2022, Canadian Blood Services introduced pathogen-reduced platelets, a product that is manufactured using pathogen-inactivation technology, at its Ottawa production site. By effectively damaging the nucleic acids of a number of pathogens, pathogen inactivation further reduces the risk of transfusion-transmitted infections—an especially important safeguard against new or emerging pathogens, or pathogens for which tests are not available.
---
Friday, March 08, 2019
Dr. Geraldine Walsh
This primer is part I of our new series exploring the future of blood banking. Given that D is also for Development: Canadian Blood Services and the Centre for Innovation have been following the development of pathogen inactivation technologies and how they can be used to improve safety. Read-on to learn more about these technologies and their potential to shift the blood safety paradigm.
---
Thursday, November 17, 2022
Tricia Abe
Canadian Blood Services' Innovation and Portfolio Management annual progress report for 2021–22 is now available. The report recaps the collaborations in research and education that take place every day to support our shared purpose: to help every patient, match every need and serve every Canadian.