Tackling the gaps in blood safety
Canadian Blood Services is committed to blood safety because lives depend on it. To reduce the risk of infectious disease transmission from donor to patient, donors are extensively screened for risk factors prior to their donation. Every blood donation is tested for specific infectious disease agents (pathogens) known to be transmissible through blood. These are just some of the many measures Canadian Blood Services employ to keep the blood supply safe.
Despite these safeguards, the risk of infectious disease transmission, though very low, remains. Testing for infectious disease agents is very effective, although even the most sophisticated tests have detection limits. However, the main risks come from unknown agents, for which there are no tests, or from unanticipated infectious agents for which tests are not performed, or from bacterial contamination of platelet components, for which there are tests, but they are imperfect. These testing limitations are currently managed by the multiple layers of safeguards built into the system, but gaps remain. Pathogen inactivation technologies could help to tackle those gaps and make the blood supply even safer.
What are pathogen inactivation technologies?
Pathogen inactivation technologies offer broad-spectrum treatment against potential pathogens (bacteria, viruses and parasites) within blood and blood products. These technologies target and damage nucleic acids (DNA and RNA) in pathogens using ultraviolet (UV) light. DNA and RNA contain genetic information, and when a pathogen's DNA or RNA is damaged, it prevents the pathogen from reproducing. This effectively destroys a pathogen's ability to cause illness. As pathogen inactivation treatment attacks all nucleic acids, including those in residual white blood cells found in blood products, it may remove the need for additional treatments of blood products (e.g. irradiation) that are required for certain patient populations.
Altering the blood safety paradigm
Pathogen inactivation technologies potentially fill in the gaps in current blood safety approaches. Rather than focusing on the detection of specific, known pathogens, these technologies focus on inactivating any pathogens that may be present in a blood product. These technologies add a new layer of safety against emerging or unknown pathogens. Pathogen inactivation is often called a paradigm-altering approach because it is a pro-active rather than a re-active approach to blood safety.
Image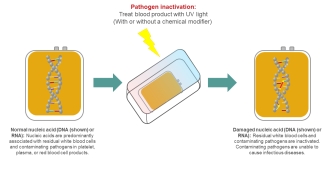 Image - The pathogen inactivation process
What pathogen inactivation technologies are available in Canada?
Several technologies have been or are being developed by three major biomedical companies, with some currently being used by blood operators in other countries. However, before a pathogen inactivation technology can be sold in Canada, and used by Canadian Blood Services, it must be licensed by Health Canada. This process takes time.
In 2018, the INTERCEPT technology, sold by Cerus Corporation to treat platelet and plasma components was licensed in Canada. At the time of this blog post, TerumoBCT is in discussions with Health Canada on securing approval for its Mirasol Pathogen Reduction Technology (PRT) in Canada. The THERAFLEX technology, developed by Macopharma for use on platelets and plasma components, is still in development and clinical trial stage.
There is also Octaplas, from OctaPharma, which is a pathogen inactivated plasma product made from large numbers of plasma donations treated with a solvent-detergent process. This was approved by Health Canada in 2005 and Canadian Blood Services currently purchases Octaplas and makes it available for prescribers to order for clinical use. However, rather than being a pathogen inactivation technology that can be used by blood operators in their manufacturing processes, this is a commercially-produced plasma product.
Image

What is Canadian Blood Services doing to prepare for pathogen inactivation technologies in Canada?
Canadian Blood Services has been studying and evaluating pathogen inactivation technologies for some years. In 2007, we held a consensus conference about pathogen inactivation technologies, which at that time were starting to be used in some European countries. More recently, through our Centre for Innovation we have been working to understand how these technologies would work in our manufacturing system, and how they would impact the quality of our blood products and ultimately patient safety. These studies help us to get acquainted with the technologies and their pros and cons before deciding which approach would be best for our system and Canadian patients.
What have we learnt so far?
The results of our studies are in alignment with what is known about pathogen inactivation technologies; overall pathogen inactivation would lead to safer products, but there are some drawbacks. Pathogen inactivation technologies have negative effects on the quality of the treated blood products. However, clinical studies indicate that the negative impact on quality can be managed, and there is evidence that the benefit in terms of reducing any residual risk from pathogens outweighs these negative impacts.
What's next for pathogen inactivation technologies at Canadian Blood Services?
Research to understand the impact of these technologies on Canadian Blood Services processes and product quality is continuing. The work of the Centre for Innovation will help ensure that pathogen inactivation, or any other new technologies we consider implementing, will bring benefit and allow us to continue to meet the needs of Canadian patients.
Learn more:
Hemostatic efficacy of pathogen-inactivated vs untreated platelets: a randomized controlled trial.
van der Meer PF, Ypma PF, van Geloven N, van Hilten JA, van Wordragen-Vlaswinkel RJ, Eissen O, Zwaginga JJ, Trus M, Beckers EAM, Te Boekhorst P, Tinmouth A, Lin Y, Hsia C, Lee D, Norris PJ, Goodrich RP, Brand A, Hervig T, Heddle NM, van der Bom JG, Kerkhoffs JH.
Blood. 2018 Jul 12;132(2):223-231.
Pathogen Inactivation Strategies to Improve Blood Safety: Let's Not Throw Pathogen-Reduced Platelets Out With Their Bath Water.
Devine DV.
JAMA Oncol. 2018 Apr 1;4(4):458-459.
Implementation of pathogen inactivation technology: how to make the best decisions?
Devine DV.
Transfusion. 2017 May;57(5):1109-1111. doi: 10.1111/trf.14117. No abstract available.
Pathogen Inactivation Technologies: The Advent of Pathogen-Reduced Blood Components to Reduce Blood Safety Risk.
Devine DV, Schubert P.
Hematol Oncol Clin North Am. 2016 Jun;30(3):609-17. doi: 10.1016/j.hoc.2016.01.005. Review.
Click here for more recent publications from the Centre for Innovation on this topic.
---
Canadian Blood Services – Driving world-class innovation
Through discovery, development and applied research, Canadian Blood Services drives world-class innovation in blood transfusion, cellular therapy and transplantation—bringing clarity and insight to an increasingly complex healthcare future. Our dedicated research team and extended network of partners engage in exploratory and applied research to create new knowledge, inform and enhance best practices, contribute to the development of new services and technologies, and build capacity through training and collaboration. Find out more about our research impact. 
The opinions reflected in this post are those of the author and do not necessarily reflect the opinions of Canadian Blood Services nor do they reflect the views of Health Canada or any other funding agency.
Related blog posts
---
Friday, February 22, 2019
Dr. Geraldine Walsh
Welcome to our new R.E.D. blog series where we focus on our Centre for Innovation development projects to give you a glimpse into the future of blood banking... our future!
---
Thursday, January 10, 2019
Dr. Geraldine Walsh
#WeDoResearch! Through our Centre for Innovation, our engaged network of scientists, medical experts, partners, and collaborators conduct and disseminate high quality, impactful research for the benefit of Canadian patients and the Canadian healthcare system.
---
Wednesday, March 16, 2016
Dr. Geraldine Walsh
Located in Vancouver, BC, near the University of British Columbia campus, our blood for research facility comprises a whole blood and apheresis donor clinic as well as a research and production laboratory.