Submit your bright idea to BloodTechNet
---
Wednesday, January 18, 2017
Jenny Ryan
Do you work in transfusion or transplantation medicine? Got a bright idea on how to share knowledge? Apply for funding to bring it to life.
Through the BloodTechNet competition, Canadian Blood Services' Centre for Innovation funds innovative projects aimed at delivering educational tools and resources that support the development of skills, knowledge, and expertise of health professionals in the transfusion, cellular therapy, and transplantation communities in Canada.
Since 2011, many excellent projects have come to life thanks to this program that also receives support from Grifols. A few shining examples, described below,  include Stem Cell Club, Transfusion Confusion and TransfusionQuest.
Who can apply to BloodTechNet?
Applicants must be health professionals (medical lab technologists, nurses and physicians) belonging to the transfusion, cellular therapy and/or transplantation communities in Canada.
Projects must have educational goals that develop professional skills, knowledge and expertise.
Projects must have a clear plan with defined goals and deliverables that will be completed within the one year term of the award.
Priority will be given to projects that are collaborative in nature and include team members from different health care professions, departments, organizations and/or jurisdictions.
Applications must be submitted by the deadline of February 24, 2017.
The 2017 BloodTechNet competition is now open. 
Past BloodTechNet projects 
In 2015 and 2016, Dr. Warren Fingrut received funding for Stem Cell Club. The Stem Cell Club, which equips medical and nursing students with skills to become health advocates for patients in need of stem cell transplants, is developing an evidence-based volunteer training program that can be expanded nationally. Visit the Stem Cell Club website for more information. 
The Stem Cell Club is now coast to coast, at 18 campuses across Canada! 
Image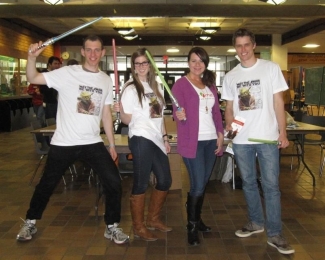 Warren Fingrut (left), Cassandra DeLuka of Canadian Blood Services' OneMatch Stem Cell and Marrow Network (centre-right) along with two UBC medical students at a "May the swab be with you" recruitment event in 2014.  (Photo courtesy of Warren Fingrut)    
Transfusion Confusion, funded in 2015, is a learning module developed to introduce concepts of pretransfusion testing and transfusion practice and to explore concepts of interprofessional collaboration. The program involved recording short video vignettes and photographing various aspects of the pretransfusion process. It also integrated existing resources and provided access to discussion forums where trainees can talk about issues or ask for clarification. 
Image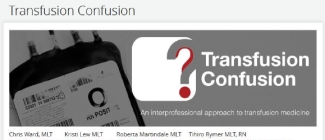 A web-based transfusion trivia game, Transfusion Quest, designed to promote a fun and unique learning opportunity for technologists across Canada was one of the first projects funded by BloodTechNet in 2011. Fulfilling the obvious requirements of being "Blood", "Tech", and "Net" related, the game was a natural fit.
Image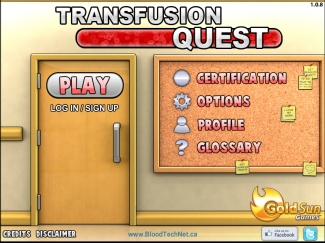 About BloodTechNet
The BloodTechNet Learning Fund was launched in 2011 by Canadian Blood Services' Centre for Innovation. The BloodTechNet Competition, with support from Grifols, facilitates the development of innovative educational projects that support the Transfusion, Cellular Therapy and Transplantation communities in Canada.
---
Canadian Blood Services – Driving world-class innovation
Through discovery, development and applied research, Canadian Blood Services drives world-class innovation in blood transfusion, cellular therapy and transplantation—bringing clarity and insight to an increasingly complex healthcare future. Our dedicated research team and extended network of partners engage in exploratory and applied research to create new knowledge, inform and enhance best practices, contribute to the development of new services and technologies, and build capacity through training and collaboration.
The opinions reflected in this post are those of the author and do not necessarily reflect the opinions of Canadian Blood Services nor do they reflect the views of Health Canada or any other funding agency.
Related blog posts
---
Wednesday, October 05, 2016
Dr. Kendra Hodgkinson
Did you know that Canadian Blood Services directly funds innovative research?
---
Wednesday, January 04, 2017
Dr. Kendra Hodgkinson
We are now accepting applications for the 2017 competition of our Intramural Research Grant program!