The START Study: Improving red blood cell use in Canadian hospitals
---
Thursday, February 18, 2021
Amie T. Kron
Amie T. Kron is the clinical research coordinator in transfusion medicine at Sunnybrook Research Institute in Toronto. The University of Toronto QUEST program is a research collaborative supported by Canadian Blood Services.
At the University of Toronto, a focus of the QUEST research program is improving transfusion care by ensuring that blood components (red blood cells, plasma and platelets) are transfused appropriately. Transfusion is one of the most commonly ordered procedures in hospitals. Of all patients admitted to hospital, approximately 10% receive a blood transfusion.
Optimizing patient care  
Red blood cells deliver oxygen to tissues and organs. For trauma patients or others with certain medical conditions, red blood cell transfusions are vitally important. It is equally important to ensure that the red blood cells available to us are used appropriately and according to evidence-based practices—not only to prevent waste of a precious resource, but also to avoid adverse patient outcomes that can happen if transfusions are inappropriately prescribed.
Room for improvement
Our research team at QUEST focuses on improving the utilization of this life-saving treatment. Our START (Screening by Technologists and Auditing to Reduce Transfusion) study, published recently in the journal Transfusion, reports on a successful multi-faceted intervention for conserving red blood cell units in Canadian hospitals.
We carefully audited the utilization of red blood cells across 3 provinces in 15 large hospitals with higher than average use of red blood cells. Over 5 months, 13 hospitals were found to have high rates of inappropriate red blood cell utilization (appropriateness rates below 90%), and we focused on these hospitals for our multi-faceted intervention. We educated clinicians who were ordering the transfusions, emphasized well-established red blood cell transfusion guidelines, empowered laboratory technologists to screen orders for appropriateness, audited ordering practices monthly, and fed back audit results to each hospital so they could track their performance over 10 months.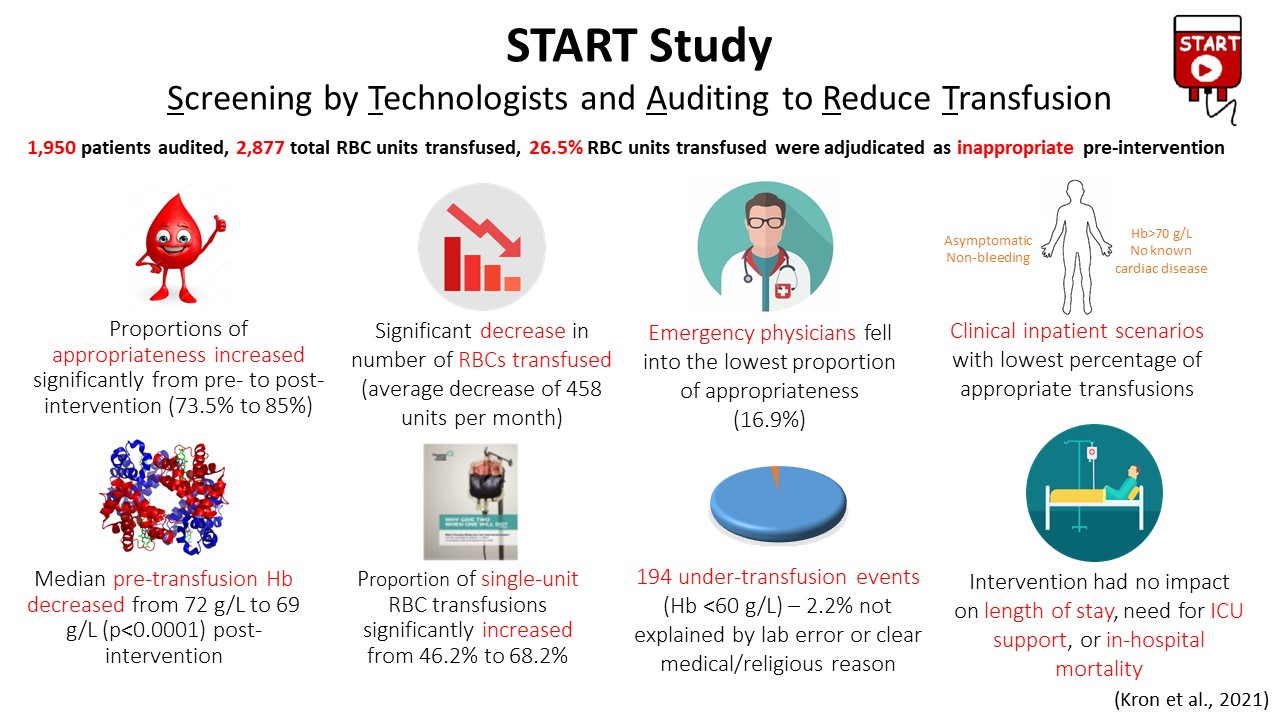 Closing the gap
The results were encouraging. The interventions significantly reduced the number of inappropriate red blood cell transfusions among participating hospitals. In total, across all 13 hospitals, there were almost 500 fewer red blood cell transfusions per month without impacting patient care.
We showed that many hospitals have high rates of inappropriate red blood cell transfusions, but with simple educational and auditing oversight hospitals can easily optimize their red blood cell utilization. The result is that this life-saving therapy can be conserved for patients who need it most, with cost and resource savings for the health-care system.
Extending our research findings to the rest of Canada
The interventions proven to be effective in the START study have now been incorporated in a national campaign by Choosing Wisely Canada. The Using Blood Wisely campaign is motivating and supporting even more hospitals to adopt the practice changes that can reduce inappropriate red blood cell transfusions. So far, 143 hospitals have joined the quality improvement initiative.
Testing these interventions requires substantial financial resources. That's why we are extremely grateful to Canadian Blood Services for funding the QUEST research program, an investment that helps advance the quality of transfusion care for Canadian patients.
---
Canadian Blood Services – Driving world-class innovation
Through discovery, development and applied research, Canadian Blood Services drives world-class innovation in blood transfusion, cellular therapy and transplantation—bringing clarity and insight to an increasingly complex healthcare future. Our dedicated research team and extended network of partners engage in exploratory and applied research to create new knowledge, inform and enhance best practices, contribute to the development of new services and technologies, and build capacity through training and collaboration. Find out more about our research impact. 
The opinions reflected in this post are those of the author and do not necessarily reflect the opinions of Canadian Blood Services nor do they reflect the views of Health Canada or any other funding agency.
Related blog posts
---
Tuesday, September 15, 2020
Guest Author
Transfusion Camp is an educational program established by the University of Toronto QUEST program that teaches physicians how to use blood wisely. When the COVID-19 pandemic hit, we questioned whether Transfusion Camp could continue.
---
Tuesday, January 12, 2021
Dr. Geraldine Walsh
Blood plasma-derived IVIg holds promise as a treatment for Alzheimer's disease. A new study suggests that combining IVIg with a new drug delivery technique that helps get IVIg into the brain could increase its effectiveness and help make the best use of this precious treatment.
---
Wednesday, March 21, 2018
Jenny Ryan
Choosing Wisely Canada transfusion recommendations brought to "life" in video form by Dr. Clinton Campbell and his creative team