Breaking barriers to effective treatment for Alzheimer's disease
---
Tuesday, January 12, 2021
Dr. Geraldine Walsh
IVIg is the wonder drug you've probably never heard of – yet. Used to treat many different conditions, intravenous immune globulin (IVIg) is manufactured from the plasma of thousands of patients combined. While it's not exactly clear how it works, IVIg is known to alter a person's immune response. As such, it's often called an "immune modulator" and is mostly used as an effective treatment for immune and inflammatory conditions.
Finding alternatives to IVIg and ensuring that when used, it is used appropriately, are important areas of research at Canadian Blood Services. This is because IVIg is a limited and expensive blood-derived product that is always in great demand. The Centre for Innovation's Dr. Donald Branch has dedicated much of his distinguished research career to understanding IVIg – how it works, when it works best, and why it works better for some patients than others. His latest research collaboration with colleagues at Sunnybrook Research Institute looks at IVIg use in Alzheimer's disease. The study, recently published in the Proceedings of the National Academy of Sciences, suggests a novel way to help get IVIg to where it is needed in Alzheimer's patients – the brain. As Dr. Branch notes:
"Currently, there are no treatments for Alzheimer's disease, despite years of scientists and clinicians trying to find something that could reduce the dementia caused by this terrible debilitating disease. Our study suggests that the phase III clinical trial of using IVIg in Alzheimer's patients may have failed due to a lack of a robust amount of IVIg entering the brain. With combining the use of focused ultrasound with IVIg, our studies show that a lot more IVIg can enter the brain, resulting in increased efficacy to ameliorate the plaque formation as well as increase neuronal regeneration."
The lead author on the study, Dr. Sonam Dubey, has been working on this topic since her graduate studies, which received funding support from Canadian Blood Services.
"The Graduate Fellowship Program scholarship was extremely beneficial in supporting my research work for 4 years. The scholarship's travel grant allowed me to participate in international conferences, where I could showcase my work, gain insight on the latest research topics and meet leaders in the field and gain feedback on my project," says Dr. Dubey.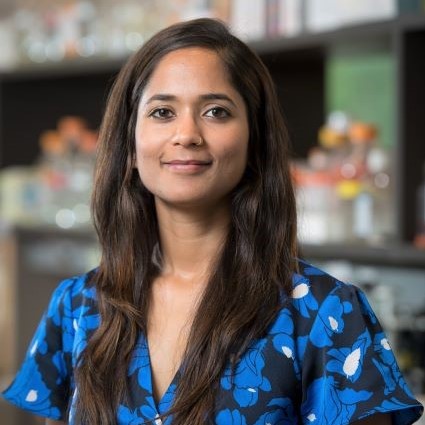 Beating the blood–brain barrier
Alzheimer's disease is an irreversible, progressive brain disorder that affects 1 in 10 people over 65 years of age. The hunt for effective therapies for this complex disease focuses on two avenues. The first is to find ways to reduce the pathology of Alzheimer's disease – those amyloid plaques and tau tangles that form in the brain of Alzheimer's patients and impair function. The second is to find treatments that promote regeneration of neurons in the brain to improve cognition.
One issue with finding effective treatments for any brain disorder is the blood brain barrier. In a rare case of a medical term describing function, the blood-brain barrier does exactly what you might imagine. It is a cellular barrier that prevents toxins or pathogens from passing into the brain from the blood. An excellent protective mechanism for the brain, the barrier can present challenges to effective treatment of brain disorders, since many drugs delivered into the blood will not make it past the barrier and reach the brain.
Focused delivery to the brain
IVIg has been tried as a treatment for Alzheimer's disease due to its benefits as an immune modulator with some success. It has been shown to reduce the pathology of Alzheimer's disease and increase regeneration of neurons, but in phase III clinical trials, treatment with IVIg did not lead to significant improvements in patients. The researchers wondered if perhaps this might be to do with a low dose of IVIg reaching the brain due to the blood–brain barrier. They looked to focused ultrasound, a technique that safely and temporarily increases the permeability of the blood–brain barrier, to test this out.
Interestingly, as well as helping drugs get to their site of action in the brain, focussed ultrasound alone is being explored as a potential treatment for Alzheimer's with some promising results. To test the combination of focused ultrasound and IVIg, the researchers used a mouse model of Alzheimer's disease. They tested IVIg and focused ultrasound, alone and in combination, and measured Alzheimer's disease pathology and neuron regeneration in the mice brains. The study's findings indicate that with focussed ultrasound, enough IVIg is delivered to the brain to reduce amyloid plaque pathology and promote neuron growth in the hippocampus.
Promising findings
The results of the current study indicate that with the addition of focused ultrasound, immune therapies such as IVIg could be used in Alzheimer's disease. While these findings are yet to be replicated in humans, they are very promising. More studies are needed and are on the way. According to Dr. Branch, "For future studies, we need to test whether in Alzheimer patients use of focused ultrasound combined with relatively low-dose IVIg can provide benefit to these patients."
Using focused ultrasound means a relatively low dose of IVIg could be beneficial in Alzheimer's disease. In fact, this was one of the findings that really struck Dr. Branch:
"For me the most surprising finding was that a relatively low dose of IVIg, not the high doses normally used for immune modulation, when combined with focused ultrasound could provide significant amelioration of the pathology of the disease in our mouse model as well as stimulate neuron re-generation, including neuronal stem cells."
This is good news for the appropriate use of IVIg and a promising and exciting step forward on the quest for effective treatments for this scourge of a disease.
Donald Branch is a senior scientist at the Centre for Innovation. While a graduate student (2013-2017), the study's lead author, Dr. Sonam Dubey, was supported by the Canadian Blood Services Graduate Fellowship Program.
---
Canadian Blood Services – Driving world-class innovation
Through discovery, development and applied research, Canadian Blood Services drives world-class innovation in blood transfusion, cellular therapy and transplantation—bringing clarity and insight to an increasingly complex healthcare future. Our dedicated research team and extended network of partners engage in exploratory and applied research to create new knowledge, inform and enhance best practices, contribute to the development of new services and technologies, and build capacity through training and collaboration. Find out more about our research impact. 
The opinions reflected in this post are those of the author and do not necessarily reflect the opinions of Canadian Blood Services nor do they reflect the views of Health Canada or any other funding agency.
Related blog posts
---
Wednesday, February 24, 2016
Lisa Willemse
Wonder drug it may be, but IVIg is a slippery fish. Even after 60 years, little is known about precisely how it works. An encounter with a scientist The first thing you notice when you walk into Dr. Don Branch's office at 67 College Street in Toronto is how small it seems. And colourful, owing to an...
---
Wednesday, February 28, 2018
Dr. Kendra Hodgkinson
For this instalment of "Meet the researcher", we met with Dr. Donald Branch, a scientist at Canadian Blood Services who studies infectious diseases and immunology. How long have you been with Canadian Blood Services? I started with the Canadian Red Cross at the Edmonton Blood Centre in December 1985...
---
Thursday, November 07, 2019
Catherine Lewis
Last month, Dr. Donald Branch, a scientist at Canadian Blood Services' Centre for Innovation and professor at the University of Toronto, received a prestigious international award honouring his more than 40 years of major contributions to transfusion medicine and hematology.