A spotlight interview with Dr. Sally Thomas of the Australian Red Cross Blood Service
---
Wednesday, March 22, 2017
Jenny Ryan
Sheila Ward, associate director of international collaboration in our Centre for Innovation, had a chance to interview an inspirational member of the Australian Red Cross Blood Service, Dr. Sally Thomas. As a member of the Alliance of Blood Operators, Canadian Blood Services is fortunate to engage with dedicated and forward-facing colleagues from around the world. This spotlight interview was published in our internal newletter and we have graciously been given permission to repost on this blog. 
Who are you and where are you from?
My name is Sally Thomas. I am the director of International Services at the Australian Red Cross Blood Service. In International Services, our mandate is to work collaboratively with our international counterparts to identify strategic and operational issues that will improve our own blood service, and in doing so support other international blood services' improvement programs.
Image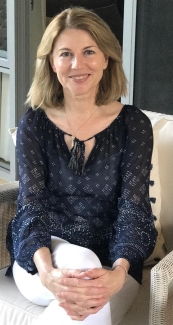 Another key feature of our scope of activity is to provide humanitarian assistance to blood programs in developing countries. I also lead the Secretariats for three international and regional blood networks:  the Alliance of Blood Operators (ABO) representing blood operators in North America, Europe, Great Britain, and Australia; the Asia Pacific Blood Network (APBN), which represents blood operators in the Asia Pacific region; and the International Red Cross Global Advisory Panel on corporate governance and risk management. 
Can you tell me a bit about your professional background?
My background is as a Clinician, working in teaching hospitals, in private practices and the health department (first in emergency medicine and then in general practice). I also studied health administration and health policy, and taught medical students at the West Australian University.
While I was in private practice, I was asked to join the Australian Blood Service. I was interested in the organization because of its health focus and the research it does. It seemed like a good fit for me, and so far, it certainly has been!
What does a day in your life look like?
My day is topped-and-tailed by meetings with my international colleagues around the world.  Between 5 a.m. and 9 a.m., I participate in calls about international network activities from North America; then from 4 p.m. to 11 p.m., I connect with my international colleagues in Europe. For the core part of the day, I work with my international team in Perth and colleagues in Australia and the Asia Pacific.
We consider ways Australia can best apply international information, we work on knowledge exchanges that are underway, we ensure the ABO and APBN programs are being delivered as directed by their Boards, and we focus on our humanitarian activities. We also respond to humanitarian disasters, like the earthquake in Nepal that devastated their blood program.
Can you tell me about your work with the ABO?
I've been with the Alliance of Blood Operators since its inception, almost 15 years ago. In 2002, I met with a wonderfully talented Executive Director from the UK Blood Service about the implementation of leucodepletion, which involved a very significant change program at that time. We began discussing how a network of blood operators could help support each other and share knowledge, and later had a first meeting with the American Red Cross to take forward this concept. In 2003, Australia, England and American Red Cross joined together with Canadian Blood Services own international benchmarking initiative and formed the foundation of the ABO we know today.
How do you feel the ABO benefits blood operators around the world?
The ABO benchmarking program and best practice sharing have provided sustained insight and high value to members since the early days of ABO. Being able to understand similarities and differences in practice, to question why one operator does something differently, to talk about it with your team: this kind of information highlights opportunities for improvement and enables blood operators to reinvest resources in growth areas. We are all focused on community and patient benefit and so knowledge sharing is powerful for blood operators.
Access to the insights of so many experiences is critical in delivering a shared understanding of emerging issues. It enables our members to be future-facing. 
The ABO horizon scan is the collective output of some of the most knowledgeable blood sector representatives around the world. It is a unique opportunity.
What do you find most exciting about your work?
The most exciting part of my work is the incredible people I get to interact with in every country.  We have some of the best brains in the blood sector involved with ABO – the Chief Executives, medical officers, scientists, donor relations professionals, supply chain experts, our financial people, and the list goes on. For me, it is a privilege to listen to the leaders of our organizations explore possibilities, consider what is on the horizon, and talk about what blood operators can do to move our organizations forward.  There is firm agreement among all members that success is achieved through a collective approach – openness, the absence of competition, willingness to share and not be bound by profit or ownership. There is a common goal of local and global benefit.
What is your proudest accomplishment?
I am very proud of my team of talented individuals in Perth.
Another source of deep satisfaction is the outcome of a long-term humanitarian project in Cambodia where my international team and a range of technical experts have helped develop the national blood program. 
Image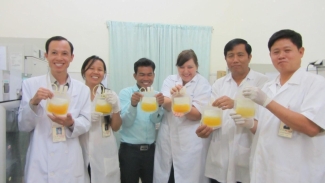 Cambodia's national blood manufacturing team makes platelets for the first time in 2014. (Photo provided by Dr. Sally Thomas)
Over an eight-year period, in conjunction with the Cambodian government and global funding partners such as the American International Health Alliance, U.S. PEPFAR, the Global Fund, and the U.S. Centers for Disease Control, we have provided assistance to the national blood service to build a strong blood program, from vein to vein. The project addressed all aspects of a high-functioning blood service: government policy, hospital relations, blood donors, testing, processing, safe transfusion practice and clinical guidelines. Thanks to funding and engineering support from the U.S. Department of Defense, Cambodia has also built four new buildings across the country. It was an all-of-country approach and an all-participant collaboration.
---
Canadian Blood Services – Driving world-class innovation
Through discovery, development and applied research, Canadian Blood Services drives world-class innovation in blood transfusion, cellular therapy and transplantation—bringing clarity and insight to an increasingly complex healthcare future. Our dedicated research team and extended network of partners engage in exploratory and applied research to create new knowledge, inform and enhance best practices, contribute to the development of new services and technologies, and build capacity through training and collaboration.
The opinions reflected in this post are those of the author(s) and do not necessarily reflect the opinions of Canadian Blood Services.
Related blog posts
---
Wednesday, May 11, 2016
Jenny Ryan
Dr. Pineault and his team are working on a cellular therapy to improve engraftment (the process through which new blood-forming cells start to develop in the patient) following cord blood stem cell transplantation.
---
Wednesday, August 03, 2016
Jenny Ryan
For this instalment of "meet the researcher" we caught up with Dr. William Sheffield a senior scientist with Canadian Blood Services' Centre for Innovation. How long have you been with Canadian Blood Services? I've been with Canadian Blood Services since before it existed! I joined our predecessor...