Senior scientist wins prestigious award for discovering a 'gold standard' reagent used in transfusion medicine
---
Tuesday, March 28, 2023
Aldis Brennan
Dr. Donald Branch, Canadian Blood Services senior scientist, has received four awards from the Association for the Advancement of Blood & Biotherapies (AABB) but his most recent honour as a recipient of the Dale A. Smith Memorial Award is the first time that comic book superheroes have played a part. 
Antibodies are proteins that are part of the body's immune response, intended to offer protection from undesirable substances such as viruses and bacteria. If the body inadvertently creates autoantibodies that react toward its own proteins instead of attacking foreign materials, these autoantibodies can coat red blood cells, obscuring any other antibodies which may be present and making them hard to detect.  
"In the transfusion services, when they're trying to provide safe blood for people, these autoantibodies get in the way of trying to find the other antibodies that might be the cause of real issues," Dr, Branch explained.  
In 1979, Dr. Branch discovered a reagent which removes autoantibodies, allowing antibodies to be detected in situations when this would typically be challenging. 
"You can make an argument that because of this reagent we might have saved some patients and reduced morbidity just because medical staff could clearly identify these other antibodies and then provide antigen-negative blood," Dr. Branch said.  
The reagent began its life known as S-SAP, an acronym referring to the biochemistry involved, but as researchers in the lab would hurriedly shout it out, it began to sound a bit more like "ZAP". Over time it became impossible to resist the idea of the ray gun, that iconic sci-fi weapon portrayed in superhero comics everywhere, and so the reagent was renamed "ZZAP". 
However, "ZZAP" was never patented. So, a manufacturer realizing its value began producing it under the name "W.A.R.M." for warm antibody removal medium.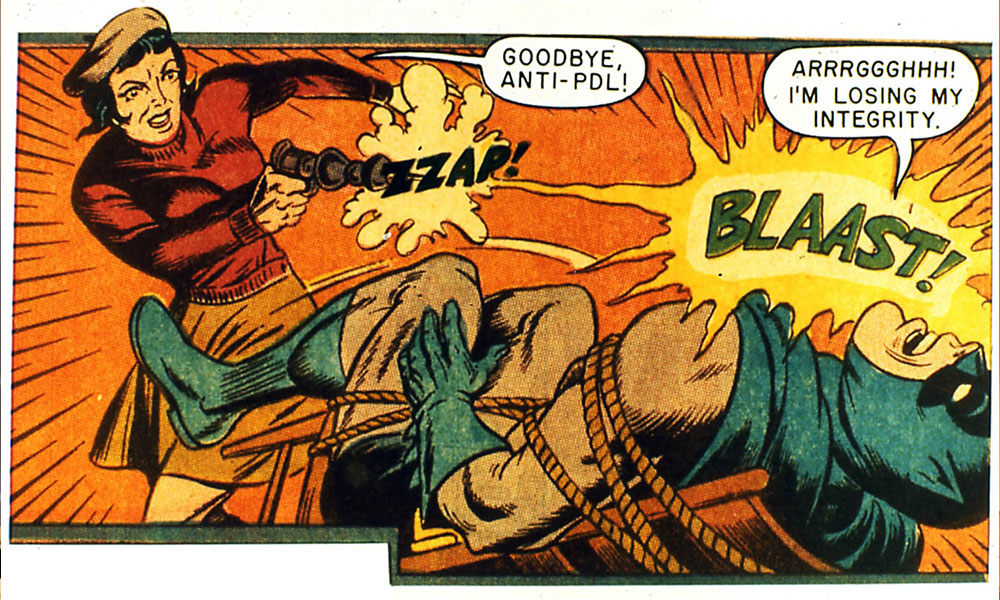 "W.A.R.M. is actually a standard reagent in probably every transfusion service and reference lab in the world," Dr. Branch said. "It's the gold standard for removing autoantibodies from red blood cells. People have tried to replace it with other ways of doing it, but nobody can compete with this particular reagent, and it's pretty much manufactured the same as how I made it in 1979." 
For the ground-breaking research resulting in the creation of this reagent, Dr. Branch was given his fourth AABB award — the Dale A. Smith Memorial Award for the application of technology to the practice of transfusion medicine or biotherapies.
There were also two other unique discoveries that Dr. Branch is proud of having introduced in his initial paper on the ZZAP reagent. The removal of these autoantibodies also allowed for determining which blood group the patient belonged to and led to a greater understanding of the genes related to a particular blood system well before genetic sequencing became available.
These discoveries and the focus of his work speak to Dr. Branch's belief in the necessity of what he calls "bench to bedside research". 
"I've been doing science research for probably 40 plus years and that's been my mantra from day one," Dr. Branch said. "The goal is to improve on therapeutics for various conditions to help blood transfusion services go leaner and faster in their identification of problems. That's always been the driving force and should be for anybody that's in biomedical science." 
Dr. Branch's lab continues to pursue therapeutic research such as examining ways of preventing the destruction of antibody-covered red blood cells and, he hopes, more ground-breaking discoveries are on the way. 
---
Canadian Blood Services – Driving world-class innovation  
Through discovery, development and applied research, Canadian Blood Services drives world-class innovation in blood transfusion, cellular therapy and transplantation—bringing clarity and insight to an increasingly complex healthcare future. Our dedicated research team and extended network of partners engage in exploratory and applied research to create new knowledge, inform and enhance best practices, contribute to the development of new services and technologies, and build capacity through training and collaboration. Find out more about our research impact.  
The opinions reflected in this post are those of the author and do not necessarily reflect the opinions of Canadian Blood Services nor do they reflect the views of Health Canada or any other funding agency.
Related blog posts
---
Thursday, March 16, 2023
Beth Binnington, Senior Research Assistant
Students from the Undergraduate Pathology Alliance at Western University posed insightful questions to researchers during an interactive visit to the research laboratory of Dr. Donald Branch, Canadian Blood Services senior scientist in February 2023.
---
Friday, April 09, 2021
Guest Author
Our research is improving patient safety for those who need intravenous immune globulin (IVIg), a drug used to treat autoimmune diseases. By increasing our understanding of an unexpected, potentially life-threatening side effect of IVIg therapy, our studies can help doctors better predict which patients are most at risk and take steps to protect them.
---
Thursday, November 07, 2019
Catherine Lewis
Last month, Dr. Donald Branch, a scientist at Canadian Blood Services' Centre for Innovation and professor at the University of Toronto, received a prestigious international award honouring his more than 40 years of major contributions to transfusion medicine and hematology.