Beth Binnington is an assistant senior researcher in the Toronto lab of Dr. Donald Branch. Beth manages the lab, trains new graduate students, and performs research. 
Dr. Ruqayyah Almizraq, postdoctoral fellow with Dr. Branch, is supported by Canadian Blood Services' Postdoctoral Fellowship Program. Melika Loriamini, PhD student in Dr. Branch's lab, is a recipient of Canadian Blood Services' Graduate Fellowship Program.  
On Feb. 3, 2023, the Undergraduate Pathology Alliance (UPAW), a student club from the University of Western Ontario, visited the research laboratory of Canadian Blood Services senior scientist Dr. Donald Branch. Touring Dr. Branch's lab provided an opportunity to learn more about his research into treatments known as immunotherapies, which may be effective for conditions involving abnormal immune system response such as immune thrombocytopenia (ITP) and rheumatoid arthritis (RA). The lab is housed in the Keenan Research Institute at St. Michael's Hospital in downtown Toronto.  
Approximately 20 UPAW students braved the -20°C windy day to tour the lab and connect with educational lectures provided in the main auditorium by Dr. Branch and other lab members.  
Post-doctoral fellow, Dr. Ruqayyah Almizraq, and PhD student, Melika Loriamini, gave brief presentations about their research project objectives and results, and provided demonstrations of  the lab equipment used in their experiments. The UPAW students asked many questions during the interactive lab tour.  
"Several students commented that my explanation of genotyping helped build their understanding and complemented their university lectures on the topic by putting the purpose and theory of the test into perspective," Dr. Almizraq said. 
Ms. Loriamini demonstrated the separation of blood components using a density gradient and showed how platelets and other blood components can be measured on a hematology analyzer.
The students also learned about a process called phagocytosis and its role in health and disease by using a microscope to view monocytes (a type of white blood cell) with ingested red blood cells. The UPAW students were also keen to talk with Master of Science (MSc) student, Priyal Shah, and undergraduate researcher, Emily Justus, about how to access research opportunities. 
Dr. Branch ended the session with a lively seminar about current research in his lab, entitled 'Clinical Pathology-Bench to Bedside (novel immunotherapeutics).' The UPAW students learned about how cells called phagocytes contribute to conditions like ITP and RA. The undergraduate students were particularly curious about how intravenous immunoglobulin (IVIG), which is derived from donated plasma, is manufactured. They were also interested in IVIG's potential to treat pathological conditions, and research underway in Dr. Branch's lab to study ways to improve or replace IVIG. Dr. Branch also outlined a current research project that investigates the observed correlation between ABO blood type and severity of symptoms from SARS-Cov2 infection.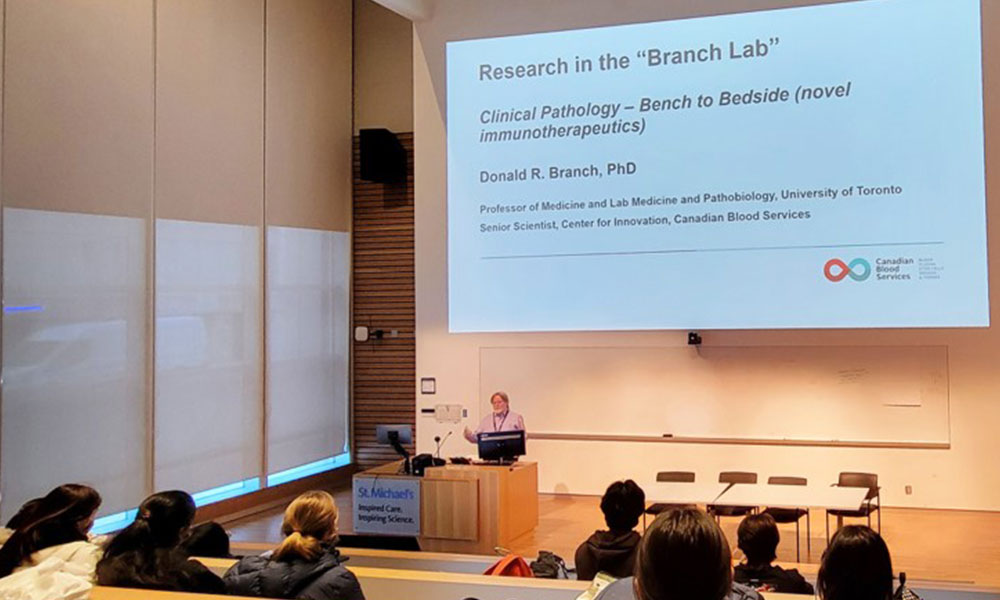 ---
Canadian Blood Services — driving world-class innovation
Through discovery, development and applied research, Canadian Blood Services drives world-class innovation in blood transfusion, cellular therapy and transplantation — bringing clarity and insight to an increasingly complex healthcare future. Our dedicated research team and extended network of partners engage in exploratory and applied research to create new knowledge, inform and enhance best practices, contribute to the development of new services and technologies, and build capacity through training and collaboration. Find out more about our research impact.
The opinions reflected in this post are those of the author and do not necessarily reflect the opinions of Canadian Blood Services nor do they reflect the views of Health Canada or any other funding agency. 
Related blog posts
---
Friday, April 09, 2021
Guest Author
Our research is improving patient safety for those who need intravenous immune globulin (IVIg), a drug used to treat autoimmune diseases. By increasing our understanding of an unexpected, potentially life-threatening side effect of IVIg therapy, our studies can help doctors better predict which patients are most at risk and take steps to protect them.
---
Tuesday, February 09, 2021
Tricia Abe
With an anticipated global shortage of immune globulin products, finding alternatives to IVIg can help improve availability of a drug in high demand. A recent study shows that eltrombopag, an oral medication that stimulates the production of platelets, is an effective alternative to IVIg for patients with immune thrombocytopenia who need surgery.
---
Tuesday, January 12, 2021
Dr. Geraldine Walsh
Blood plasma-derived IVIg holds promise as a treatment for Alzheimer's disease. A new study suggests that combining IVIg with a new drug delivery technique that helps get IVIg into the brain could increase its effectiveness and help make the best use of this precious treatment.