Research Unit: Modelling risk to ensure safety when considering changes to blood testing
---
Thursday, February 28, 2019
Dr. Geraldine Walsh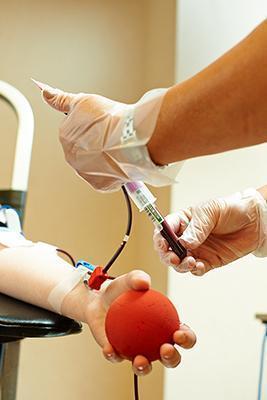 At Canadian Blood Services, blood safety is paramount. Screening donors for infectious diseases is an important part of our multi-layered approach to blood safety. One such infectious agent that is known to be transmitted through blood transfusion is Human T-cell lymphotropic viruses (or HTLV). Since 1990, all blood donations in Canada have been tested for HTLV, and since then, there have been no identified cases of HTLV transmission by transfusion. The rate of HTLV in Canadian blood donors has not changed in over 20 years of monitoring, and most donations that test positive for HTLV are from first-time donors.
Changes to our blood product manufacturing processes since the 1990s means there may be limited benefit to continuing to test all donations for HTLV. This month's Research Unit describes a collaborative effort by researchers from the Canadian Blood Services Centre for Innovation and Héma Québec. The researchers wished to understand how the risk of transfusion-transmission of HTLV would change if the screening were modified from the current approach, in which all donations are tested for HTLV, to an alternative approach in which only first-time donors are tested for HTLV. To do this, they used a simulation/modelling study. This modeling study suggests that moving from testing all donations for the virus HTLV, to testing only first-time donors, would have a negligible impact on risk to recipients.
To learn more, read our Research unit here.
Research Units provide clear summaries of the results and impacts of research conducted at Canadian Blood Services. Written by Canadian Blood Services researchers in collaboration with the knowledge mobilization team, these summaries help disseminate research findings to facilitate informed decision-making.
---
Canadian Blood Services – Driving world-class innovation
Through discovery, development and applied research, Canadian Blood Services drives world-class innovation in blood transfusion, cellular therapy and transplantation—bringing clarity and insight to an increasingly complex healthcare future. Our dedicated research team and extended network of partners engage in exploratory and applied research to create new knowledge, inform and enhance best practices, contribute to the development of new services and technologies, and build capacity through training and collaboration. Find out more about our research impact. 
The opinions reflected in this post are those of the author and do not necessarily reflect the opinions of Canadian Blood Services nor do they reflect the views of Health Canada or any other funding agency.
Related blog posts
---
Thursday, January 24, 2019
Dr. Geraldine Walsh
In this study, Dr. William Sheffield and Craig Jenkins from the Centre for Innovation tested levels and activities of important plasma factors for coagulation in recovered plasma. They found that the way in which plasma is manufactured from whole blood impacts the composition of recovered plasma.
---
Wednesday, October 10, 2018
Dr. Geraldine Walsh
Our latest Centre for Innovation ResearchUnit is a collaborative effort between Centre for Innovation adjunct scientist, Dr. Jelena Holovati, and Canadian Blood Services scientists, Dr. Donald Branch and Dr. Jason Acker. For patients with rare blood types, we perform cross-matching tests to match...
---
Wednesday, June 29, 2016
Jenny Ryan
Dr. Sheila O'Brien knows the answer. She is the associate director, epidemiology and surveillance, working at Canadian Blood Services head office in Ottawa. Understanding and minimizing the infectious risks associated with blood transfusion is what she does each and every day.