Research matters at Canadian Blood Services
---
Wednesday, February 15, 2017
Amanda Maxwell
A searchable database showcasing our funded research projects has just been launched on blood.ca. Together with our publications database, research highlights, links to this blog, research units and other news, you'll discover a knowledge hub for the transfusion and transplantation community.  
 
Blood and transfusion research has a long history: from the early days of transfusion medicine to military initiatives that deliver much-needed transfusion to the battlefield to that closer-to-home research that enables advances in patient care, increases clinical knowledge and enhances blood safety.
Canadian Blood Services supports world-class, mission-driven innovation through its researchers and collaborative networks. Exploratory and applied studies uncover new information to develop best practices in transfusion and transplantation medicine. 
For those curious about this work, you can find out a bit more about the research that goes on behind the scenes. Research Units are an excellent resource, and this blog, celebrating one year of research, education and discovery stories is also a great place to start. Here's a roundup of a few research stories from the last year.
Image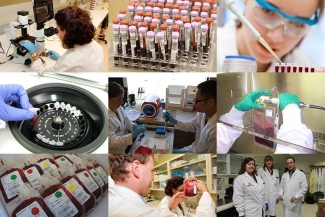 Safety matters
It's important that blood products used in treatment don't make the recipient's condition worse, either through adverse reactions or infection. It's also important not to cause harm to the donor. The following studies involving Canadian Blood Services researchers are examples of how research aims to make transfusion safer for everyone.
Efficiency matters
Blood components are tricky materials to store safely and effectively after collection. Research on improving storage conditions and extending shelf life helps reduce waste and maximize the supply without compromising patient safety. 
Innovation matters
Innovation requires research, and developing best practices and introducing new equipment require thorough evaluation for safety, efficiency and benefit. Blood donated to netCAD is often used to test out new equipment. It can also go to researchers investigating new treatments or developing new tools. 
Want to read more?
Stay tuned as we put this first year of sharing research behind us and prepare for more research, education and discovery…
Related blog posts
---
Wednesday, June 01, 2016
Amanda Maxwell
Mice are small, easy to handle and available as consistently bred individuals with little genetic variation – this makes them ideal for research. Furthermore, they share between 70 per cent and 90 per cent genetic make up, undergo many of the same life events that humans do, possess a similar anatomy (OK – mouse-shaped) and show similar physiology to us. A mouse offers a whole living organism in which to investigate disease, response to treatment, development of cancer and other basic research.
---
Wednesday, April 20, 2016
Michelle Hampson
Transplanting organs, tissue or stem cells from one person to another saves lives. It was not easy to figure out what facilitates a healthy and successful transplant though. Efforts over a long time reveal the complexity of the procedure and that very specific circumstances are required. As researchers' understanding of the immune system improved, so did the success rate of transplants.