Rare blood: a program to ensure access to blood no matter how rare
---
Monday, May 28, 2018
Jenny Ryan
On the surface of our red blood cells are proteins called antigens. There are more than 600 known antigens — and some combinations of antigens are far less common than others.
Through our Rare Blood Program, we make sure lifesaving rare blood is available to patients whenever and wherever it's needed.
A person has rare blood if only one person in 500 has the same combination of antigens as they do. And if only one in 1,000 people has that same combination, that person's blood is considered very rare.
Dr. Gwen Clarke answers a few questions about rare blood and Canadian Blood Services' rare blood program.
Because antigens are inherited, family members of known rare blood donors or patients with rare blood types may also have rare blood. Because blood types are inherited, a person with a rare blood type may have family members with that same rare type. In fact, the chances are one in four that the brothers or sisters of a person with a rare blood type will have the same rare type. Patients who need rare blood are encouraged to speak with their siblings and ask them to consider becoming a blood donor by contacting the Rare Blood Program to arrange for testing. 
Rare blood donors can give blood every 8 to 12 weeks — but may also be called upon as needed if their specific rare blood type is urgently required.
Canadian Blood Services' Rare Blood program provides resources for rare blood donors, recipients and clinicians. Click here to learn more.
Saving lives around the world
Rare blood is rare all over the world, not just in Canada — making it important for national and international blood operators to work together. Canadian Blood Services is proud to partner with the International Rare Donor Panel (IRDP).
Each unit of rare blood can be frozen in long-term storage so it can be available when needed. But if no units of a rare blood type are available in any of our facilities — and if no donors can come in and donate right away — we contact the IRDP. The IRDP database comprises more than 5,000 rare donors in 27 countries.
Image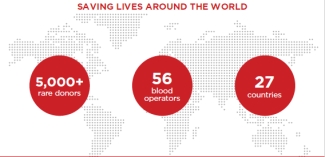 This partnership helps ensure patient needs for rare blood are met here in Canada. And because Canadian donors are part of the IRDP database, we can do our part in helping other countries meet their patients' rare blood transfusion needs.
Read more about rare blood 
To learn more about the Canadian Blood Services Rare Blood Program visit blood.ca/blood/rare-blood-program
Download the
---
Canadian Blood Services – Driving world-class innovation
Through discovery, development and applied research, Canadian Blood Services drives world-class innovation in blood transfusion, cellular therapy and transplantation—bringing clarity and insight to an increasingly complex healthcare future. Our dedicated research team and extended network of partners engage in exploratory and applied research to create new knowledge, inform and enhance best practices, contribute to the development of new services and technologies, and build capacity through training and collaboration.
The opinions reflected in this post are those of the author and do not necessarily reflect the opinions of Canadian Blood Services nor do they reflect the views of Health Canada or any other funding agency.
Related blog posts
---
Wednesday, September 20, 2017
Dr. Jeannie Callum
In this six-part series, Dr. Jeannie Callum, a hospital-based transfusion specialist, shares her real-life experience witnessing the impact of blood donation on patient lives. She provides some fascinating insight into blood transfusion, past and present, and emphasizes the need for male donors and why some donors may be safer for patients. Read the complete series here.