Professional Education in transfusion and transplantation has brand new home
---
Wednesday, August 31, 2016
Jenny Ryan
A new and improved site to learn, share and advance in the fields of transfusion and transplantation medicine
After much hard work, collaboration and consultation, we're pleased to announce the launch of a new and improved online educational platform for health-care professionals.
Image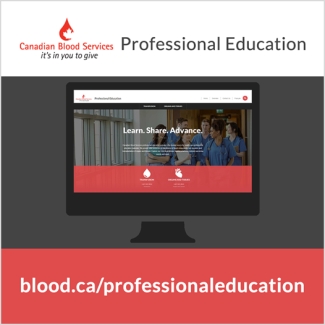 Canadian Blood Services has a mandate to strengthen and support professional development in the fields of transfusion and transplantation science and medicine to ultimately benefit patients while ensuring donor safety. We are also committed to promoting awareness and education about organ and tissue donation and transplantation in Canada and improving access to transplants for Canadians in need.
To meet these goals, we work with partners to develop educational tools, gather best and leading practices, publish original articles and reports, and organize educational events. This new web portal will support these efforts. It's also an opportunity to integrate our educational activities in the areas of transfusion, stem cells, organs and tissues. 
"We create a number of valuable resources for professionals and students working or studying in the fields of transfusion medicine, organ and tissue donation and transplantation and blood stem cell transplantation," says Dr. Dana Devine, chief medical and scientific officer. "This site  will be an essential resource for our communities to discover, learn, share and connect."
The Professional Education site replaces two previous sites, transfusionmedicine.ca and organsandtissues.ca, and brings valuable content together on one new platform with a modern look and new and improved functionality.
Our Professional Education site offers:
Best and leading practices in transfusion
Best and leading practices in transplantation
Original articles
Information about courses and diplomas
Educational events and more
We hope that health-care professionals and students will depend on it to be a source for relevant and engaging content and for opportunities to improve practice and as a result, patient care and outcomes.With an eye toward continuous improvement, we invite user feedback, comments and questions.
---
Canadian Blood Services – Driving world-class innovation
Through discovery, development and applied research, Canadian Blood Services drives world-class innovation in blood transfusion, cellular therapy and transplantation — bringing clarity and insight to an increasingly complex health-care future. Our dedicated research team and extended network of partners engage in exploratory and applied research to create new knowledge, inform and enhance best practices, contribute to the development of new services and technologies, and build capacity through training and collaboration.
The opinions reflected in this post are those of the author and do not necessarily reflect the opinions of Canadian Blood Services nor do they reflect the views of Health Canada or any other funding agency.
Related blog posts
---
Wednesday, July 20, 2016
Jenny Ryan
The 2016 Transfusion Science Education Course – a Canadian Blood Services, Grifols partnership.