Collaboration provides new learning opportunity for Canadian transfusion community
---
Wednesday, July 20, 2016
Jenny Ryan
The 2016 Transfusion Science Education Course – a Canadian Blood Services, Grifols partnership.
In June, Winnipeg played host to the 2016 Transfusion Science Education Course (TSEC). This was the first time Canadian Blood Services and Grifols partnered to present TSEC to blood transfusion professionals in Canada.
The course was originally developed three years ago to meet educational needs in the U.S. In 2015, Grifols approached Canadian Blood Services to identify knowledge gaps in Canada and help support delivery of this kind of professional education. Our Centre for Innovation knowledge mobilization team jumped at the opportunity. In addition to the Winnipeg event with Canadian Blood Services, Grifols also organized a similar event in Montreal in partnership with Hema-Quebec.
What's TSEC all about?
This one-and-a-half-day course built on the scientific and technical abilities of blood transfusion professionals, and discussed laboratory techniques and methods for resolving complex cases.
"It's a very intense course about typing patients who are going to receive blood," says Sophie Chargé, associate director, Knowledge Mobilization, Canadian Blood Services. "The course was mainly intended for physicians and technologists in reference labs. Canadian Blood Services provides a lot of testing services and therefore many staff need to know and understand these techniques. In addition to our staff, technologists at hospitals and private labs were also invited."
Invitations were accepted by 100+ and group viewing sessions were organized at five Canadian Blood Services locations across the country. There was no cost to attend.
Image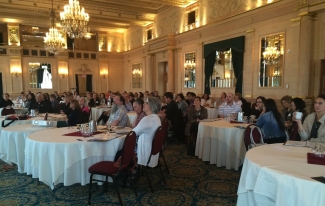 The course was well designed with a variety of learning experiences such as lectures, focused discussions, and interactive participation. New knowledge, technology, case studies and hot topics in the field were the focus. Speakers from around the world shared valuable insights in blood group serology, molecular immunohematology and transfusion medicine. Key topics included methods for unusual or multiple antibodies identification, and the impact of molecular testing in reducing alloimmunization in multiple transfused patients.
"It was an honor to present alongside such a renowned group of experts," says Dr. Debra Lane, a Canadian Blood Services' medical officer in Winnipeg. She was a speaker covering the topic warm auto-immune disease. "I was delighted to be there to share our Canadian best practice and knowledge with the wider transfusion medicine community."
Image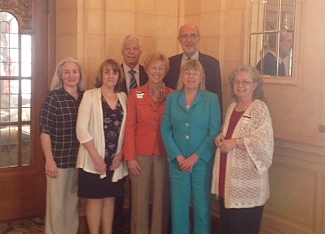 "We were pleased to have the opportunity to leverage resources and expertise of an industry partner like Grifols," says Dr. Robert Fallis, associate director, Diagnostic Testing, Canadian Blood Services. "This learning event was very well coordinated and considered a success by all thanks to the cooperation and hard work of Centre for Innovation and Winnipeg Centre staff."  
The organizing team is grateful to have been able to work with Grifols to deliver this valuable learning experience. A successful event, the partners may reunite in 2018 to present another Transfusion Science Education Course.
"It was a pleasure working with Sophie Chargé and Sally Dredger at Canadian Blood Services," says Joann Moulds of Grifols. "The faculty thoroughly enjoyed their time in Winnipeg and spent interacting with their Canadian colleagues. Grifols is pleased to support these educational opportunities." 
For more information or to suggest topics for future learning experiences, leave a comment or send an email to transfusion.medicine@blood.ca.
---
Canadian Blood Services – Driving world-class innovation
Through discovery, development and applied research, Canadian Blood Services drives world-class innovation in blood transfusion, cellular therapy and transplantation — bringing clarity and insight to an increasingly complex healthcare future. Our dedicated research team and extended network of partners engage in exploratory and applied research to create new knowledge, inform and enhance best practices, contribute to the development of new services and technologies, and build capacity through training and collaboration.
The opinions reflected in this post are those of the author and do not necessarily reflect the opinions of Canadian Blood Services nor do they reflect the views of Health Canada or any other funding agency.
Related blog posts
---
Wednesday, March 30, 2016
Jenny Ryan
"Implementing Choosing Wisely recommendations for transfusion medicine" is the 11th Annual Transfusion Medicine Education Videoconference taking place April 13, 2016. Registration is open!
---
Friday, May 27, 2016
Dr. Geraldine Walsh
Opportunities for knowledge exchange lead to powerful meetings, new discoveries and well-deserved awards.