Product resiliency: future-proofing our product portfolio
---
Thursday, March 31, 2022
Dr. Geraldine Walsh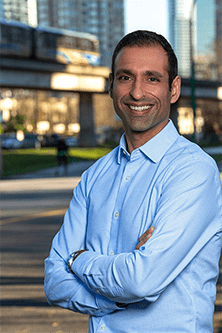 What is your role in Innovation and Portfolio Management and what led you to take on this role?
I joined Canadian Blood Services in 2021 as the associate director of portfolio management with the goal of developing and leading the product and portfolio management team. This team oversees product lifecycle activities for our collection of fresh blood products (red blood cells, platelets, and plasma), stem cells and diagnostic services.
Prior to joining Canadian Blood Services, I spent nearly a decade leading product management activities in the biotechnology industry, overseeing the launch of hundreds of products for immunology research and in vitro diagnostic testing for blood cancers and solid organ transplantation. I have a real passion for using my scientific background to create product and portfolio lifecycle strategies that fulfill an organization's goals and aspirations for meeting patient needs.
What do we mean by "product lifecycle" at Canadian Blood Services?
I tend to look at product lifecycle through two lenses. The first is specific to individual products themselves and truly encompasses every aspect of the product over its lifetime. This begins with ideation and evaluation, then development, implementation and launch, through to changes in adoption over time and often incremental changes during a product's use, and all the way to the product's eventual retirement. In many ways, this is the standard chain of events and product management analyses which provide the organization with an understanding of where the product is in its lifecycle. Knowing this helps ensure strategic alignment and provides transparency so that stakeholders can understand how product-related activities and changes fit with the overarching goals of the organization.
The second lens relates to viewing products with respect to how they contribute to the greater portfolio of products offered. The product composition of a portfolio necessarily changes over time as new technologies arise, user preferences change, and organizational strategies evolve. We must continually review the portfolio holistically to determine how well it meets current and expected future needs and then use that insight to adjust the direction and strategy to accommodate new changes. This type of portfolio management necessarily then feeds back and informs the decisions made for individual products.
Why is building resiliency in our portfolio of products and services important for Canadian Blood Services?
For me, resiliency is about creating a product portfolio that is highly resistant to disruptions in donor collections, large changes to product demand or events that compromise our ability to distribute blood components to where they are needed most. The goal is to ensure we can maintain the supply of blood products to all Canadian patients despite unforeseen events, be they natural disasters, pandemics or other events that might interfere with our ability to collect and distribute blood products. This can be achieved several ways, but chiefly through the adoption of safe, proven technologies that prolong shelf life, make transportation and storage easier, ease the burden for donation, or those that increase the "universality" of products and eliminate the need for very specific donor/recipient matching. A good example of this would be the adoption of freeze-dried plasma to create a shelf-stable, long-expiry product that can be easily transported and stored in a variety of settings, including rural or military locations.
Recent events, such as the COVID-19 pandemic, demonstrate that unforeseen events can disrupt the global blood system with little notice and with highly uncertain timelines and outcomes. By integrating new technologies into our fresh blood product portfolio, we can better ensure that critical, life-saving blood products are available to Canadian patients in times of need.
Can you describe what types of initiatives Canadian Blood Services is exploring related to product resiliency?
Our current focus is exploring technologies and products that can be applied to the fresh blood component portfolio, including plasma, red blood cell concentrates and platelets. Some of these technologies, such as freeze-dried plasma, are more mature and therefore will have a shorter runway to implementation over the coming years, while others such as universal or freeze-dried RBCs are still more speculative. As a result, this is a long-term project that will require ongoing collaboration with both vendors and the research community to develop solutions that can be implemented safely and effectively in the blood system.
What are the biggest challenges with this work?
As alluded to above, the biggest challenge to the implementation of these new technologies is that only a handful of them are ready, or nearly ready, for commercial implementation in Canada. Many have been explored for years, and although incremental development continues, they are still several years away from being ready for approval or implementation. However, this provides us an excellent opportunity to engage and collaborate with the global commercial and research communities on an ongoing basis towards the development of novel solutions that best meet our unique Canadian needs.
What kind of impacts do you anticipate this work will have on donors and patients?
We are always looking to reduce the burden on our amazing donors while simultaneously ensuring that we can provide caregivers and patients with a ready supply of safe and effective products at all times. These two priorities can sometimes compete with each other, but our efforts to increase resiliency are truly meant to satisfy both demands at once by increasing the flexibility, durability and capacity of the blood system.
Finally, what excites you most about this work?
It is an absolutely amazing privilege to be involved in bringing new blood products to the Canadian market and providing patients with access to new, live-saving products. Although the scientist in me is always amazed by the emergence and evolution of new technologies and processes, it's the ability to impact patient care and save lives that brings me the most joy in my work.
---
Canadian Blood Services – Driving world-class innovation
Through discovery, development and applied research, Canadian Blood Services drives world-class innovation in blood transfusion, cellular therapy and transplantation—bringing clarity and insight to an increasingly complex healthcare future. Our dedicated research team and extended network of partners engage in exploratory and applied research to create new knowledge, inform and enhance best practices, contribute to the development of new services and technologies, and build capacity through training and collaboration. Find out more about our research impact. 
The opinions reflected in this post are those of the author and do not necessarily reflect the opinions of Canadian Blood Services nor do they reflect the views of Health Canada or any other funding agency.
Related blog posts
---
Thursday, February 10, 2022
Dr. Geraldine Walsh
Development work by Canadian Blood Services' product and process development group lays the groundwork for greater operational flexibility for blood operators looking to introduce whole blood for transfusion.
---
Thursday, March 24, 2022
Dr. Geraldine Walsh
In January 2022, Canadian Blood Services introduced pathogen-reduced platelets, a product that is manufactured using pathogen-inactivation technology, at its Ottawa production site. By effectively damaging the nucleic acids of a number of pathogens, pathogen inactivation further reduces the risk of transfusion-transmitted infections—an especially important safeguard against new or emerging pathogens, or pathogens for which tests are not available.
---
Tuesday, April 27, 2021
Jessica Cunha
Organ donation coordinators endure high rates of burnout. Canadian Blood Services and CHEO aim to change that.