Once Local Day wrapped up, the 35th Congress of the International Society for Blood Transfusion (ISBT) got into full swing. What followed was four days of the latest in transfusion medicine and science, delivered in a jam-packed schedule of concurrent sessions. ISBT 2018 addressed topics across the transfusion spectrum, from donor recruitment and retention, donor health, the biology of blood cells, blood components, transfusion-transmitted infectious diseases, immunohaematology, patient blood management, adverse transfusion events, cellular therapies, and much more.
Sharing knowledge on the international stage
At the international conference, Canadian Blood Services' made a strong showing, chairing over a dozen sessions, and giving over 20 oral presentations and over 50 poster presentations as part of the congresses' scientific program. These presentations described advances made by Canadian Blood Services medical and scientific experts across the gamut of blood banking and transfusion medicine activities. Today's post will focus on major contributions by the Canadian Blood Services research and development network to the 2018 ISBT program. Check back later to hear about contributions by our Education network.
Congratulations to Rick Kapur, formerly supported by a Canadian Blood Services Postdoctoral Fellowship, who won the Jean Julliard Prize for young scientists (under 40) for his work on transfusion-related acute lung injury (TRALI). Rick is now a postdoctoral fellow at Lund University in the laboratory of John Semple.
Highlights: International collaborations and excellent trainees talks
Excellent talks were given by many members of our research and medical network at ISBT 2018, including Donald Branch, Gwen Clarke, Dana Devine, Mindy Goldman, Peter Schubert, Heyu Ni, Sheila O'Brien, and Sandra Ramirez-Arcos. ISBT 2018 also showcased the many roles that Canadian Blood Services medical officers and scientists play in large international efforts in blood transfusion and science. For example, the work of the ISBT Working Parties – topic-driven groups of colleagues from around the globe, and the work of the Biomedical Excellence for Safer Transfusion (BEST) Collaborative, an international research organization that works collaboratively to explore ways to improve transfusion. Among other examples, Dr. Sandra Ramirez-Arcos participated in the ISBT Working Party on Transfusion Transmitted Infectious Diseases meeting which took place during ISBT, and Dr. Mindy Goldman presented a study on behalf of the BEST Collaborative.
Kudos to our trainees who gave oral presentations at ISBT 2018:

 

Peter Norris (graduate student in the Lazarus laboratory): CD44 antibodies inhibit macrophage Fcgamma receptor-mediated phagocytosis of platelets and erythrocytes in an IgG subtype and Fc-dependent manner: A potential replacement for IVIG?

Yoelys Cruz-Leal (postdoctoral fellow in the Lazarus laboratory): Erythrocyte antigen loss defines antibody-mediated immune suppression: Studies with wild-type and IgG Fc region deglycosylated antibodies in mice.

Ramsha Khan (graduate student in the Lazarus's laboratory): How do anti-erythrocyte antibodies ameliorate immune thrombocytopenia – examination of anemia, phagocytosis, and inflammatory activity in a murine model.

Shuoyan Ning (transfusion medicine fellow): The frequency of patient registration errors and their impact on transfusion safety.

Matthew Yan (transfusion medicine fellow): Red cell alloimmunization in episodic and chronically transfused thalassemia intermedia.
So many posters and not enough time!
Canadian Blood Services presented over 50 posters at the ISBT poster session. Topics spanned the basic, clinical, and development research work conducted by Canadian Blood Services, from donor health and screening, to antigen typing, rare blood studies, and case reports of patient with bleeding disorders, to product and process related research on cryopreservation, bacterial testing, and component manufacturing, to utilization studies. Congratulations to all who presented. It was a jam-packed session, and at just an hour-long, it was impossible to see all posters and get a chance to meet the presenters.
Image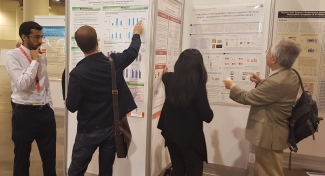 Research and development events at ISBT 2018
As mentioned in our previous post, Canadian Blood Services hosted a booth at IBST 2018 to showcase research and education initiatives facilitated by our Centre for Innovation. The exhibit hall, which housed the booths, was opened in an energetic manner following Sunday evening's entertaining opening ceremony. Delegates were led into the exhibit hall by some high energy percussionists, lifting everyone's spirits and providing a great vibe for the rest of the evening!
Image
Canadian Blood Services also kicked off our booth events that evening, with a "Discovery Research" event. Twenty-four members of our research and medical network participated, creating a palpable buzz around the booth and attracting many colleagues from the global community to pop by and see what was going on. A second event, on Wednesday, focused on our development network. Ten members of our development network participated in this event, including associate director of product and process development, Ken McTaggart, and our chief scientist, Dr. Dana Devine.
Image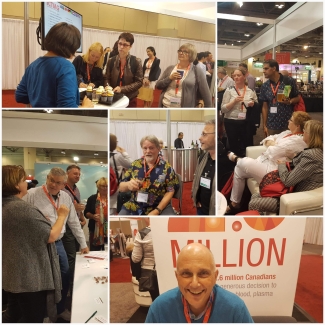 With cupcakes, maple candy, prizes, and a wealth of material about the Centre for Innovation, its mission, and the many outreach, knowledge dissemination and educational resources it develops, the booth events drew a lot of attention and were a great success. It provided a wonderful opportunity for our network to gather, and was a one-stop shop for anyone who wanted to come by and chat with our researchers and medical directors. Thanks to all members of our discovery and development research network, who united to showcase projects and collaborations, inspire young trainees, and to connect with the local and international scientific community at ISBT 2018.
And there's more! Check back again to learn about the contributions of our education network to ISBT 2018.
---
Canadian Blood Services – Driving world-class innovation
Through discovery, development and applied research, Canadian Blood Services drives world-class innovation in blood transfusion, cellular therapy and transplantation—bringing clarity and insight to an increasingly complex healthcare future. Our dedicated research team and extended network of partners engage in exploratory and applied research to create new knowledge, inform and enhance best practices, contribute to the development of new services and technologies, and build capacity through training and collaboration. Find out more about our research impact. 
The opinions reflected in this post are those of the author and do not necessarily reflect the opinions of Canadian Blood Services nor do they reflect the views of Health Canada or any other funding agency.
Related blog posts
---
Thursday, July 05, 2018
Dr. Geraldine Walsh
Held in Toronto, the 35th Congress of the International Society for Blood Transfusion (ISBT) kicked off with a "Local Day" on Saturday June 2nd. Organized by the Canadian Society for Transfusion Medicine, and chaired by Dr. Katerina Pavenski, Local Day focused on Canadian advances in transfusion...
---
Thursday, June 28, 2018
Dr. Geraldine Walsh
Earlier this month, the international community of transfusion medicine and science professionals converged on Toronto, Ontario, for the 35th Congress of the International Society for Blood Transfusion (ISBT). Held every other year at different locations around the globe, the ISBT congress is one of...