Part 2: Lots to celebrate as ISBT comes to Toronto: Local Day
---
Thursday, July 05, 2018
Dr. Geraldine Walsh
Held in Toronto, the 35th Congress of the International Society for Blood Transfusion (ISBT) kicked off with a "Local Day" on Saturday June 2nd. Organized by the Canadian Society for Transfusion Medicine, and chaired by Dr. Katerina Pavenski, Local Day focused on Canadian advances in transfusion medicine over the years: past, present, and future. As 2018 marks the 20-year anniversary of the founding of Canadian Blood Services and Héma-Québec, the program was designed to reflect on the past and look to the future. The day began with the Annual General Meeting of CSTM, followed by the Ortho and Buchanan Award lectures.
Congratulations to 2018's well-deserved award winners: Ahmed Coovadia (Buchanan Award), and Dr. Irene Sadek (Ortho Award).
The past
We were then treated to a fascinating journey through the history of transfusion medicine in Canada, in an exquisitely-researched presentation by Dr. John Freedman, Professor Emeritus of medicine and of laboratory medicine at the University of Toronto. The history of blood transfusion is certainly interesting, and occasionally gruesome. I suspect few people are better versed on the history of the field, and certainly on Canadian aspects of this history, than Dr. Freedman.
His talk didn't shy away from the tainted blood scandal that unfolded in the 1980s and 90s. Dr. Freedman described the circumstances of the blood supply in Canada when HIV/AIDS emerged in the 1980s, the course of the scandal that resulted in 1000s of Canadians being infected with HIV or hepatitis, and Commission by Justice Horace Krever that followed. Recommendations from the Krever Commission led to the founding of Canadian Blood Services and Héma-Québec in 1998, and Dr. Freedman noted Justice Krever's emphasis on the importance of research and development work to support a safe blood supply. A fantastic and thorough presentation, Dr. Freedman ended by highlighting and thanking the many people involved in clinical and basic research, development work, and education whose dedication over the past 20 years has helped make the Canadian blood supply one of the safest in the world.
Image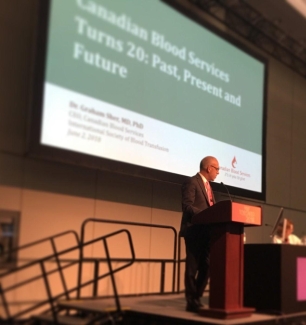 The present
Dr. Freedman's presentation was followed by perspectives on the current state of the blood system in Canada by Canadian Blood Services CEO, Dr. Graham Sher, and Héma-Québec Vice-President Smaranda Ghibu. Both spoke about the 20-year journey of their respective blood services in Canada, and described some of the transformative shifts that have taken place in the blood system in Canada during this time. Initially focused on regaining the trust of the Canadian people, both organizations have evolved over the decades to become trusted biologics manufacturers.
Updates from the National Advisory Committee on Blood and Blood Products, the Quebec Transfusion Advisory Committee and on blood bank testing by Canadian Blood Services' Dr. Gwen Clarke, rounded off the "present". Dr. Clarke's presentation made use of the interactive audience polling made available at ISBT, keeping the audience entertained, engaged, and informed in a fantastic talk on serology, genotyping and blood bank testing.
Image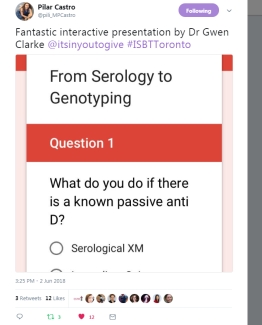 The future
Then it was time to focus on the future. Dr. Sher, standing in for Canadian Blood Services' Chief Scientist, Dr. Dana Devine, presented his vision of the future of blood banking and transfusion medicine in Canada. With a focus on new and "renewed" products for transfusion, Dr. Sher's talk was wide-ranging, and included his perspectives on the future of cold-stored platelets, freeze dried plasma, and the use of whole blood in trauma. Dr. Sher discussed new approaches that are already available and impacting practice, including pathogen inactivation technologies, platelet additive solutions, new cellular therapies, and the use of large datasets to understand donors, products, and recipients. As the demographics of the donor base shifts, Dr. Sher emphasized the importance of social and psychological research around recruitment and retention of donors. Looking more generally to the future, Dr. Sher postulated that technology will continue to impact the business of blood on many levels, from genetic profiling of donors to wearable technology.
Dr. Yulia Lin presented on novel approaches to teaching transfusion medicine. Dr. Lin's talk touched on remote learning, podcasts, and using new technology to further dissemination. However, she also emphasized the importance of considering how people learn, tailoring your teaching approach to ensure the information is effectively conveyed, and evaluating to measure impact. It is important to balance new teaching approaches and technologies with face-to-face teaching, which has been shown to be valuable for effective learning.
Learn more about Dr. Lin's innovative approaches to transfusion medicine teaching here.
Local Day ended with a talk by Dr. Donna Wall from The Hospital for Sick Children in Toronto describing new cellular therapies for cancer. Chimeric-antigen receptor T-cell (C-ART) therapy is a targeted cancer treatment. Two C-ART cell therapies were approved by the FDA in 2017. These therapies use a cancer patient's immune cells (T-cells), which are removed and re-programmed in a laboratory so that when they are infused back into the patient, they seek out and destroy the cancer cells. As C-ART cells or similar therapies become available or are soon-to-be available in the clinic, Dr. Wall described how they work, the hope they bring to patients, and the challenges that remain in using these therapies, many of which are still in trials or in early stage development.
 

Image

Dr Donna Wall from @SickKidsNews gives fascinating talk at @ISBT2018 on promising future of cell therapies. The future is here

— Graham Sher (@GrahamSher) June 2, 2018
Believe it or not this was just the beginning. The next four days at ISBT proper delivered a robust scientific program. Stay tuned for more…
---
Canadian Blood Services – Driving world-class innovation
Through discovery, development and applied research, Canadian Blood Services drives world-class innovation in blood transfusion, cellular therapy and transplantation—bringing clarity and insight to an increasingly complex healthcare future. Our dedicated research team and extended network of partners engage in exploratory and applied research to create new knowledge, inform and enhance best practices, contribute to the development of new services and technologies, and build capacity through training and collaboration. Find out more about our research impact. 
The opinions reflected in this post are those of the author and do not necessarily reflect the opinions of Canadian Blood Services nor do they reflect the views of Health Canada or any other funding agency.
Related blog posts
---
Thursday, June 28, 2018
Dr. Geraldine Walsh
Earlier this month, the international community of transfusion medicine and science professionals converged on Toronto, Ontario, for the 35th Congress of the International Society for Blood Transfusion (ISBT). Held every other year at different locations around the globe, the ISBT congress is one of...
---
Wednesday, July 11, 2018
Dr. Geraldine Walsh
Once Local Day wrapped up, the 35th Congress of the International Society for Blood Transfusion (ISBT) got into full swing. What followed was four days of the latest in transfusion medicine and science, delivered in a jam-packed schedule of concurrent sessions. ISBT 2018 addressed topics across the...