Number of patients on wait lists decrease for some organs as deceased donor numbers jump in Canada
---
Friday, December 15, 2017
Jenny Ryan
New data released this week by Canadian Blood Services and the Canadian Institute for Health Information sheds light on organ donation and transplantation system progress
Close to 3000 lifesaving transplants were performed in Canada in 2016 of which 758 donations came from deceased donors, and 545 from living donors, according to the latest numbers released by the Canadian Institute for Health Information (CIHI) and Canadian Blood Services.
The reports released this week by Canadian Blood Services build on last year's 2006-2015 System Progress Report and provide the latest Canadian statistics on deceased and living donation and transplantation performance.
The Interprovincial Programs Report provides a comprehensive overview for the Canadian organ donation and transplantation network in service to transplant candidates and donors participating in the Kidney Paired Donation program, the Highly Sensitized Patient program and the National Organ Waitlist. 
The release also includes data on renal replacement therapy for end-stage-kidney disease (ESKD) from CIHI's Canadian Organ Replacement Register (CORR).
Working together, CIHI and Canadian Blood Services gather relevant, accurate and timely data from national, provincial and territorial partners, to ensure policy makers have access to up-to-date information on system performance to inform a path forward for Canada.
Media release:  Wait lists improving for some organs as deceased donor numbers jump in Canada
Image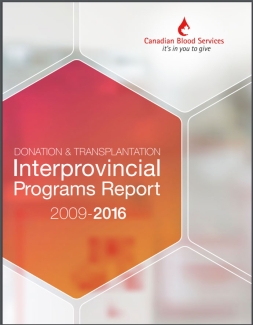 Image
Image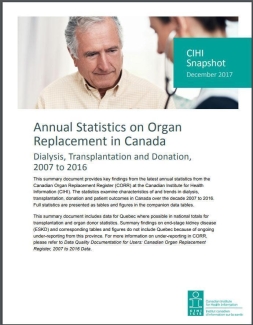 Great news for Canada!
The data shows that the deceased donation rate in Canada is now on par with Australia and the United Kingdom. We've come a long way but there's much more to be done.
As explained by Dr. Sam Shemie, medical advisor in deceased donation at Canadian Blood Services, we've come a long way in addressing preventable deaths by identifying and applying the efficiencies in the system that result in transplant. These system improvements require ongoing focus. 
Key factors include making sure every potential donor is identified; specialists in donation can educate staff, monitor organizational progress and advocate for improved donation processes in the region.
In living donation, the best-performing provinces are British Columbia, Manitoba, Ontario and Alberta. Their success can be attributed to the implementation of programs that teach hospital staff and patients about the benefits of living donation.
"Canadian Blood Services is currently working collaboratively with our provincial partners to identify best practices in those high-performing provinces that can be shared nationally. This work will surely improve the living donation rate as more programs implement successful programs across the country," says Dr. Peter Nickerson, medical advisor in living donation at Canadian Blood Services.
While living donation rates dropped this past year, the Kidney Paired Donation program had its second most successful year with more than 500 transplants since its inception in 2009, demonstrating that provincial health systems can effectively work together to improve transplant outcomes across the country.
Image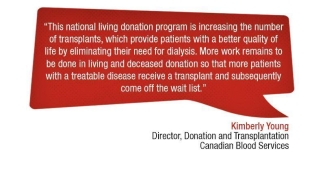 Are you an organ donor? Talk about your organ donation wishes with your family this holiday season and don't forget to register your intent to donate.
---
Canadian Blood Services – Driving world-class innovation
Through discovery, development and applied research, Canadian Blood Services drives world-class innovation in blood transfusion, cellular therapy and transplantation—bringing clarity and insight to an increasingly complex healthcare future. Our dedicated research team and extended network of partners engage in exploratory and applied research to create new knowledge, inform and enhance best practices, contribute to the development of new services and technologies, and build capacity through training and collaboration. Find out more about our research impact. 
The opinions reflected in this post are those of the author and do not necessarily reflect the opinions of Canadian Blood Services nor do they reflect the views of Health Canada or any other funding agency.
Related blog posts
---
Tuesday, June 20, 2017
Jenny Ryan
500 transplants made possible thanks to the selflessness of living organ donors and kidney paired exchange