Lay Science Writing Competition open for submissions!
---
Tuesday, October 01, 2019
Dr. Geraldine Walsh
Stories underlie all research experiences, and we want to hear them! The 2019 Canadian Blood Services' Lay Science Writing Competition launches today and is open for submissions until Nov. 29, 2019. This year's theme is "Stories worth telling". We're delighted to once again partner with science communication and research leaders Science Borealis and the Centre for Blood Research at the University of British Columbia to host this competition. 
This is an opportunity for research trainees in the Canadian Blood Services research network, including those at UBC's Centre for Blood Research and, new this year, the UBC School of Biomedical Engineering, to test their plain writing skills. Submissions should use clear language to describe "Stories worth telling" in the areas of blood, plasma, stem cells or organs and tissues research. Submissions will be judged not just for their clear language, but also on their use of storytelling or narrative techniques to describe the research and the story behind the research. Consider what elements make a good story. Add a human angle or other details that readers will be able to relate to. Tell us about the people behind the research, the impact of the work, the journey, the emotional highs and lows! 
The winning writer will receive a $300 prize and the two runners-up will each receive a $100 prize. Selected entries will be disseminated through the Canadian Blood Services, Science Borealis and the Centre for Blood Research's online platforms and social media channels. 
Please note, the work must be original and not previously published. Click here to access the competition guidelines and the application form. If you have questions, please contact the Centre for Innovation by email at centreforinnovation@blood.ca  
The very best of luck! 
Image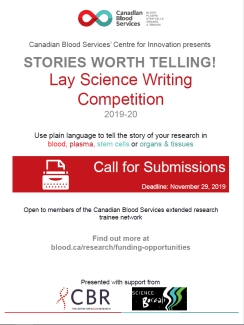 ---
Canadian Blood Services – Driving world-class innovation
Through discovery, development and applied research, Canadian Blood Services drives world-class innovation in blood transfusion, cellular therapy and transplantation—bringing clarity and insight to an increasingly complex healthcare future. Our dedicated research team and extended network of partners engage in exploratory and applied research to create new knowledge, inform and enhance best practices, contribute to the development of new services and technologies, and build capacity through training and collaboration. Find out more about our research impact. 
The opinions reflected in this post are those of the author and do not necessarily reflect the opinions of Canadian Blood Services nor do they reflect the views of Health Canada or any other funding agency.
Related blog posts
---
Thursday, November 15, 2018
Jenny Ryan
Use plain language to tell the story of your research in blood, plasma, stem cells or organs & tissues.
---
Friday, April 05, 2019
Dr. Geraldine Walsh
The results of our first-ever Lay Science Writing Competition are in, read-on to discover who gets top-prize and what happens next.
---
Thursday, April 18, 2019
Dr. Jennie Haw
Dr. Jennie Haw's prize-winning entry in our Lay Science Writing Competition describes research underway to optimize cord blood donor recruitment for the national, public cord blood bank.