International team concludes convalescent plasma is not effective for treating COVID-19
---
Friday, September 10, 2021
Guest Author
Amie T. Kron is the clinical research coordinator in transfusion medicine at Sunnybrook Research Institute in Toronto and is a member of the University of Toronto QUEST program, a research collaborative supported by Canadian Blood Services.
Dr. Jeannie Callum is a Transfusion Medicine Specialist and Hematologist at Kingston Health Sciences Center and Professor in the Department of Pathology and Molecular Medicine at Queen's University. She also serves as the lead for the QUEST transfusion research program at the University of Toronto.
When the World Health Organization declared a pandemic in March 2020 due to the global spread of a novel coronavirus (SARS-CoV-2), the virus that causes COVID-19, there were no specific antiviral treatments available for the life-threatening disease. Clinician scientists began looking at convalescent plasma (CP) as a potential therapy. CP is plasma collected from people who recovered from a virus and show high levels of antibodies, but do not have active infection.
There was good reason to think CP could be used to treat COVID-19. Antibodies formed to help the body fight off infection are found in plasma. In two previous epidemics caused by viruses (severe acute respiratory syndrome coronavirus, or SARS-CoV-1, and Middle Eastern respiratory coronavirus, or MERS-CoV), CP showed some promise in lowering patient mortality.
At the start of the COVID-19 pandemic, CP showed potential as a treatment for COVID-19 patients, but there was not enough data to conclude it was an effective therapy. In May 2020, an international research team led by Canadian scientists (Drs. Donald Arnold at the McMaster Centre for Transfusion Research, Jeannie Callum at the University of Toronto QUEST transfusion research program, and Philippe Bégin at the Centre Hospitalier de l'Université de Montréal) launched the largest clinical trial on convalescent plasma and COVID-19, called CONCOR-1 (www.concor1.ca). CONCOR-1 was an open-label, randomized controlled trial of CP or standard of care for hospitalized adults with COVID-19 respiratory illness. 72 hospitals in Canada, the United States and Brazil participated, and 940 patients were randomized into the trial.
Investigators thought that CP would reduce the risk of intubation or death from the virus, but unfortunately this was not the case. The findings, published in the journal Nature Medicine, found that compared to patients randomized to standard of care, patients receiving CP had significantly more serious adverse events, such as increased oxygen requirements and respiratory failure. The investigators believe different antibody levels in patients and CP donors affected the treatment response. CP found to have either low or non-functioning antibody levels was associated with a greater risk of intubation or death. This means that CP with low levels of antibodies can actually be harmful. The study investigators hypothesize that 'poor' antibodies in CP may actually compete with a patient's functioning antibodies to impair the immune response.
The key message from the CONCOR-1 findings is that CP is not recommended to treat COVID-19 outside of a controlled clinical trial. Future studies are planned to better understand the specific antibody functions associated with CP to see if and how it can best be used for patients with COVID-19 or other viruses.
Many thanks are due to the thousands of people who helped launch this trial. The trial was an international collaboration between patients and their family members, plasma donors, research teams, blood bank staff, study investigators, a community advisory committee, and four blood suppliers (Canadian Blood Services, Héma-Québec, the New York Blood Center, and Hemorio, Brazil's blood supplier). The CONCOR-1 trial is one of several trials evaluating the effectiveness of CP to treat COVID. The CONCOR-1 trial has shown how quickly the transfusion community can rally together to support clinical trials—valuable collaborations that can be drawn on to support future work.
Numerous funding agencies funded the $5.5 million trial: the Canadian Institutes of Health Research, Canadian Blood Services, Héma-Québec, Ontario Research Fund, Quebec Ministry of Economics and Innovation, the University of Toronto, the Government of Saskatchewan Ministry of Health, Sunnybrook Academic Health Sciences Centre, University Health Network, McMaster University, University Health Foundation at University of Alberta Hospital, Sunnybrook Hospital Foundation, Sinai Health System Foundation, CHU Ste. Justine Foundation, the Ottawa Hospital Academic Medical Organization, the Ottawa Hospital Foundation COVID-19 Research Fund and numerous generous private donors.
Image reprinted with permission. Source: CONCOR-1 clinical trial website. Available from: CONCOR (concor1.ca).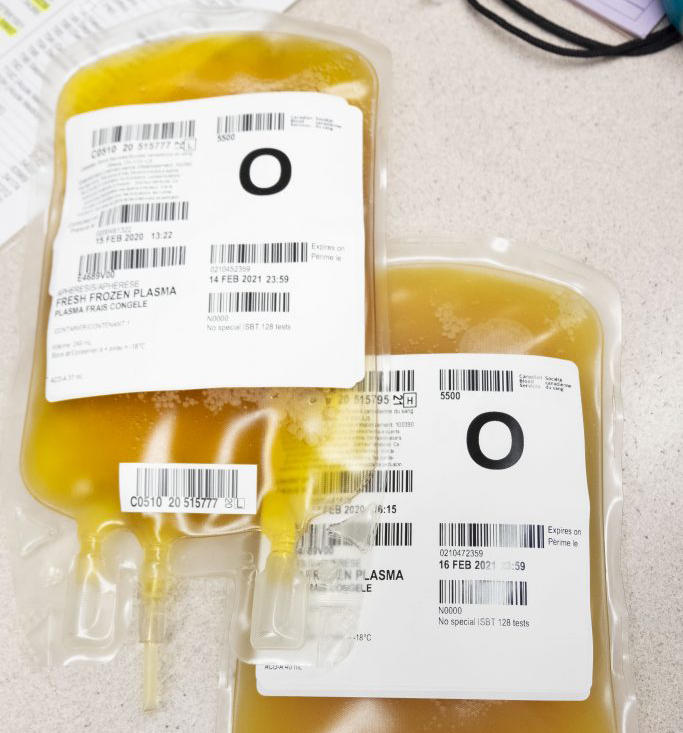 Convalescent plasma units.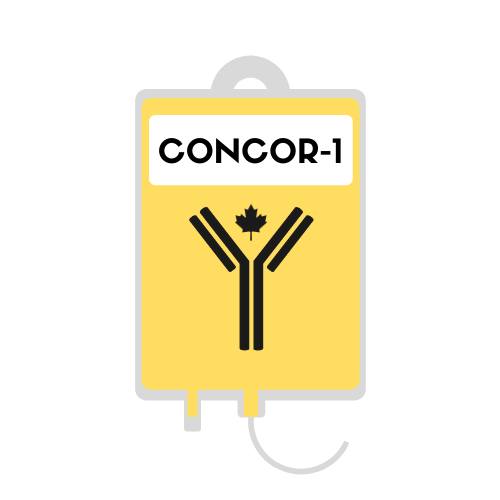 CONCOR-1 icon
---
Canadian Blood Services – Driving world-class innovation
Through discovery, development and applied research, Canadian Blood Services drives world-class innovation in blood transfusion, cellular therapy and transplantation—bringing clarity and insight to an increasingly complex healthcare future. Our dedicated research team and extended network of partners engage in exploratory and applied research to create new knowledge, inform and enhance best practices, contribute to the development of new services and technologies, and build capacity through training and collaboration. Find out more about our research impact. 
The opinions reflected in this post are those of the author and do not necessarily reflect the opinions of Canadian Blood Services nor do they reflect the views of Health Canada or any other funding agency.
Related blog posts
---
Thursday, July 15, 2021
Massimo Cau
Dr. Andrew Shih recently received funding from the Centre for Innovation to process map the implementation of the CONCOR-1 convalescent plasma trials in British Columbia – work that may inform and improve future clinical trials. Dr. Shih talks to Massimo Cau, a PhD Candidate at the Centre for Blood Research, about his research plans.
---
Thursday, February 25, 2021
Dr. Geraldine Walsh
A pandemic, and a possible blood-derived treatment, means blood operators like Canadian Blood Services have found themselves playing a unique role in national and international clinical trials. Canadian Blood Services social scientist, Dr. Kelly Holloway, and her collaborators, were recently awarded funding to understand the role and experience of blood operators as they navigate this new landscape.
---
Tuesday, October 20, 2020
Catherine Lewis
How Canadian Blood Services quickly stood up a seroprevalence lab able to test thousands of donor blood samples for SARS-CoV-2 antibodies each day