Highlights from the Transplant Summit 2018
---
Friday, November 02, 2018
Jenny Ryan
Health professionals, patients, and policy makers gathered in Ottawa to discuss the future of transplantation in Canada at the Canadian Transplant Summit 2018 — October 16-20, 2018.
The Canadian Society of Transplantation, Canadian Blood Services, the Canadian Donation and Transplantation Research Program (formerly CNTRP) and Canadian Bone Marrow Transplant Group worked together to develop a robust and comprehensive scientific program.  Over the course of five jam-packed days the community shared knowledge, learned from one another and talked all sides of system improvement. The Summit opened with a welcome from of all four hosting partners the Opening Plenary.
An exciting aspect of the Transplant Summit was the inclusion of patient partners in the scientific program. The perspectives of donors, patients and their families is so important in conversations about improving the system, outcomes and experiences.
Image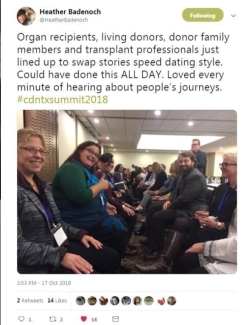 Organ recipients, living donors, donor family members and transplant professionals just lined up to swap stories speed dating style. Could have done this ALL DAY. Loved every minute of hearing about people's journeys. #cdntxsummit2018 pic.twitter.com/YTQNnFqOPE  — Heather Badenoch (@HeatherBadenoch) October 17, 2018
The Opening Plenary was a highlight and an eye-opener. Titled: "Arrested Development in Canadian HealthCare: Against the Odds Donation and Transplantation has created systemic changes that are working. Removing systemic obstacles going forward is essential," the session was moderated by Sean Delaney, associate director, listing and allocation, Canadian Blood Services. The keynote speakers included the Globe and Mail's health columnist, André Picard and Jennifer Woolfsmith, the mother of an organ donor.
 

Image
André Picard shared his in-depth knowledge of the health system in his talk titled "Reforming medicare: Obstacles and Opportunities" and we had the great privilege of hearing from Jennifer Woolfsmith. Jennifer brought the donor family perspective to light. Six-and-a-half years ago Jennifer's 22-month-old daughter Mackenzy suffered a catastrophic injury and became an organ donor.
Since then, Jennifer has continued to share her story to help reframe the discussion around organ donation, to honour Mackenzy's life and that maternal bond that never goes away, and to ensure families know that organ donation is an option. She challenged those in health care not to be afraid to approach and to ask a family about donation. Explaining that while it doesn't ease the grief of losing a child, it provides hope.
Image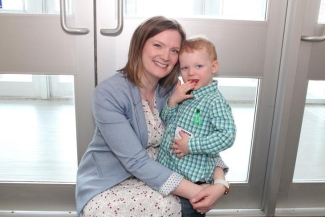 In November 2017, the Canadian Guidelines for Controlled Pediatric Donation after Circulatory Determination of Death (pDCD) were published. Jennifer Woolfsmith brought the patient family perspective to the table by reviewing these leading practice guidelines, providing valuable insight from a parents' point of view.
"Knowing my daughter continues to impact the world through donation brings me so much comfort. So, it truly was my honour to contribute by reviewing these guidelines with the hope of giving other parents this option to bring purpose and meaning to the experience of losing their child."
Dr. Sam Shemie, Medical Director, moderated a session titled deceased donation: safely expanding the donor pool, and provided an update on an expert forum held earlier in the week on establishing a medical, ethical and legal framework for heart donation after circulatory death. The session included an international perspective from Dr. Gavin Pettigrew, University of Cambridge and a personal story of the patient perspective shared by Thomas Shing who was one of the first recipients of a heart through DCD donation in the United Kingdom.
Image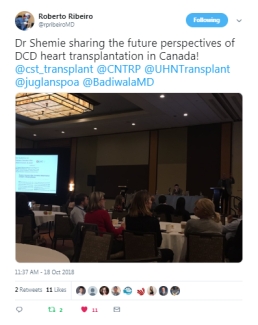 On top of many informative sessions, the Summit created opportunities for face-to-face problem solving. For instance, Canadian Blood Services brought together a meeting of the kidney surgical subcommittee to work on issues and barriers for living donation. In addition:
our Organ Listing and Allocation Team presented and participated in four different annual meetings of the individual organ professional societies (Lung, Liver, Kidney, and HLA), which included discussions about future workplan priorities in organ sharing, optimizing organ allocation, and the future for performance measurement and data in Canada. 

the Living Donation team hosted a meeting of kidney surgeons in the morning, and then supported our Dr. Michel Paquet, our medical advisor for renal transplant with talking to the very large CST Kidney Working Group about the future of the Kidney Paired Donation Program and emerging opportunities in allocation.

Sean Delaney also co-moderated a plenary session on opportunities for optimizing living donation in Canada, with two key speakers who are Canadian leaders in this topic (Dr. Amit Garg of London, ON and Dr. David Landsberg of Vancouver, BC).

Kathy Yetzer, associate director, living donation and transplantation, provided an update on Canadian Blood Services' overall progress in Organ and Tissue Donation and Transplantation to a Saturday plenary, which included walking the participants through Canadian Blood Services' renewed brand,  as well as announcing our nearly finalized work on the establishment of a deceased donation training module that for critical care residents. 
All in all, the Summit was a truly collaborative and enlightening week with many great steps forward in improving transplantation in Canada.  The tireless work of the planning committee with representatives from all four partner hosting partners must be commended.
Visit the Canadian Society of Transplantation to learn more about the 2018 Summit and planning for 2019.
Next up... the Canadian Critical Care Forum, November 6-9 in Toronto.
---
Canadian Blood Services – Driving world-class innovation
Through discovery, development and applied research, Canadian Blood Services drives world-class innovation in blood transfusion, cellular therapy and transplantation—bringing clarity and insight to an increasingly complex healthcare future. Our dedicated research team and extended network of partners engage in exploratory and applied research to create new knowledge, inform and enhance best practices, contribute to the development of new services and technologies, and build capacity through training and collaboration. Find out more about our research impact. 
The opinions reflected in this post are those of the author and do not necessarily reflect the opinions of Canadian Blood Services nor do they reflect the views of Health Canada or any other funding agency.
Related blog posts
---
Wednesday, December 20, 2017
Jenny Ryan
Canadian partners bring experts together for two-day Deceased Donation Symposium as part of CCCF
---
Wednesday, February 10, 2016
Jenny Ryan
A new innovation by a team of Canadian Blood Services researchers and the National HLA Advisory Committee has improved the situation for Canadian transplant patients. Launched in April 2012, the Canadian cPRA Calculator was developed to support Canadian Blood Services' transplant programs. It's a...
---
Wednesday, April 20, 2016
Michelle Hampson
Transplanting organs, tissue or stem cells from one person to another saves lives. It was not easy to figure out what facilitates a healthy and successful transplant though. Efforts over a long time reveal the complexity of the procedure and that very specific circumstances are required. As researchers' understanding of the immune system improved, so did the success rate of transplants.