Stories worth Sharing: Highlights from our partners: Thrombomodulin: Old protein with new functions and hope
---
Friday, February 08, 2019
Dr. Geraldine Walsh
This week, we highlight work from one of our partners, the Centre for Blood Research. Wayne Zhao describes a review by Dr. Ed Conway, Centre for Blood Research director and adjunct scientist at the Centre for Innovation. This review describes the many roles of thrombomodulin, a protein involved in blood coagulation.
Image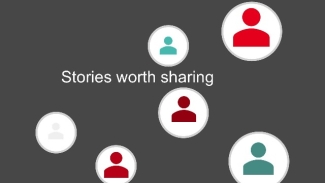 Wayne is a graduate student in the laboratory of Dr. Dana Devine at the Centre for Blood Research and a recipient of a Canadian Blood Services Graduate Fellowship.
Thrombomodulin is a fascinating protein. It was initially recognized for its role in blood clotting (coagulation) and hemostasis. Thrombomodulin modulates thrombin (hence the name!). Thrombin is a key player in the final steps of clot formation to stop bleeding. Thrombin converts soluble fibrinogen to insoluble fibrin, which is a major component of blood clots. Thrombomodulin reduces blood coagulation by acting as a cofactor for the thrombin-mediated formation of activated protein C, an enzyme that suppresses rather than promotes clotting.
In their review, Dr. Conway and Dr. Houra Loghmani, a postdoctoral fellow in his laboratory, illustrate that thrombomodulin has many more roles beyond this traditional role in hemostasis. Studies over the past several decades have shown that thrombomodulin integrates many crucial biological processes and biochemical pathways. From coagulation to immunity, from inflammation to cell proliferation, thrombomodulin plays protective roles. Understanding thrombomodulin and its many roles could help advance our understanding of several diseases. To learn more, read Wayne's blog post on the Centre for Blood Research site.
The Centre for Innovation is proud to partner with the Centre for Blood Research to deliver training and education events and support trainees.
---
Canadian Blood Services – Driving world-class innovation
Through discovery, development and applied research, Canadian Blood Services drives world-class innovation in blood transfusion, cellular therapy and transplantation—bringing clarity and insight to an increasingly complex healthcare future. Our dedicated research team and extended network of partners engage in exploratory and applied research to create new knowledge, inform and enhance best practices, contribute to the development of new services and technologies, and build capacity through training and collaboration. Find out more about our research impact. 
The opinions reflected in this post are those of the author and do not necessarily reflect the opinions of Canadian Blood Services nor do they reflect the views of Health Canada or any other funding agency.
Related blog posts
---
Wednesday, April 11, 2018
Dr. Geraldine Walsh
This week, we catch up with Dr. Ed Conway, the director of the Centre for Blood Research at the University of British Columbia and a Canadian Blood Services adjunct scientist.
---
Wednesday, December 06, 2017
Dr. Geraldine Walsh
Drs. Earl W. Davie, Ross T. MacGillivray and Edmond H. Fischer at the 2017 Earl W. Davie Symposium Vancouver. Read all about this years event and find out more about the inspiration behind it.
---
Wednesday, March 16, 2016
Dr. Geraldine Walsh
Located in Vancouver, BC, near the University of British Columbia campus, our blood for research facility comprises a whole blood and apheresis donor clinic as well as a research and production laboratory.