Graduate Fellowship Program: fostering the future of transfusion science research
---
Wednesday, April 05, 2017
Jenny Ryan
Canadian Blood Services' Graduate Fellowship Program provides support for young investigators who want to initiate or continue training in the field of transfusion science. Graduate students undertaking full-time research training at a Canadian academic institution are invited to apply. The fellowship has a value of $25,000 per annum with an additional travel allowance of $1,000 per year of support. Students may be supported for a maximum of four years, with a requirement for successful renewal halfway through the fellowship.
This post has been developed with support from Eve Rickert and Jetta Rae Robertson at Talk Science To Me
 
Through programs like the Graduate Fellowship Program, Canadian Blood Services provides bright and eager minds the support they need to pursue careers in transfusion science and medicine.
Deb Chen is a graduate student at the University of British Columbia who has used the fellowship stipend to work on two major projects focusing on red blood cells. Chen's research is helping us understand how treatments, like gamma irradiation, and various new technologies, may affect blood quality.
Image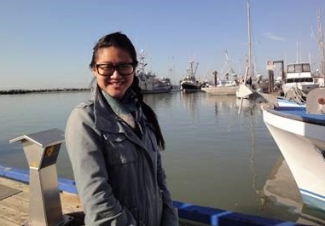 Established in 2000, this fellowship program provides stipends on a competitive basis to students pursuing graduate degrees in transfusion science research at Canadian academic institutions. Canadian Blood Services' graduate fellows receive an annual stipend, with additional funds to support travel to conferences and events.
What sorts of projects fall under the umbrella of "transfusion science"? Projects funded in the 2016-2017 competition included research on antibodies that could offer alternatives to intravenous immunoglobulins, additives for storage of red blood cells at -80°C, and the development of universal blood cells.
Graduate students apply for a fellowship to support their dissertation projects, and they are evaluated on the project's alignment with Canadian Blood Services' Centre for Innovation research priorities, the merit of the proposed research project, and their qualifications, as well as the quality of the environment they're training in.
The program has a global reach with a national focus. Attracting applicants from all across Canada, the fellowship is open to students of all nationalities studying at a Canadian academic institution.
An important benefit of the fellowship is the annual travel stipend that allows participants to participate in conferences, presenting their work and engaging with the national and international research community.
Chen stresses the benefits of articulating her research to a worldwide group of peers, and exchanging ideas with them.
Dr. Mariam Taha studies bacteriophages — viruses that infect and consume bacteria. At the Ottawa Hospital Research Institute, where she now works as a research associate, Taha is part of a project to use bacteriophages in conjunction with antibiotics to treat biofilm infections in prosthetic joints. The treatments derived from that research will quite literally preserve life and limb.
Image
Taha credits her work with Centre for Innovation research scientist Dr. Sandra Ramirez-Arcos — made possible through the Canadian Blood Services Graduate Fellowship Program — for giving her the necessary experience and training to partake in this innovative medical work.
She says being able to present work to the public and to peers from the broader science field is a "crucial skill". Being sponsored to attend international events and representing Canadian Blood Services enables herself and the organization to stay in the loop of contemporary findings from leading researchers.
"People all over the world are always interested to hear about Canadian Blood Services as an organization — how it works, what their procedures are, how their research fits into the big picture, their practices," Taha says.
Recipients of the fellowship are also encouraged to present their research within Canadian Blood Services, at national lunch and learn events. These opportunities to present complex topics in plain language are critical to learning how to communicate science, and offer event participants, Canadian Blood Services staff, valuable exposure to the organization's research and science.
Chen says the structure of the fellowship allowed her to explore where she can best apply her skills for the long-term benefit of her career and the community's needs. While working with Dr. Dana Devine she was given the opportunity to explore many facets of research. 
"I was allowed and encouraged to try other things," she says. "I wasn't prevented from exploring things like learning how to teach in higher education, or to spend time volunteering. Those are the areas I felt myself really expand and grow. It's not just about the research."
"It takes a lot of resources to train and help someone develop," says Dr. Mia Golder, manager of research and training projects at Canadian Blood Services' Centre for Innovation. " The demands of graduate studies on a student's network of resources can be immense. This fellowship provides a single, but vital, facet to the training of our nation's future researchers in transfusion and transplantation medicine and sciences."
Canadian Blood Services is an eligible partner in the Mitacs Accelerate Program. This program allows the organization to partner with universities on certain projects that can tackle the real issues facing the our organization.
Subscribe to Research & Education Round Up to stay up to date on research publications and funding opportunities. 
---
Canadian Blood Services – Driving world-class innovation
Through discovery, development and applied research, Canadian Blood Services drives world-class innovation in blood transfusion, cellular therapy and transplantation—bringing clarity and insight to an increasingly complex healthcare future. Our dedicated research team and extended network of partners engage in exploratory and applied research to create new knowledge, inform and enhance best practices, contribute to the development of new services and technologies, and build capacity through training and collaboration.
The opinions reflected in this post are those of the author(s) and do not necessarily reflect the opinions of Canadian Blood Services.
Related blog posts
---
Wednesday, March 08, 2017
Jenny Ryan
Through this program, partner organizations provide fellowship opportunities for PhD graduates – learning opportunities that can accelerate their professional growth and advance career readiness. Canadian Blood Services is pleased to participate in this program.
---
Wednesday, November 09, 2016
Maeghan Toews
The James Kreppner Award program supports legal research relevant to Canadian Blood Services. Research priorities for the James Kreppner Award include the legal and regulatory aspects of (a) donation, collection, storage, and use of blood, blood products, and hematopoietic stem cells; and (b) organ and tissue donation and transplantation. The 2016 James Kreppner Award will support one project with up to $50,000 for a period of one year. This year's competition closes Nov. 30 2016.