Crossing the Atlantic for ISBT 2017
---
Wednesday, July 19, 2017
Jenny Ryan
This post was written by Canadian Blood Services' postdoctoral fellows, Dr. Syed Qadri from Prof. William Sheffield's laboratory in Hamilton and Dr. Maria Loza from Dr. Sandra Ramirez's laboratory in Ottawa. They both crossed the Atlantic for ISBT 2017. 
In June 2017, more than 2000 transfusion medicine community members, scientists, and health policy makers, from across all continents, converged in the Danish capital Copenhagen to attend the 27th Regional Congress of the International Society of Blood Transfusion.
Every year, this event brings international experts together to address the core challenges in blood banking and transfusion. It promotes new collaborations and is an opportunity to share significant findings in basic science research, clinical and epidemiological studies, as well as blood supply management. The scientific program covers topics from blood donor recruitment to the donation process, blood safety, preparation of blood products, transfusion-transmitted infectious diseases, immunohaematology, patient blood management, adverse transfusion events, cellular therapies, and many more.
Researchers from Canadian Blood Services presented their work at this conference and many contributed as coauthors on several abstracts. It's a true testimony to our organization's contribution to the international research community and the high degree of scientific collaboration among Canadian Blood Services and international partners.  
Read more: Conference Abstracts in Vox Sanguinis, Special Issue: 27th Regional Congress of the ISBT, Copenhagen, Denmark, June 17–21, 2017
Image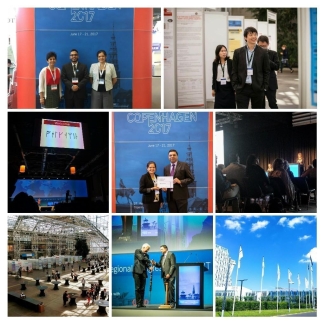 A few examples of Canadian Blood Services representation at ISBT 2017 include:
Dr. Dana Devine, Chief Medical and Scientific Officer, at Canadian Blood Services and Professor of Pathology and Laboratory Medicine at UBC, discussed the possibilities of fibrinogen supplementation in improving the transfusion efficacy of pathogen-inactivated whole blood. As the Editor-in-Chief of Vox Sanguinis, a leading journal in Transfusion Medicine, Dr. Devine chaired the workshops on writing and peer reviewing of scientific papers, providing expert advice to early-career scientists.
Dr. Sandra Ramirez-Arcos, a development scientist at Canadian Blood Services and an adjunct professor at the University of Ottawa, shared her findings on the residual risk of bacterial contamination in platelet concentrates. In another presentation, Dr. Ramirez-Arcos provided intriguing evidence that anaerobic skin flora bacteria can survive in red cell concentrates during refrigerated storage.
Dr. Mindy Goldman, medical director at Canadian Blood Services, revisited the contribution that older donors make to the blood supply in Canada. Dr. Goldman reviewed policies in 12 countries that are part of the Biomedical Excellence for Safer Transfusion (BEST) Collaborative and provided compelling evidence that blood donation is safe for many older individuals.
Dr. Sheila O'Brien, Director, Epidemiology and Surveillance at Canadian Blood Services and an adjunct faculty member at the University of Ottawa, reviewed the residual risk of the human T-cell lymphotropic virus in the Canadian blood supply.
Dr. Syed Qadri, a postdoctoral fellow at Dr. William Sheffield's Centre for Innovation lab in Hamilton, presented his research findings on new experimental approaches in controlling hemorrhage at the Young Investigators Scientific Session.  
Ms. Bonnie Lewis, a graduate student in Dr. Donald Branch's laboratory in Toronto, gave an oral presentation on using recombinant Fc Hexamers as an alternative to intravenous immunoglobulin for the treatment of antibody-mediated autoimmune diseases.
Dr. Maria Loza-Correa, a postdoctoral fellow with Dr. Ramirez's research group in the Centre for Innovation's Ottawa lab, talked about new mechanisms by which bacteria may thrive in platelet concentrates during storage.
Congratulations to Dr. Maria Loza-Correa – recipient of a prestigious Harold Gunson Fellowship awarded by the ISBT to young investigators with top-ranking abstracts.
Other Congress Highlights
The poster session at the ISBT Congress was a great networking opportunity. Here we had the opportunity to meet and interact with some of the new as well as some of the most experienced investigators in the field. It was a good session to exchange ideas, discuss the current and future discoveries in the field of transfusion medicine and meet some very interesting people from all over the globe.
Two writing and publishing workshops were particularly interesting:  One on Peer Reviewing Scientific Papers and another on Writing a Scientific Paper. Both workshops aimed to improve or refresh these all-important writing skills for researchers young and seasoned. The workshops were moderated by our own Dr. Dana Devine and by Dr. Pieter van der Meer, the editor of the ISBT Science Series.
The ISBT goes to great effort to help build skills that improve science communication. They also are very supportive in encouraging young scientists to participate in and feel welcome at the Congress. They even held a special meeting for young investigators to meet with transfusion medicine experts who shared their experiences, answered questions and discussed novel research.
These are just a few highlights from a truly engaging conference program that shared cutting-edge research and provided many networking opportunities.
ISBT 2018 is coming to Toronto!
Save the dates June 2–7, 2018 and make plans to attend.
Transfusion experts from around the world will bring their expertise to Canada and we'll have an opportunity to learn about and discuss international initiatives in the Canadian context. Canadian transfusion experts – including many from Canadian Blood Services – will present at ISBT congress.
The annual CSTM meeting will be part of a "local day" just before the ISBT 2018 begins. So, for many Canadian transfusion medicine professionals who attend CSTM but don't often travel outside of Canada, ISBT 2018 will be a great chance to experience an international conference. Stay tuned!
Stay tuned to the ISBT (www.isbtweb.org) website for more information. 
---
Canadian Blood Services – Driving world-class innovation
Through discovery, development and applied research, Canadian Blood Services drives world-class innovation in blood transfusion, cellular therapy and transplantation—bringing clarity and insight to an increasingly complex healthcare future. Our dedicated research team and extended network of partners engage in exploratory and applied research to create new knowledge, inform and enhance best practices, contribute to the development of new services and technologies, and build capacity through training and collaboration. Find out more about our research impact. 
The opinions reflected in this post are those of the author and do not necessarily reflect the opinions of Canadian Blood Services nor do they reflect the views of Health Canada or any other funding agency.
Related blog posts
---
Monday, May 30, 2016
Jenny Ryan
Congratulations to Mike Halpenny and team for their award-winning presentation at CBMTG 2016.
---
Thursday, April 27, 2017
Jenny Ryan
Last week, the 2017 Canadian Society for Transfusion Medicine Conference "Transfusion for All Ages" rolled into Ottawa. Each year, the CSTM presents this event in partnership with Canadian Blood Services and Héma-Québec.