Highlights from the conference circuit 2016 - Part 2
---
Monday, May 30, 2016
Jenny Ryan
The Canadian Blood and Marrow Transplant Group (CBMTG) held their annual conference April 24-27 in Vancouver. This group provides leadership and promotes excellence in patient care, research and education in the field of blood and marrow transplant.
The 2016 scientific program addressed many topic including complications of autologous and allogeneic transplant and welcomed speakers from across the country and around the world to share their expertise.
Best Oral Abstract Presentation Award
Mike Halpenny, manager of stem cell manufacturing at Canadian Blood Services, presented "Replacement of Pentaspan with Hetastarch for Cryopreservation of Hematopoietic Progenitor Cells, Apheresis".
This presentation won two awards: Best Oral Abstract Presentation Award Clinical: Laboratory/Quality and the Patty Bakkestad-Legare Award for best laboratory abstract.
"This award is really reflective of the teamwork within our stem cell program and within Canadian Blood Services," says Mike. "It's also an example of the great work that the stem cell manufacturing program is doing."
Image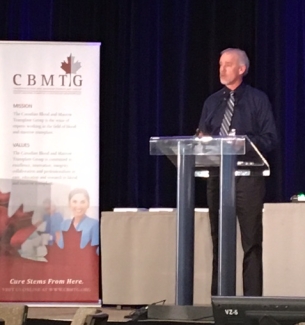 The presentation was based on work to find an alternative product for use in cryopreservation of stem cells through Canadian Blood Services' stem cell manufacturing program. The investigation was done by a team comprising members from the Ottawa cord blood bank and stem cell manufacturing, as well as Canadian Blood Services' validation group, the Edmonton stem cell program, NetCAD, and in partnership with The Ottawa Hospital as well. 
Image
The Abstract "Replacement of Pentaspan with Hetastarch for Cryopreservation of Hematopoietic Progenitor Cells, Apheresis"on behalf of authors Elmoazzen H, Giulivi A, Martin L, Perron D, Bredeson C, Halpenny M, Yang L, McGann L, Birch P, Acker JP  can be found on page 23 of the scientific program
---
Canadian Blood Services – Driving world-class innovation
Through discovery, development and applied research, Canadian Blood Services drives world-class innovation in blood transfusion, cellular therapy and transplantation—bringing clarity and insight to an increasingly complex healthcare future. Our dedicated research team and extended network of partners engage in exploratory and applied research to create new knowledge, inform and enhance best practices, contribute to the development of new services and technologies, and build capacity through training and collaboration.
The opinions reflected in this post are those of the author and do not necessarily reflect the opinions of Canadian Blood Services nor do they reflect the views of Health Canada or any other funding agency.
Related blog posts
---
Friday, May 27, 2016
Dr. Geraldine Walsh
Opportunities for knowledge exchange lead to powerful meetings, new discoveries and well-deserved awards.