CBR Research Day 2022: A day to celebrate summer student research
---
Tuesday, November 08, 2022
Trainees
Our partnership with the Centre for Blood Research (CBR) at the University of British Columbia is helping to train the next generation of researchers in transfusion science. This blog post highlights just some of the achievements accomplished by CBR trainees in education, training or knowledge mobilization. 
This post was written by Waris Bhatia and Paniz Ghavimi, summer student CBR alumni. This post originally appeared on the Centre for Blood Research blog in September 2022.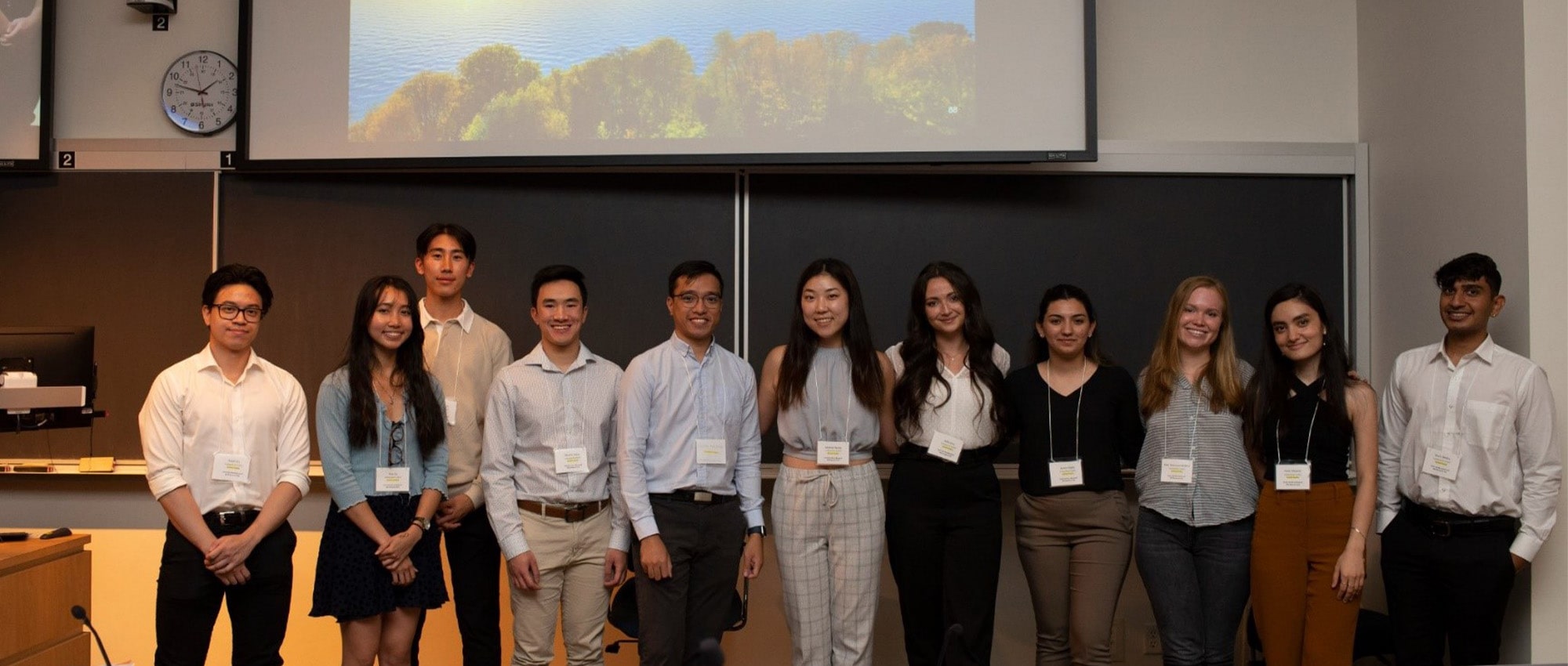 The CBR's community and friends gathered in-person for CBR Research Day on August 16th, to celebrate the achievements of summer students in the CBR Summer Studentship Program. The Program provides undergraduate students with the opportunity to gain hands-on research experience, and to take part in professional development workshops on topics like time management and career development. As the event was held online for the past 2 years, it was refreshing to see posters and attendees in the Life Sciences Centre Atrium! 
After a delicious lunch, the event began with brief remarks from the CBR Director, Dr. Dana Devine. This was followed by oral talks from the summer students, who all did an amazing job presenting their research with short, 3-minute presentations.
Following the talks, Dr. Devine announced the winner of the Neil Mackenzie Mentorship Excellence Award. This award honours the memory of Dr. Neil Mackenzie, a late Postdoctoral Fellow in Dr. Dieter Brömme's lab, who was a caring and dedicated mentor to his students and colleagues.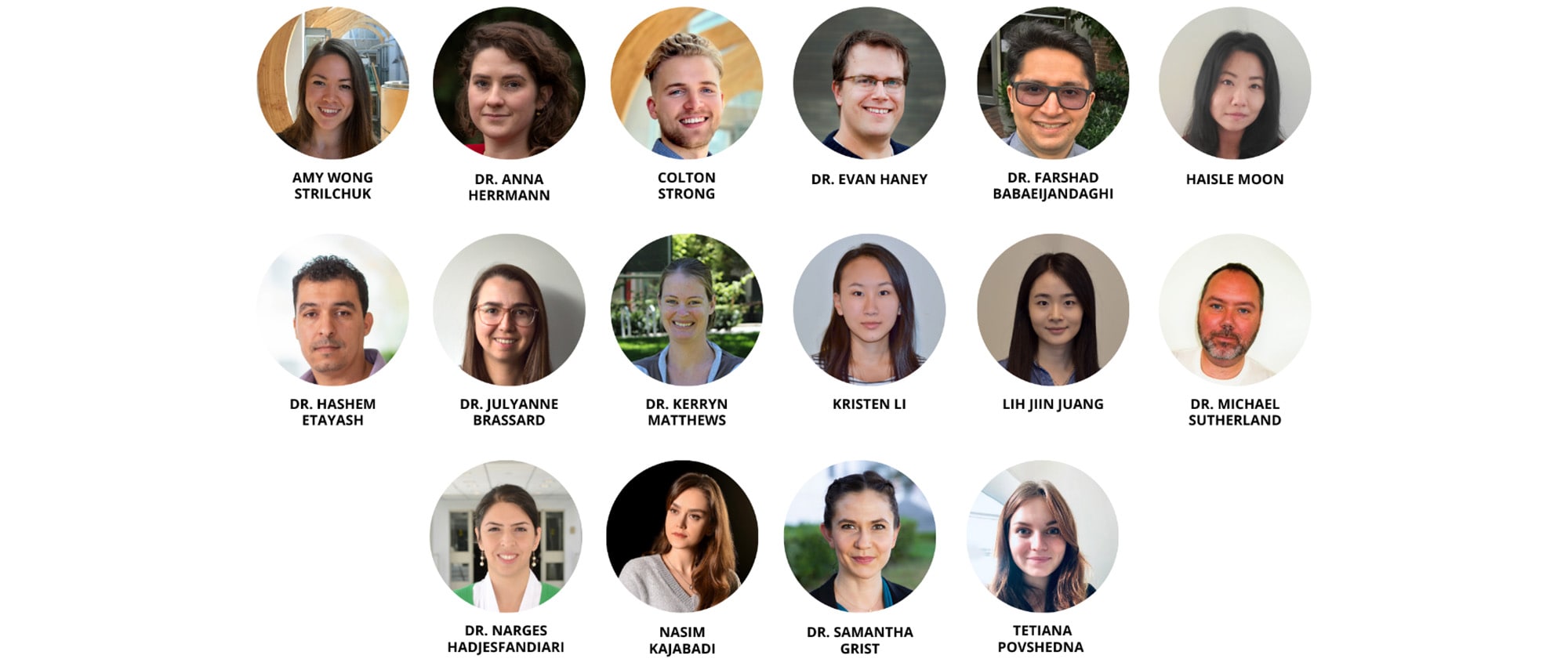 Dr. Samantha Grist, a Postdoctoral Fellow in Dr. Karen Cheung's lab, received this year's award. In her acceptance speech, she expressed how her own mentors were critical in helping her overcome obstacles and pointed out the importance of having mentors to guide you through your career. Congratulations to Dr. Grist and the other nominees and thank you for providing a nurturing environment at the CBR! 
Next, Dr. Anna Blakney gave an enlightening presentation about next-generation RNA vaccines and therapies. Dr. Blakney explained how her lab developed a vaccine for SARS-CoV-2 in an impressive timeline of just 6 months, and how mRNA technology can be applied to a novel pathogen.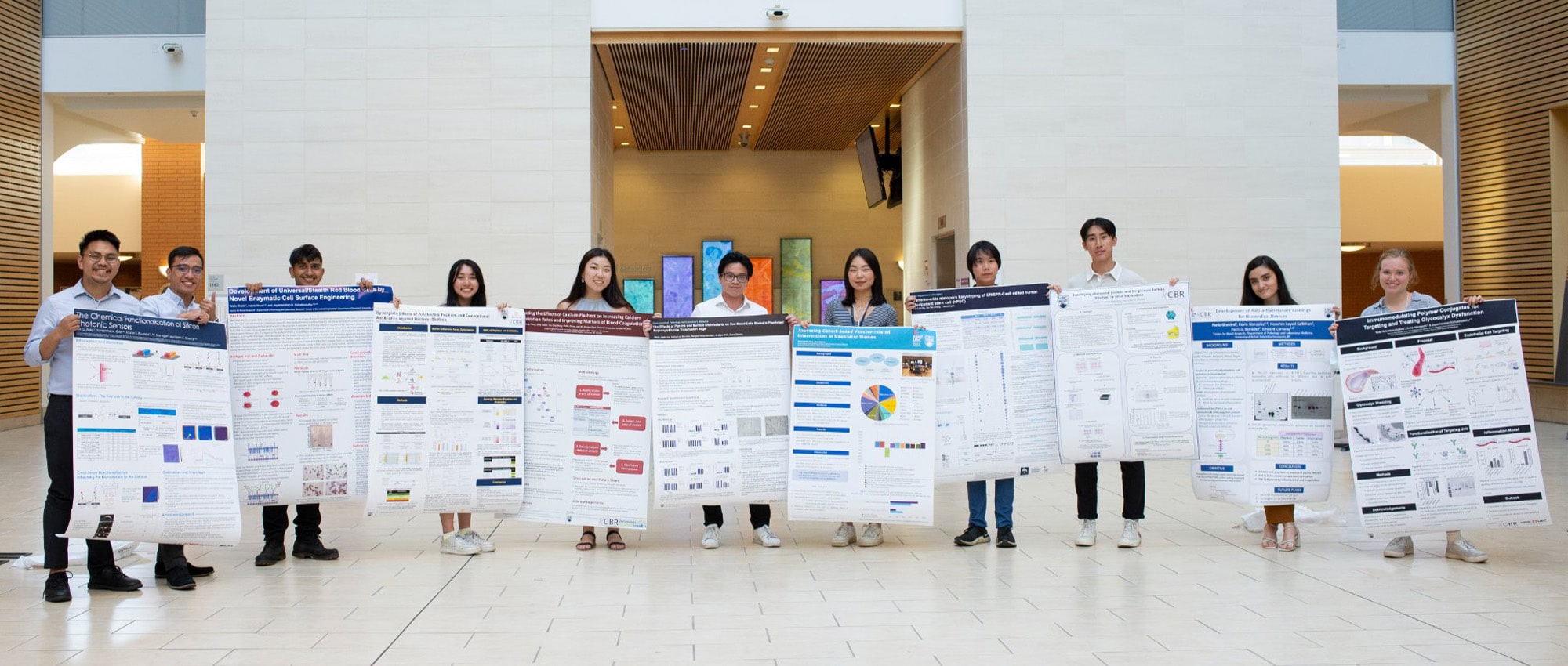 The second half of CBR Research Day continued with poster presentations by summer students, who chatted with attendees about their projects, and showcased their three-month research journeys through the Program. Many also engaged with graduate students and judges about their future plans.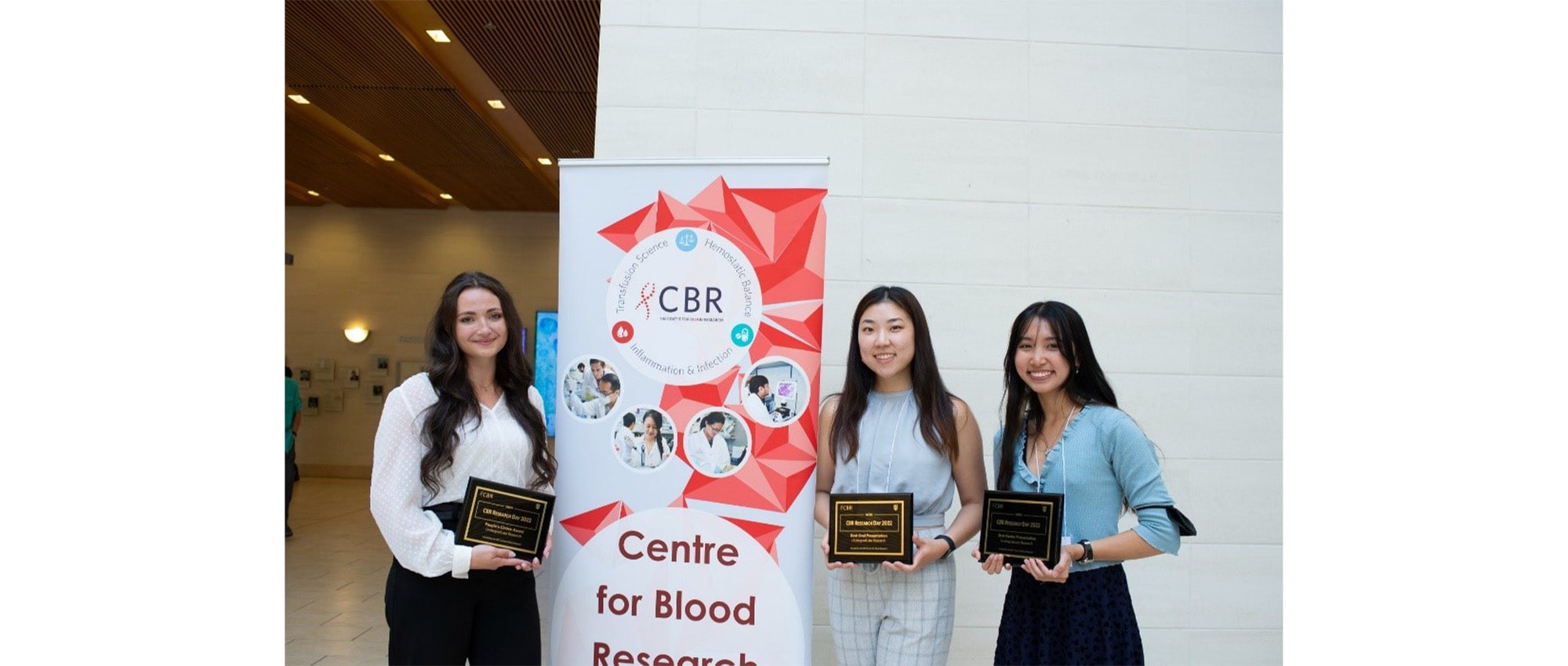 Before the end of the event, Dr. Dana Devine announced the student presentation awards: 
Best Oral Presentation: Melody Weng, from Dr. Andrew Shih's lab
Best Poster Presentation: Tien Do, from Dr. Robert EW Hancock's lab
People's Choice Award: Sofia Levy, from Dr. Hélène Côté's lab 
Congratulations to all! When asked about their experience, each awardee shared something different. Melody said that she was thankful for the opportunity to dip her toes in clinical research this summer through the Program, and that she looks forward to future CBR opportunities and broadening her research interests. 
Tien expressed her immense gratitude for being able to have her own project, and showcasing it to researchers and graduate students in the field. 
"The poster presentation was my favourite part of the event," she added. "Not only did I enhance my presentation skills by conveying a research story to other people, but I was also able to design and organize my data to put on a poster." 
Sofia shared she was honoured to have received a presentation award, and that it's great that the Côté Lab's research resonated with the audience. She also aims to continue learning about actionable ways to improve healthy aging of women living with HIV. 
Lastly, the day concluded with a lovely dinner and delightful socializing amongst the attendees.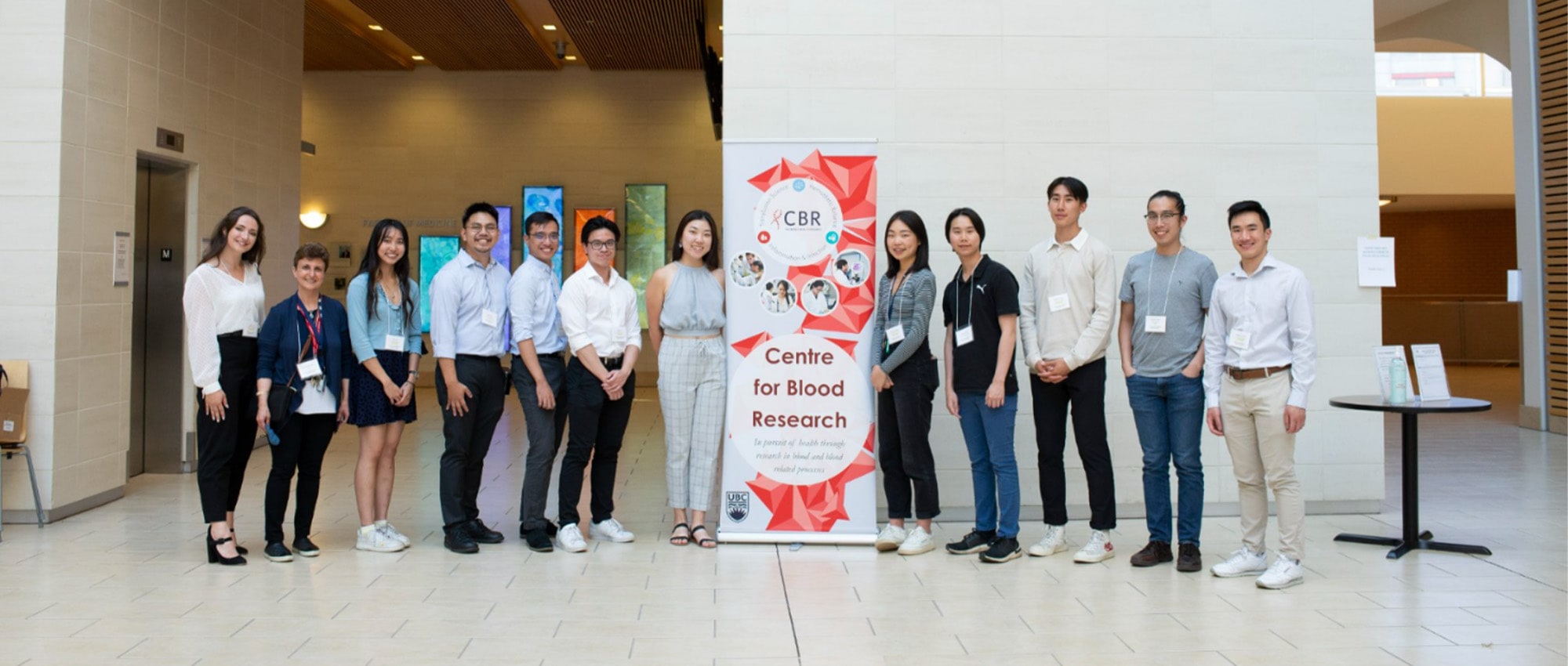 We would like to greatly thank all the amazing sponsors, enthusiastic volunteers and supporters of the CBR. Additionally, we would like to acknowledge the CBR Summer Studentship Program, which provided undergraduate students with this incredible opportunity, and Dr. Parvin Bolourani, the CBR Education Program Manager, for amazingly organizing the workshops and supporting the students during this period and beyond.  
Look forward to learning more about the outstanding research done at CBR, and see you again next year!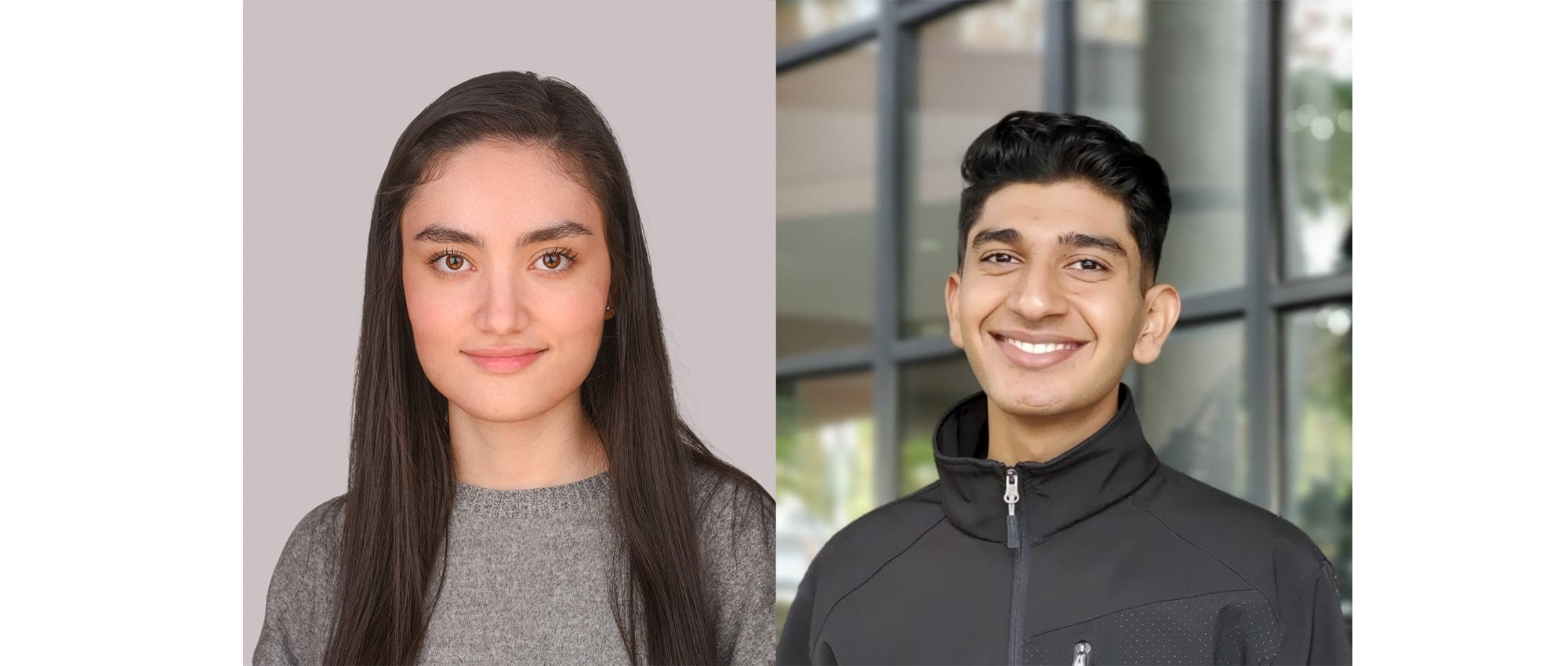 ---
Canadian Blood Services – Driving world-class innovation 
Through discovery, development and applied research, Canadian Blood Services drives world-class innovation in blood transfusion, cellular therapy and transplantation—bringing clarity and insight to an increasingly complex healthcare future. Our dedicated research team and extended network of partners engage in exploratory and applied research to create new knowledge, inform and enhance best practices, contribute to the development of new services and technologies, and build capacity through training and collaboration. Find out more about our research impact.  
The opinions reflected in this post are those of the author and do not necessarily reflect the opinions of Canadian Blood Services nor do they reflect the views of Health Canada or any other funding agency. 
Related blog posts
---
Monday, October 18, 2021
Guest Author
The University of British Columbia's Centre for Blood Research-School of Biomedical Engineering (CBR-SBME) Research Day celebrates the progress and accomplishments of summer students. It takes place every August, at the conclusion of the CBR-SBME Summer Studentship Program, which is supported in part by Canadian Blood Services. In this post, two Summer Student Program alumni describe the 2021 virtual event.
---
Thursday, September 12, 2019
Dr. Geraldine Walsh
Always an engaging and informative event, this year's partnership with the University of British Columbia's School of Biomedical Engineering meant the Centre for Blood Research's 2019 Research Day touched on an astonishing array of topics...
---
Tuesday, September 11, 2018
Dr. Geraldine Walsh
Research day celebrates the end of summer and close of the Centre for Blood Research Summer Studentship Program. This year's keynote speaker, Dr. Farah Alibay, an aerospace engineer with NASA's Jet Propulsion Laboratory in Los Angeles spoke of her work on the Mars InSight mission.