Bringing best practices in organ donation and transplantation to Beijing
---
Wednesday, December 07, 2016
Jillian Adler
Canadian Blood Services staff part of a team of experts who organized the first international leadership workshop on organ donation and transplantation in Beijing, China.
Image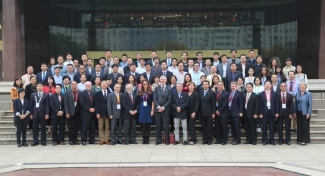 The International Society for Donation and Procurement (ISODP), along with the International Transplant Society (TTS), and the World Health Organization (WHO), recently brought global experts together in Beijing to help China develop and advance its organ donation program. ISODP past president and director of donation and transplantation at Canadian Blood Services, Kimberly Young, was the workshop's scientific chair.
For years, China has received global condemnation for unethical practices related to organ donation and, in particular, the practice of recovering organs from executed prisoners. Since 2007, the Chinese government itself had expressed an intent to improve its system; evidence of this became more apparent in 2013. That year the government passed the Hangzhou resolution, committing itself to align with the World Health Organization's guiding principles on organ donation and the Declaration of Istanbul (DOI). Both documents provide guidance for ethical practices, how to protect the vulnerable, and how to establish a sustainable transplant program.
For Kimberly Young, Canadian Blood Services director of donation and transplantation and ISODP past president, this was a signal that China was making the required changes and the international community was ready to work with them.  
"China had shown that they were actively building the required infrastructure to evolve legitimate practices in organ donation. The ISODP remains focused on this evolution and is steadfast in its commitment to support concerns, but also wants to support legitimate change," explains Young. "The passing of this resolution meant they were engaged in the necessary steps towards establishing donation practices that would serve the country in transplantation."
Image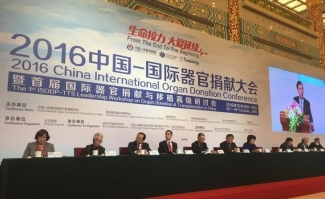 Kimberly Young among panelists at the opening ceremony hosted at the Great Hall of the People in Tiananmen Square. 
"China has one of the lowest rates of deceased donation in the world," says Young. "This workshop was about providing China with the necessary information and best practices to support and develop its organ donation program."
Learning from the Canadian experience  
For three days in October, international organ donation leaders and researchers worked with Critical Care leaders and Ministry of Health officials from China to advise on foundational improvements to achieve a high performing deceased organ donation system.  This international delegation focused on the sharing of leading practices and the medical, organizational, ethical and legal framework for deceased donation services.
Canadian Blood Services' deceased donation medical advisor, Dr. Sam Shemie, was part of the Canadian delegation. He said that, "Critical care based organ donation practices are advancing worldwide. In discussions with Chinese representatives, we were able to provide advice on successful interventions, outcome measures and the challenges that we have overcome in Canada over the past two decades."
Image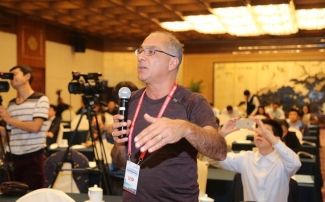 Dr. Sam Shemie, deceased donation and transplantation medical advisor for Canadian Blood Services, was part of the Canadian delegation that travelled to China to share their expertise in organ donation and transplantation.
The program included a look at legislation to support donation and transplantation, evolving approaches and risks in deceased and living donations, as well as lessons learned in building and maintaining public trust. A representative from the WHO was there to reinforce the need for China to respect and adopt its ethical guidelines for organ acquisition and transplantation. 
While China has much work to do to bring its system in line with global norms, Young says she feels an obligation to help. "I feel that obligation very deeply. In my career I've focused on improving our own system and that has forced me to look beyond our borders and reach out to others. Our country has strongly reaped the benefits from the growth in the U.K., the U.S., Spain and beyond – these countries have always answered every call for assistance that we've ever made."
Canada has worked for close to a decade on system improvement and has since applied best practices from colleagues around the world. The theme throughout the Beijing conference was similar and focused on the key drivers of success and lessons learned from world leaders.  
Through the ISODP, Young and her colleagues will continue to place a spotlight on unethical organ procurement practices, and will support China's move forward in the development of a world's best ethical deceased donation transplant program for the benefit of patients in need of transplantation. 
Image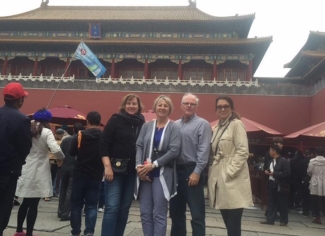 Kimberly Young, Susan Gunderson, Stephen Beed and Mirela Busic visit the Forbidden City palace in Beijing, China.
---
Canadian Blood Services – Driving world-class innovation
Through discovery, development and applied research, Canadian Blood Services drives world-class innovation in blood transfusion, cellular therapy and transplantation—bringing clarity and insight to an increasingly complex healthcare future. Our dedicated research team and extended network of partners engage in exploratory and applied research to create new knowledge, inform and enhance best practices, contribute to the development of new services and technologies, and build capacity through training and collaboration.
The opinions reflected in this post are those of the author and do not necessarily reflect the opinions of Canadian Blood Services nor do they reflect the views of Health Canada or any other funding agency.
Related blog posts
---
Friday, September 09, 2016
Jenny Ryan
When tragedy strikes, expert guidance helps doctors, patients and families take action
---
Wednesday, April 20, 2016
Michelle Hampson
Transplanting organs, tissue or stem cells from one person to another saves lives. It was not easy to figure out what facilitates a healthy and successful transplant though. Efforts over a long time reveal the complexity of the procedure and that very specific circumstances are required. As researchers' understanding of the immune system improved, so did the success rate of transplants.