Blood and Guts: Management of the GI Bleed
---
Tuesday, January 17, 2017
Jenny Ryan
Canadian Blood Services and ORBCON team up for free annual education event
The 12th Annual Transfusion Medicine Education Videoconference takes place April 12, 2017. Pre-register today. It's free! 
Every year Canadian Blood Services and Ontario Regional Blood Coordinating Network (ORBCoN) have partnered to offer an annual educational event to develop the transfusion skills of professionals working in community hospitals with the goal of improving patient outcomes.
Image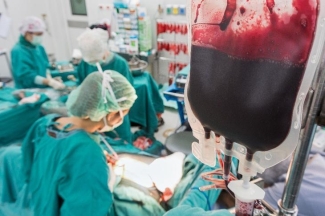 This year's topic, "Blood and Guts: Management of the GI Bleed", will be of particular interest to healthcare professionals who order, issue or transfuse blood and blood products and those interested in further developing their transfusion skills. Participants will learn to identify key factors determining the need for transfusion for patients with a GI bleed, formulate a course of action for care of patients with the coagulopathy of liver disease, and reverse the effects of anticoagulants in patients with GI bleeding.
"This annual event is a great learning experience. We have some excellent speakers on the line up. Experts who will provide attendees with valuable insights that will help inform transfusion decisions at their local hospitals," says Dr. Peter Lesley, Canadian Blood Services medical officer and co-chair of the symposium organizing committee.
 Blood and Guts: Management of the GI Bleed presentations include:
Managing the GI bleeding patient in the community hospital setting
Speaker: Dr. Michèle Brûlé, Health Sciences North
Managing coagulopathies in liver disease
Speaker: Dr. Walter H. (Sunny) Dzik, Massachusetts General Hospital/Harvard Medical School
Reversal of oral anticoagulants in the patient with GI bleeding
Speaker: Dr. Marc Carrier, The Ottawa Hospital
Quality Improvement Plan in Transfusion Medicine
Speaker: Dr. Allison Collins, Northumberland Hills Hospital/Ontario Regional Blood Coordinating Network
The event is free to attend but registration is required. It is presented in two repeating sessions: one morning and one afternoon.
In past years, this event has been a fully accredited CME event with both Family College and Royal College. CME accreditation is being sought for this event.
 See how to attend, please share
 with your networks and pre-register today.
---
Canadian Blood Services – Driving world-class innovation
Through discovery, development and applied research, Canadian Blood Services drives world-class innovation in blood transfusion, cellular therapy and transplantation—bringing clarity and insight to an increasingly complex healthcare future. Our dedicated research team and extended network of partners engage in exploratory and applied research to create new knowledge, inform and enhance best practices, contribute to the development of new services and technologies, and build capacity through training and collaboration.
The opinions reflected in this post are those of the author and do not necessarily reflect the opinions of Canadian Blood Services nor do they reflect the views of Health Canada or any other funding agency.
Related blog posts
---
Wednesday, August 31, 2016
Jenny Ryan
A new and improved site to learn, share and advance in the fields of transfusion and transplantation medicine After much hard work, collaboration and consultation, we're pleased to announce the launch of a new and improved online educational platform for health-care professionals. Canadian Blood...
---
Wednesday, March 30, 2016
Jenny Ryan
"Implementing Choosing Wisely recommendations for transfusion medicine" is the 11th Annual Transfusion Medicine Education Videoconference taking place April 13, 2016. Registration is open!