The AABB Annual Meeting is a must-attend event for those in the fields of transfusion medicine and cellular therapies. AABB 2019 took place last month in San Antonio, Texas. Canadian Blood Services' trainees, Dr. Narges Hadjesfandiari (University of British Columbia) and Dr. Olga Mykhailova (University of Alberta), were there and report back on their meeting highlights.
Narges: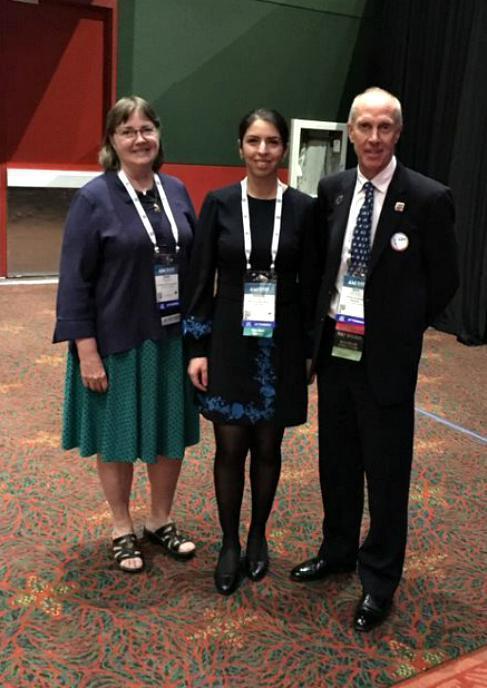 I really enjoyed the combination of specialized sessions that directly related to my research plus multiple more general sessions. The oral session: "Red Blood Cell Storage: The Oxygen Paradox" and the posters in this area inspired me to do more and work faster when I am back in the laboratory! "Blood Bank Mythbusters" and "Beyond Conventional: Controversial Uses of Blood Components," on the other hand, were two eye-opener sessions and a knowledge infusion to my blood banking brain.
AABB 2019 also gave me the opportunity to finally meet face-to-face with Canadian Blood Services' scientists, trainees and administrative staff whose everyday work has inspired and helped me, but who I knew only by name before.
I had the opportunity to present a poster entitled "Cryoprecipitate for Adults – How Important Is It to Match for Blood Type" and give an oral presentation on "Time to Production is Among the Factors Affecting Red Blood Cell Storage Hemolysis" at AABB 2019.
Congratulations to Narges, from Dr. Dana Devine's lab, who won "2019 Outstanding Abstract Award for Trainees" for her oral presentation at AABB 2019. This presentation was also highlighted on the AABB blog.
Olga: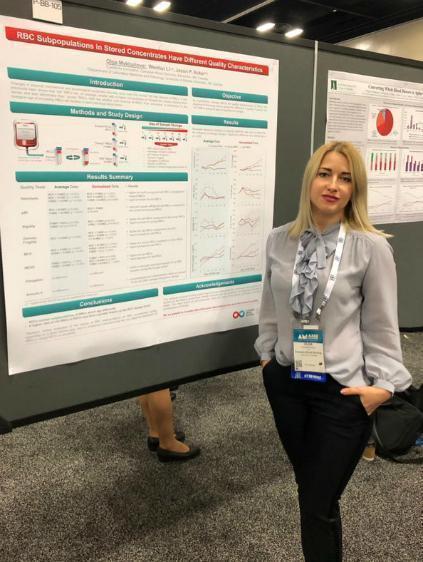 As a postdoctoral fellow at Dr. Jason Acker's laboratory, one of our main areas of research is understanding the aging of different subpopulations of stored red blood cells depending on donor sex, age and other factors. Therefore, it was very interesting to me that lots of speakers at AABB 2019 addressed the fact that progression and severity of the storage lesion – the gradual loss of quality of red blood cells during storage before transfusion – varies depending on donor characteristics.
Dr. Angelo D'Alessandro (University of Colorado) spoke about how donor biology impacts oxidative stress and other metabolic changes during red blood cell storage. Together with Dr. Richard Francis (Columbia University), he hypothesized that storing red blood cells under low-oxygen conditions may be a reasonable approach to improve their storage quality.
It was a great pleasure for me to attend a keynote speech of Yancey Strickler, the co-founder of Kickstarter, who shared with the audience the idea of "Bento Box for Your Values". Strickler believes that everyone can easily define themselves and their values by filling the four boxes of bento: "now me" (short-term, personal goals), "now us" (short-term, collective goals), "future me" (long-term, personal goals) and "future us" (long-term collective goals). This idea is an integral part of sustaining powerful public-benefit corporations, such as Kickstarter.
I also had the opportunity to present a poster about my work: "RBC Subpopulations in Stored Concentrates Have Different Quality Characteristics".
Want to learn more about the exciting advances and discoveries shared at AABB 2019? Check out the AABB blog. Many of their October posts focus on the Annual Meeting.
---
Canadian Blood Services – Driving world-class innovation
Through discovery, development and applied research, Canadian Blood Services drives world-class innovation in blood transfusion, cellular therapy and transplantation—bringing clarity and insight to an increasingly complex healthcare future. Our dedicated research team and extended network of partners engage in exploratory and applied research to create new knowledge, inform and enhance best practices, contribute to the development of new services and technologies, and build capacity through training and collaboration. Find out more about our research impact. 
The opinions reflected in this post are those of the author and do not necessarily reflect the opinions of Canadian Blood Services nor do they reflect the views of Health Canada or any other funding agency.
Related blog posts
---
Thursday, November 07, 2019
Catherine Lewis
Last month, Dr. Donald Branch, a scientist at Canadian Blood Services' Centre for Innovation and professor at the University of Toronto, received a prestigious international award honouring his more than 40 years of major contributions to transfusion medicine and hematology.
---
Friday, September 06, 2019
Canadian Blood Services trainees
On the May 30, an eager group of Canadian Blood Services trainees gathered In Calgary, Alta. for the Centre for Innovation's Research Trainee Workshop. The attendees spent the day at the Eau Claire donor centre to learn about donor selection criteria, the blood donor experience, and the art of science blogging.
---
Tuesday, June 11, 2019
Bronwyn Lyons
The Centre for Blood Research's symposium was held in Vancouver, British Columbia in April. Featuring talks from world-class researchers, trainees and patients, the Norman Bethune Symposium provided attendees with the perfect blend of information and inspiration.