National Organ and Tissue Donation Awareness Week from April 23 –29
---
Image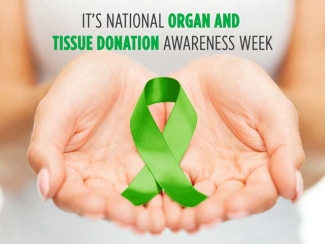 National Organ and Tissue Donation Awareness Week (NOTDAW) raises awareness about the critical need for more organ donors across the country. The campaign encourages all Canadians to register their decision and to talk to their loved ones about organ donation.
Take note of the green ribbons and the green-lit landmarks that will pop up across Canada to acknowledge and honour the donors and their families who gave the gift of life. Green lights also acknowledge the thousands of patients in need of a transplant and those who have died waiting.
Partners are asked to light their buildings, signs and landmarks green on April 25, 2018.
Canadians are encouraged to register their intent to donate during National Organ and Tissue Donation Awareness Week, which runs from April 23 to 29. It is also a reminder to have the important conversation with loved ones about your organ donation wishes.
To learn more about organ and tissue donation and to register your intent to donate, visit organtissuedonation.ca
Help Us Spread the Word: Celebrate #NOTDAW on Social Media!
Please consider sharing these messages to help us raise awareness for National Organ and Tissue Donation Awareness Week from April 23-29