Freelandt Caldwell Reilly LLP celebrates one year as a Partner for Life
---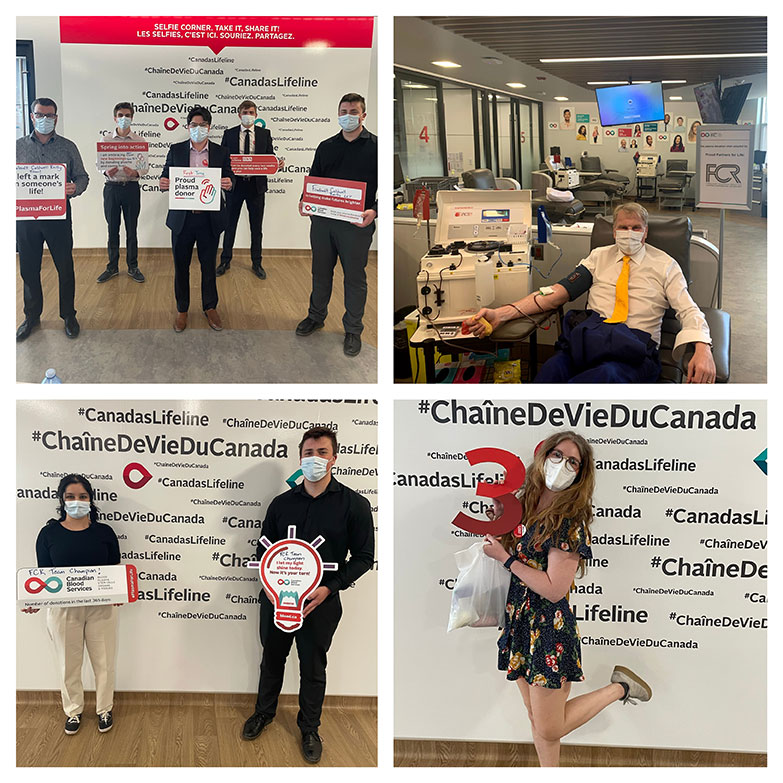 Summer is great time for ice cream, beaches and seasonal fun, but it is also a time for ensuring Canadian patients have the lifesaving products they need all year long. Freelandt Caldwell Reilly LLP (FCR) knows all about showing up for Canadian patients as the firm celebrates their amazing one-year milestone as part of the Partners for Life program and their monthly team donations!
FCR began their partnership with Canadian Blood Services on May 11, 2021, when Logan Pritchard, a summer student, brought up the idea to the firm's partners after learning that many people at FCR had already donated plasma or blood at some time in the past. Since becoming a Partner for Life with Canadian Blood Services, FCR staff members have made more than 125 donations!
As a firm believer in giving back to the community, FCR strongly encourages staff to donate. In fact, donating plasma is so important to FCR that the partners make time available during business hours for management and staff to regularly donate. They know it helps to save lives — by donating just a fraction of time, a life can be saved.
"We recognize how important regular donations are in giving someone the chance to live a happier and healthier life. By encouraging participation in a fun way, it's a win-win for the community, as well as for FCR's team culture," says Ian Fitzpatrick, one of the firm's partners.
By becoming a Partner for Life, FCR enabled the people who were already donating to continue doing so, while also boosting awareness of the importance of donating within the FCR family. This has helped to recruit new donors, boost team morale and engage the public in what the Partners for Life program is all about.
Is your organization interested in joining our Partners for Life program? Donate as a group and build meaningful connections with your colleagues while helping to save lives. In Canada, 1 of every 2 people is eligible to donate blood, plasma and platelets, but only 1 in 81 does so. Currently, a small group of regular donors is meeting the needs of the entire country, a situation that just isn't sustainable. Donors like you can make a difference! 
For more information on our Partners for Life program or if you'd like us to attend one of your events, please contact: pfl@blood.ca.
Thank you to our dedicated donors and partners. Without your support, we would not be able to meet the rising demand for plasma and the needs of Canadian patients.