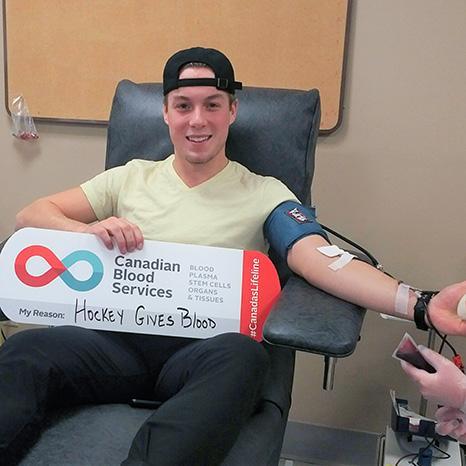 Spotlight on Player Ambassador Matt Welsh
Matt Welsh is the goalie for the Charlottetown Islanders. He has embraced his new leadership role as a Player Ambassador. The Halifax native brought his team into the Charlottetown Donor Centre last fall. Many players made their first donation, including Matt.
"I take pride in this role," said Matt. "I never really knew about blood donation growing up and wasn't educated on it much. If I can get the word out about how important it is and what it means to share the information of how it can save lives, I think that would be huge for the community."
Members of the Queen's Gaels Men's Hockey Team Join the Stem Cell Registry
Brandon Schuldhaus is a 21-year-old first-year student studying arts and sciences at Queen's University. The former CHL player from Calgary now plays for the Queen's Gaels. Despite his busy schedule, Brandon makes time to volunteer as a Player Ambassador. He rallied his hockey teammates last semester to attend a campus stem cell registration event.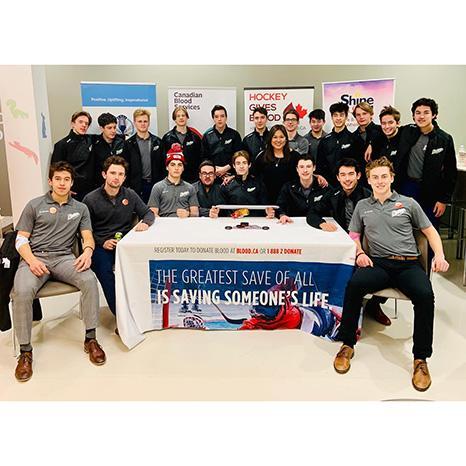 Group Donation from the Calgary Northstars
Last November, the Calgary Northstars Hockey Team organized a group donation. Parents, coaches and siblings joined the players to amplify their impact. Seated are the seven players who became first-time donors. Their teammates in the back row offered support and many are looking forward to turning 17 so they can become part of Canada's Lifeline.
Abbotsford Minor Hockey Association Adopts a Donor Event
The Abbotsford Minor Hockey Association committed to accomplishing 50 Acts of Service within their community last fall as part of their 50th anniversary. One initiative they chose was to participate in a Hockey Gives Blood drive and adopt a local donor event. Parents, coaches, players and even Mayor Braun wore jerseys and rolled up their sleeves at the event. They helped collect 80 units of blood to support Canada's Lifeline, 31 of which were from first-time donors!
Ottawa Senators Host the First NHL 'Hockey Gives Blood' Game Night
On November 15, the Ottawa Senators hosted the first NHL game night event for Hockey Gives Blood. The event took place during a Senators match against the Philadelphia Flyers. Volunteers greeted fans at the entrances, while others helped visitors discover their blood type and try to win prizes in a "Plinko" style game.