Our new collection site in Toronto welcomes new partners
---
Image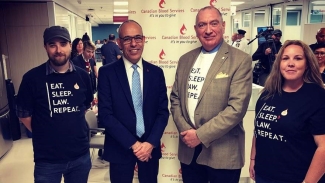 The donor relations team in downtown Toronto is pleased to have recently partnered with Ontario Paralegal Association (OPA). As a strong group donation partner, OPA is determined to support blood donation not only in the greater Toronto area (where most of their members reside) but in other cities across the province as well.    
As part of their inaugural group donation, OPA brought 43 donors to Canadian Blood Services' newest collection site at Yonge and Bloor in downtown Toronto. Their members donated between April 30 and May 4, with 10 members donating on the site's grand opening day.  Another 17 members donated that week at the locations in Richmond Hill and Mississauga.     
OPA has clearly demonstrated that saving lives has become an integral part of their community commitment.  On behalf of patients that benefit from these donations, we extend our sincere thanks.