Mothers helping patients while giving birth to new life
---
Image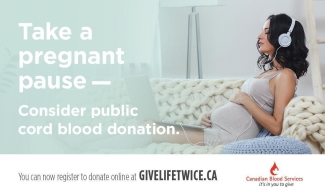 While most Canadians understand the important role blood donors play in patient care, many are not aware of the unique role new mothers can play in helping hospital patients.
Mothers delivering babies in Ottawa, Brampton, Edmonton, and Vancouver have the opportunity to donate life-saving umbilical cord blood to Canadian Blood Services' Cord Blood Bank when they deliver their babies.
Umbilical cord blood is rich with blood-forming stem cells. For many patients, a blood stem cell transplant is the last and best hope of recovery. Patients living with leukemia, lymphoma, aplastic anemia, as well as inherited immune system and metabolic disorders are among those who can be treated with stem cells from cord blood. Hundreds of Canadians require a stem cell transplant each year, and more than 75% will be unable to find a match within their family.
From online registration to delivery day, donating cord blood is a simple process that does not interfere with the natural course of the delivery of a baby. Blood stem cells are collected from the umbilical cord and placenta after the baby has been delivered.
After they are collected, eligible blood stem cells are tested and stored at Canadian Blood Services' Cord Blood Bank, and are available for any patient in Canada or world-wide in need of an unrelated stem cell transplant.  Many patients are counting on someone they don't know to save their life.
July is Cord Blood Awareness Month.  Learn more about how umbilical cord blood can save lives, and register to donate by visiting givelifetwice.ca