2018 Calgary Corporate Challenge
---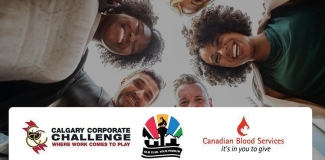 Since 2006, companies participating in the Calgary Corporate Challenge (CCC)'s have raised over $6.6 million for partner charities. The annual challenge brings organizations together in support of local charities, emphasizing corporate team building, employee engagement, fitness and fun. CCC has supported Canadian Blood Services through donations of blood and blood products.
This year, Canadian Blood Services' supporters are rallying once again to save lives by donating thousands of units of blood, platelets and plasma and, for the first time, donating financially as well. These charitable activities earn companies Charity Challenge Points that give them a head start on the scoreboard as they head into the September Games with the final stage of the challenge taking place from September 7-22.

From events like the Calgary Corporate Challenge, to matching their employees' blood donations and volunteer hours by making a financial gift, our corporate partners are always coming up with creative ways to make a difference for patients.

Did you know ? Some companies recognize employees who donate blood or volunteer by making a matching financial gift. Contact a member of your HR team to learn about corporate matching or speak with a member of the Philanthropy Department of Canadian Blood Services to learn how to double your impact for patients.