'We need to do more'
Élodie Guitteaud reflects on her work, her background and what Black history and heritage mean to her
February 18, 2021
This February, in honour of Black History Month, we are celebrating the rich history and accomplishments of Black Canadians and exploring the contributions that Black employees have made to Canadian Blood Services. Élodie Guitteaud, a translator and reviser in Ottawa shared her thoughts on her work, her background and what Black history and heritage mean to her.
Twelve years ago, Élodie Guitteaud, a translator and reviser at Canadian Blood Services, left her home in France and came to Canada in search of a better life. The economic crisis in France at the time was one of the reasons. But racism was another.
"Although I knew that racism also existed in Canada, France's history with racism against Black people was more personal to me because they enslaved my ancestors," says Élodie.
Élodie was born in Martinique, an overseas territory of France in the Caribbean. While she was growing up, her parents often stressed the importance of her family's Black heritage. They made sure she learned about the history of their people, and about the enslavement of West Africans who were brought to the Caribbean during the Atlantic slave trade.
Growing up, Élodie didn't understand why people called her Black. "When I was little, I asked my mother why people called me Black, because it seemed to me the colour of my skin was more brown than black," she recalls. "But I was raised by parents who were proud Black people, and they taught me to never be ashamed of who I am or what I look like."
'I decided that enough was enough'
While Élodie has always been proud to be Black, she didn't used to be comfortable expressing it. She didn't want to be labelled an activist. But the killing of George Floyd changed that. The Minneapolis man died in police custody last May, and widely shared video of his arrest and final moments caused great anger around the world. When she saw that video, "I decided that enough was enough," Élodie says. Like many others, it pushed her to be more vocal about her own experiences.
"His death alone reawakened that conversation for me, and I decided to take action and be more engaged on this issue," Élodie says.
One way Élodie chose to act was to join an "employee resource group" (ERG) at Canadian Blood Services. Last year, Canadian Blood Services launched two ERGs, one for those who are Black, Indigenous, and People of Colour (BIPOC), and another for employees with disabilities. These join an existing LGBTQ+ employee resource group and the organization's Women's Senior Leadership Network. These groups not only provide employees with a formal structure to support their unique needs and nurture their communities within the workplace, they're an avenue for employees to talk with leaders and push the organization to become more diverse and inclusive
"It's because of my keen desire to get involved that I participated in the early focus groups that led to the creation of the BIPOC employee resource group," she says. "To be honest, I don't think these ERGs will solve our organization's problems, but I'm fully committed to giving this a chance and being hopeful."
As a translator-reviser, Élodie sees a lot of Canadian Blood Services communications before they go public. "I get to translate, subtitle and revise a diversity of content, and as a result I learn about multiple programs in the organization," she says.
In her eight years with the organization, she says she's never seen the kind of change that she's witnessing today on the diversity and inclusion front. "But it's not enough to address racism within the organization without delving into things like respect, equal opportunities and access to decision-making roles. So, we still need to do more."
Celebrating Black history and heritage
Élodie is happy that her new home country of Canada increasingly recognizes the contributions of Black people. She'd like Black history and heritage to be celebrated every day, not just during Black History Month. "It's important for Canadians to understand how our country was also built by the hard work of Black slaves," she says. "Perhaps, if more people knew about this history, those of us who are descendants of slaves would no longer be victims of economic and social injustices."
She's also happy that Canadian Blood Services marks this annual celebration of Black history and heritage. "By commemorating Black History Month in our organization, we are acknowledging an important chapter of Canada's history and taking steps to become more inclusive," Élodie says.
Like many organizations, Canadian Blood Services has recognized the lack of diversity and representation within its senior leadership. Elodie hopes the organization will keep the commitment it made last year to Canada's diverse communities.
Image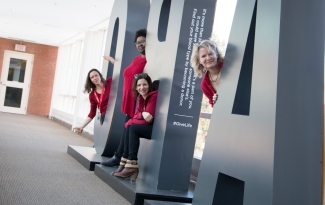 Élodie Guitteaud (second from left) and her colleagues at Canadian Blood Services head office in 2018. Élodie has been working as a translator-reviser at the organization for eight years, and she says her job gives her hope.
'My job gives me hope'
As a teenager, Élodie says she wanted to become a chemist in the cosmetics industry, but she soon realized that studying chemistry in France came with a lot of physics. To get away from physics — which she didn't like — she chose to pursue studies in another field where she excelled: English. She obtained her bachelor's degree in English and American Studies from the University of French Polynesia in Tahiti, followed by a master's degree in translation-localization, terminology, and technical writing at Rennes 2 University in France.
Élodie sees her mixed cultural heritage and her international degrees as blessings to herself and her organization. Both give her a unique perspective on the workplace. However, her rich international experience hasn't shielded her entirely from culture shock, including at work.
"French people are notorious for being hot-tempered, whereas Canadians tend to approach things in a calmer manner, so I have to get used to the calm nature of most Canadians," she says. "I'm constantly readjusting to this new culture, new codes and new ways of building relationships."
She also says her job gives her hope, and she's proud to be able to support patients across the country through her work for Canadian Blood Services.
"To me, donating blood and other blood products is a truly noble way to help people, so helping to recruit donors and advance science in this field is really an honour."
Black History Month is an important time to reflect on Black Canadians' contributions to society, but it also serves as a reminder that actions are necessary to remove barriers, develop equitable opportunities and foster inclusive spaces not only during the month of February, but year-round.  Learn more about our commitment to diversity, equity and inclusion at blood.ca/DEI.