How lifesaving blood products will keep flowing to patients during COVID-19
Forecasting and planning, with the ongoing generosity of healthy donors, make Canada's blood system resilient .
March 12, 2020
When you donate blood, products from that donation can help many patients, including some in communities far from your own.  
Every day, we redistribute products across the country. Sometimes it's for an individual patient who needs a specific product. More often it's to top up the inventories at Canadian Blood Services' regional distribution centres, so they can meet overall hospital needs.  
Continuous blood donations from healthy donors, along with our sophisticated systems for anticipating and meeting demand, will help critical blood products flow to patients during the COVID-19 pandemic. 
 The need for blood products doesn't stop, even during a public health emergency. 
Dr. Theresa Tam, Canada's Chief Public Health Officer, is encouraging Canadians to continue donating blood for this reason. 
"I would like to remind Canadians that there is an ongoing need to continue donating blood," says Dr. Tam. "We need blood donors to book and keep their appointments to prevent shortages.  
"Canadian Blood Services has robust cleaning, infection control and screening practices in place to protect all donors, staff and volunteers, as does Héma-Québec." 
Healthy eligible donors will be needed more than ever as COVID-19 causes groups and individuals to cancel their appointments.  
"If you can come in, you could be replacing someone else who can't right now," says Gord Kerr, director of donor acquisition experience & performance at Canadian Blood Services.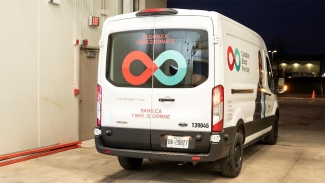 Enhanced safety measures to protect donors and staff 
Donors, employees and volunteers are prompted before entering our buildings to carefully evaluate whether they are feeling well. 
Those who feel ill should not visit donor centres. If they do, staff will ask them to leave and book an appointment for another time. This screening protects other donors as well as patients, staff and volunteers.  
Detailed information about the enhanced safety measures at our donor centres, including increased cleaning, is available on our COVID-19 information page. 
Gord is confident that healthy Canadians will step up to meet the needs of patients. Prospective donors can count on Canadian Blood Services to keep them informed of the elevated need through radio and digital ads, emails, social media, and our website.  
"When we have put the ask out in a loud and clear way, the community has always responded," says Gord. "We hope we can continue to count on donors in Canada to support patients."  
Careful management of crucial products 
The supply of each blood group in Canada's national inventory is always posted on Canadian Blood Services' homepage. Red blood cells from that inventory as well as other blood components such as platelets, plasma and plasma protein products are routinely shipped around the country as needed.  
 "Not all of our regions are self-sufficient in their collections of whole blood or the products we manufacture from whole blood," says Keith Buchanan, manager of inventory and supply planning at Canadian Blood Services. "Product transfers are happening on a daily basis." 
Some of those transfers are of platelets. Because their shelf life is short — just seven days — they can't be stockpiled. Canadian Blood Services aims to match the supply and demand regionally where possible. However, most platelets come from whole blood donations, so a local drop in donations will affect the supply. 
Forecasting the need 
We don't just manage the inventory we get. We forecast demand for blood products as far as 18 months in advance and actively plan to meet targets. 
"We have forecast modelling tools already in place," says Annmarie den Ouden, associate director for integrated supply chain planning at Canadian Blood Services. "They're used as part of our regular process."  
Staff across our organization are working together to address the challenge of COVID-19. We urge healthy donors to book and keep their appointments to help prevent blood shortages. Canadian Blood Services is continuously monitoring the pandemic and will update eligibility criteria as needed to keep donors and patients safe. For the latest information, visit our COVID-19 update.