Health-care workers helping to prevent blood shortages
Toronto transfusion specialist taps colleagues to fill beds at hospital donation event
March 23, 2020
Hospital staff bracing for the full impact of COVID-19 in their own workplace are fitting in appointments to donate blood for patients across the country. 
Dr. Jeannie Callum, a transfusion medicine specialist at Sunnybrook Health Sciences Centre in Toronto, learned about a March 23 donation event at the hospital when she went online to book her own appointment. She's since promoted it heavily, driven in part by news of dropping blood inventory in the U.S. and Europe. After an initial drop in appointments, Canada's blood supply has stabilized for now.  
Dr. Callum knows Sunnybrook patients, as well as patients across the country, will continue to need blood products during COVID-19. Some have blood disorders. Others are cancer patients receiving chemotherapy. 
"We can't stop chemotherapy," says Dr. Callum. "We also have traumas, people coming into the emergency department with gastro-intestinal bleeds. And people still need to have emergency cardiac surgery if they come in."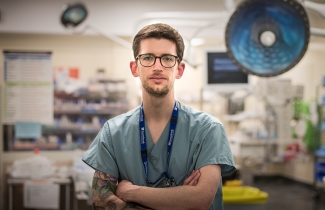 'I'm talking to lots of doctors in the hallways' 
Dr. Callum feels a particular responsibility to donate because her blood type is O-negative. That supply is critical in emergency situations when there is no time to check the patient's blood group. 
"I'm talking to lots of doctors in the hallway and my first question is, 'What's your blood group?'" says Dr. Callum. "If they're an O-negative, I'm basically saying, 'You need to donate.'" 
Dr. Callum says she's also tapped colleagues to help spread the word, including a surgeon who delivered flyers door-to-door in the area around the hospital in an effort to recruit donors. 
Donors can help support health system in stressful times 
Dr. Callum expects most of the donors at the fully-booked Sunnybrook event will be hospital employees and their spouses. 
One of the appointments is for Dr. Bourke Tillmann, an intensive care physician and trauma team leader who has donated blood regularly for many years. To know that other healthy eligible donors would keep giving en masse throughout COVID-19 would give him some peace of mind during a highly stressful time. 
"We're concerned about the infectious risk we're dealing with now. We're concerned about the volume of patients," says Dr. Tillmann. "We have to be concerned about ventilatory resources and health-care-provider resources. 
"To be concerned about blood products is an additional worry which would be nice to not have to deal with." 
Booking weeks or even months ahead is critical during COVID-19  
Dr. Yulia Lin, a hematologist and transfusion medicine specialist, is also booked to donate with her husband. She wants to help avoid blood shortages, a possibility for which she is now forced to actively plan as part of her role at Sunnybrook during COVID-19. 
Dr. Lin encourages other eligible donors to give blood throughout the pandemic if they are able. Blood is processed into components that can help patients across the country, but some of the products can only be stored for short periods. Platelets, for example, last only seven days. "If people are healthy enough and are willing, I think this is a huge thing they can do over time," says Dr. Lin. "We'll really need people to come out to help support the health-care system." 
Dr. Lin's colleague, Dr. Edward Etchells, describes himself as a formerly regular donor who lapsed for health reasons. He plans to resume donating regularly, starting with his appointment on Monday. 
"I decided to get back in the habit," says Dr. Etchells, a Sunnybrook physician in the area of general internal medicine. 
Patients, including the many veterans Sunnybrook serves, inspire him to give blood during COVID-19. 
"I was privileged to see one of our Second World War veterans last week, and I was thinking about how much he and his colleagues sacrificed and suffered," says Dr. Etchells.  
"And this is a very small sacrifice that we can make right now to help."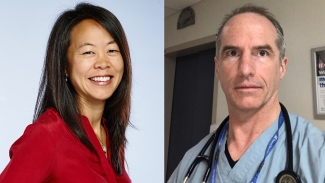 How to help 
Canadian Blood Services thanks donors for their ongoing support during COVID-19. The battle against COVID-19 will be a marathon, not a sprint. We will need donors to keep patients in mind in the weeks and months ahead. 
To make an appointment you can download the GiveBlood app, call 1 888 2 DONATE (1-888-236-6283) or book now at blood.ca.  
Appointments allow people to complete a pre-screening questionnaire before they arrive at a donor centre and to self-defer if necessary in keeping with health and safety recommendations. Donors will be reminded at the time of booking that they must be feeling well to donate and will also receive reminder emails prior to their arrival with this information restated. Appointments also support social distancing and help minimize the number of people at donor centres.  
Canadian Blood Services also requests donors to visit centres only with others who have booked appointments. 
Our website is updated daily with information about our own response to COVID-19 including our measures to keep donors safe.