Halifax cyclists inspire each other to donate blood
Cycling club honours one member's donation milestone and helps meet another member's ongoing need for donated blood
December 18, 2020
Members of the Nova Scotia Ramblers Bicycle Club had two extra reasons to donate blood at the Canadian Blood Services' donor centre in Halifax on December 17th. The first was to witness and celebrate the 100th blood donation of longtime Rambler Lynn Lindeijer; the second was to support Tom Pinsent, the Ramblers' current president. Pinsent, who cheered on all donors outside the clinic due to COVID-19 protocols, requires regular transfusions of red blood cells to treat aplastic anemia. He recently received his 431st transfusion.
"Part of what makes the Ramblers special is that they like giving back to the community as much as they like group cycling," Tom says.
Along with organizing weekly group rides averaging 50 km, the Nova Scotia Ramblers actively support local charities and causes. In recent years, for example, the recreational cycling club raised thousands of dollars for the Kidney Foundation of Canada and for Feed Nova Scotia, a network of 140 food banks and meal programs across the province. This altruistic spirit is part of what initially attracted Pinsent to the Ramblers.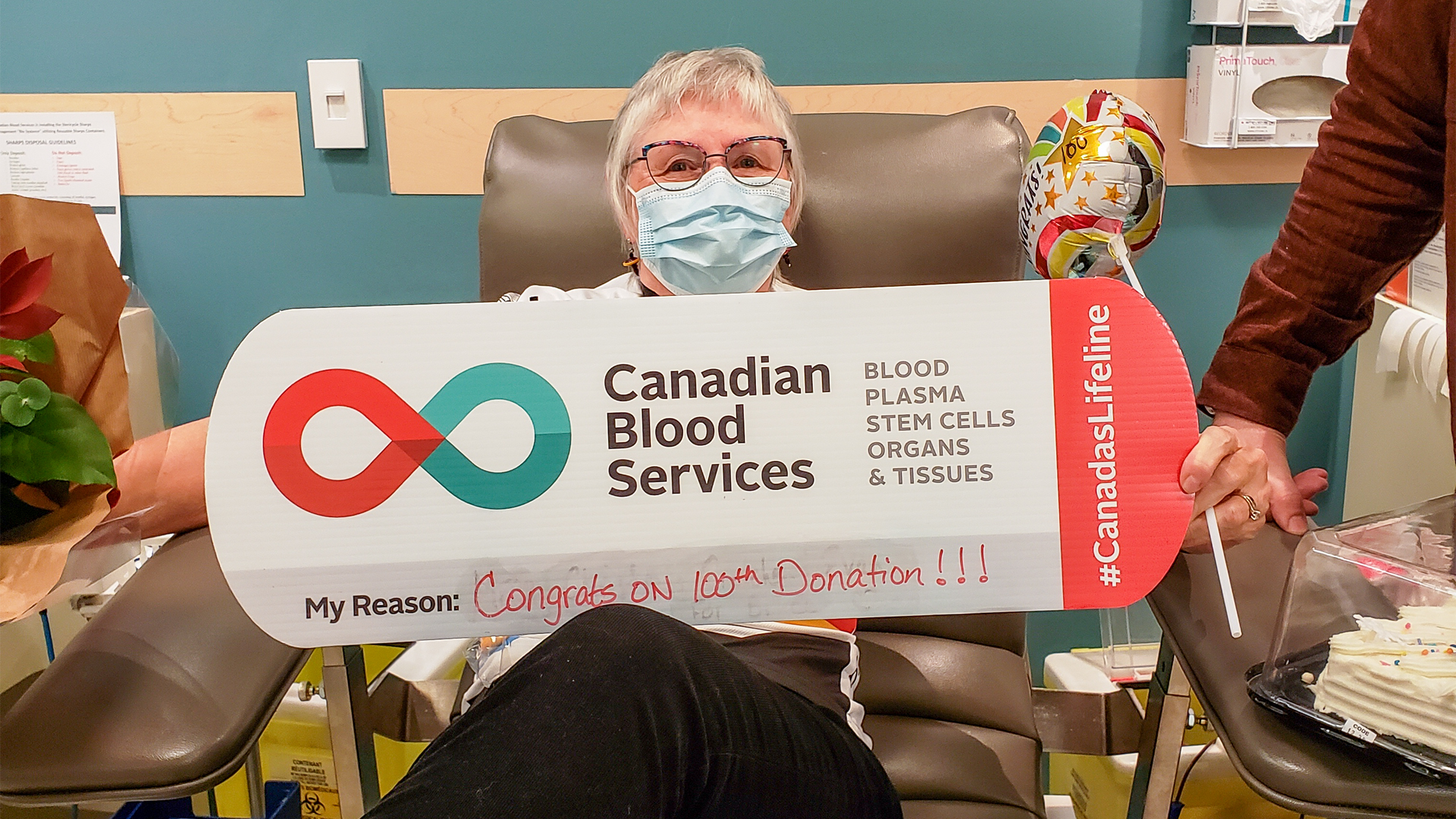 Lynn Lindeijer completes her 100th donation.
"When I was near retirement about seven years ago, one of my co-workers mentioned that he was in a cycling club and suggested I join," Tom says. "I met Lynn during my first ride with the Ramblers, and she was so welcoming and upbeat, that I signed up right away."
Lynn Lindeijer has been a Rambler for 12 years, and has donated blood and volunteered for various community groups for much longer.
"I believe that kindness is the most important thing in life," says Lynn. "More than 40 years ago, everyone in my Grade 12 class donated blood for the first time at a former Canadian Forces base. I still remember the little army cots that we had to lie down on while donating. I've been a regular donor most of my adult life."
Along with donating blood, Lynn has raised money for various charities through cycling events and door-to-door canvassing. For years, she visited palliative patients under a special program run by the VON Canada. When she learned that Tom requires regular transfusions, she began to organize blood donor events for the Ramblers.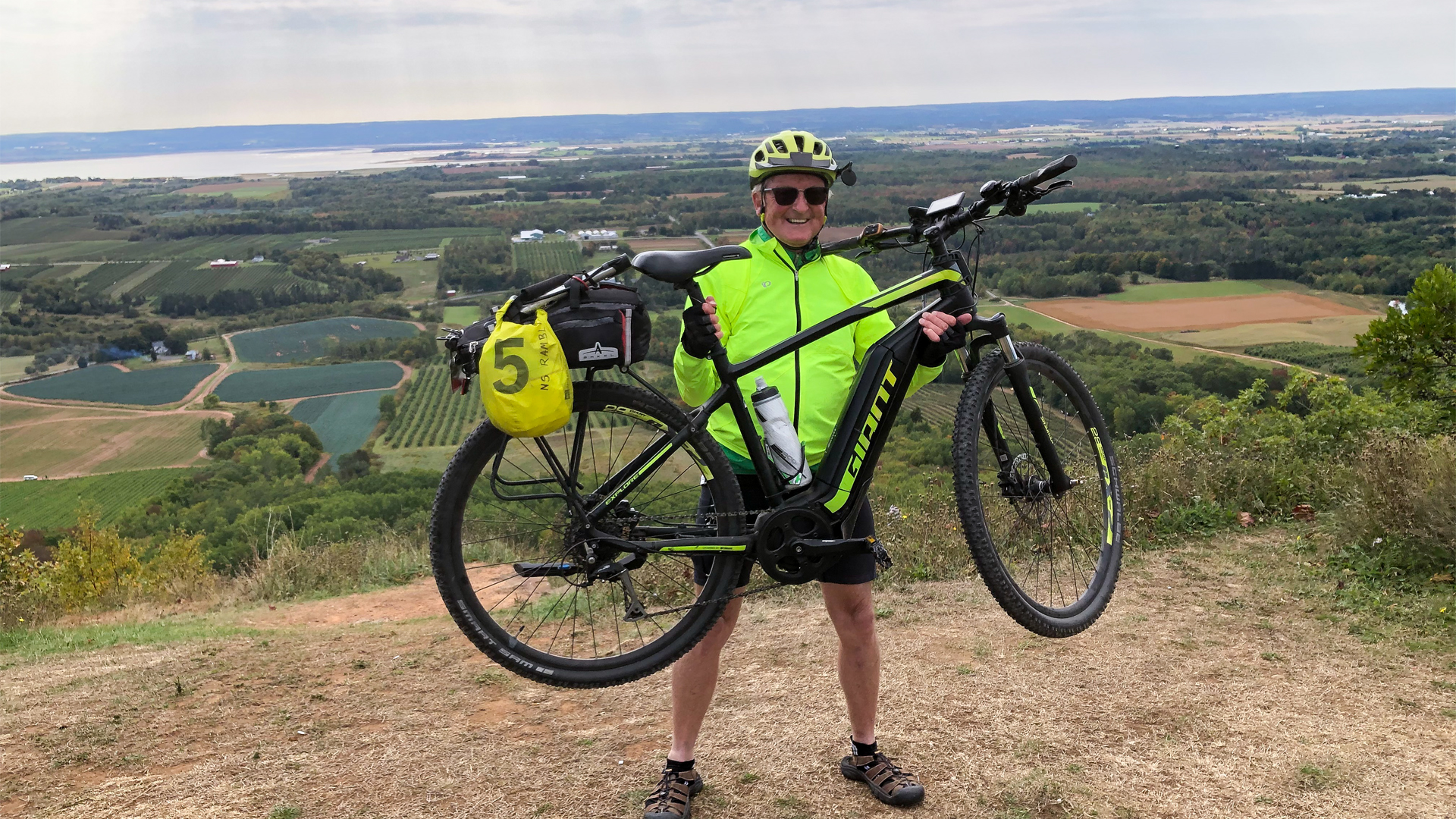 Tom Pinsent during a ride in September, 2020.
"'Leave no rider behind' is one of our club's rules," she says. "About seven or eight Ramblers now donate blood regularly. Apparently, we're one of the few groups that has continued to donate regularly during the pandemic."
Born in Newfoundland, Tom was diagnosed at an early age with aplastic anemia: his bone marrow can't make the red blood cells he needs to survive. Initially, regular doses of cortisone proved an effective treatment. For the last few decades, however, he's required transfusions of red blood cells every two weeks to stay healthy.
"The Ramblers are my kind of people," he says. "They prefer to embrace the life they have rather than yearn for something else. That really resonates with me, in part because of aplastic anemia. I believe we should pay more attention to the things we control and less attention to things beyond our control."
Over the years, Tom Pinsent has often volunteered with Canadian Blood Services, speaking at local donor events and once at Honouring Canada's Lifeline, the national event.
"I do everything I can to inspire people," he says. "Each one of us has the power to make a difference—to make someone else's life a little better. I'm alive today because Canadians donate blood and I'm forever grateful to donors."
Am I eligible to donate blood?
The need for blood is constant, and there are many donation appointments available at the donor centre in Halifax, N.S. and at others across Canada. To book your own appointment to donate blood, visit blood.ca/donate, download the GiveBlood app or call 1 888 2 DONATE. Enhanced safety measures are in place during the COVID-19 pandemic.