For Duncan Carruthers-Lay, the unique chance to help a patient both moved him deeply and shaped his career path
The gentle hum of the machine is almost soothing, a constant background of white noise which makes sleep tempting. Duncan Carruthers-Lay is finding it harder and harder to focus on studying. He has an exam in a few days, one of the last for his undergraduate degree in microbiology at the University of Guelph. Normally he would be holed up alone in his room off-campus cramming for finals. Instead, he's in Toronto at a hospital, with needles in both arms, hooked up to a machine donating stem cells.
Stem cells, specifically blood stem cells, are immature cells that can develop into any blood cell present in the body. They can be transplanted to patients to treat more than 80 diseases and disorders, many of them life-threatening.
It may come as a surprise that only about 20 per cent of donors are asked to donate bone marrow, a surgical procedure where stem cells are collected from the back of the hip bones. For most, the experience is like Duncan's. It required no surgery, though he did have to give himself some injections in the weeks before donating.
While no one likes needles, "I kind of got used to it," Duncan says. "People with diabetes do it all the time."
The injections were to stimulate the production and release of stem cells into his bloodstream so that during the donation — which took about eight hours —, the gently humming machine could draw blood from his body, remove the stem cells, and return the rest of his blood back to him.
"I had a lot of podcasts, and my partner was there to chat with me. It was a lot of sitting," Duncan recalls. "I was kind of worried about the needles because while I've donated blood a lot, they're never in you for that long, but really you forget about them pretty quickly."
Aside from a brief period of discomfort when his calcium levels dropped — a common temporary side-effect of blood thinners he was given to prevent clotting — the procedure was painless. He remembers feeling tired and sore afterward, "but nothing worse than a heavy day at the gym," Duncan says.
The physicians ran a few tests, prescribed some calcium pills and it was over.
From blood donor to stem cell match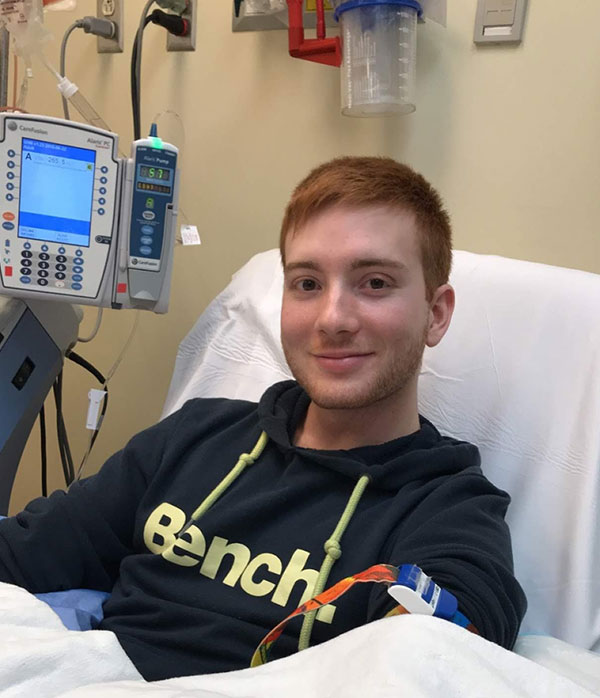 You could say that Duncan's journey to donating stem cells really began in high school. That's when he first joined Canada's Lifeline, as a blood donor.
"I tell everyone, as long as you are eligible and healthy, giving blood is the easiest thing you can do," Duncan says. "How many other ways can you actually help someone by just sitting in a chair?"
A couple of years later, 19-year-old Duncan found himself donating blood with friends at a blood drive at the University of Guelph in Guelph, Ont. They were hanging out at the snack table afterward when blood drive organizers approached them about joining Canadian Blood Services Stem Cell Registry.
"Making a difference is something that a lot of people talk about wanting to do, but that was the first time I felt like I really did."
The registry, with its connections to similar ones around the world, identifies matching stem cell donors for patients in need. Since the majority of patients will not find a match within their own families, the registry is a critical support for most. You must be between the ages of 17 and 35 to join, though registrants can be called to donate up to age 60. Joining the registry is free.
Duncan signed up on the spot, and after taking a quick swab of the inside of his cheek — to be analyzed for the DNA markers used to match donors and patients — he didn't give it another thought.
What it means to be a stem cell match
Three years later the email arrived from Canadian Blood Services: you might be a stem cell match.
At that point Duncan didn't know exactly what that meant. Was he someone's only hope? Were there hundreds of other potential matches? What he did know, thanks to some of the courses in his program, was how much a stem cell donation could mean to a person who needs it.
"I know it's not something you do if someone has the flu. It's a last resort kind of thing," Duncan says. "It seemed like if there was any real chance at being able to manage that, then I had to see it through to the end.
"If someone has leukemia or cancer and this is their last hope, I'm not going to say, 'Sorry, I'm too busy, I'm not going to bother with that.'"
Canadian Blood Services assists and guides registrants who are asked to donate. Donors are not charged for any part of the testing or donation process if they are a match. For example, if a donor must go to another city or province for the stem cell donation procedure, their travel, food, accommodation and other costs are covered.
Many people who are selected as a match describe feeling honoured and special — and in Duncan's case, like a minor medical celebrity. When he went for some additional screening before his donation, all eight nurses at the clinic wanted to help do his bloodwork.
The rewards of donating stem cells
Donating stem cells is always anonymous (unless you are donating for a family member). But it is possible for a donor and recipient to connect after a period if they both agree. In Duncan's case, it was the recipient who reached out.
"It was someone from a totally different part of the country, totally different life, different everything than me," Duncan says. "It changed from being this interesting thing that happened to me, to this really important experience. I felt like I really did help someone."
The experience changed Duncan, too. He was always passionate about health care, but for most of his life, it had just been an intellectual interest. The chance to play a key part in the real life application of science through his stem cell donation made him rethink what he wanted out of a career.
On his daily walk to the hospital where he is researching better antibiotics as part of his graduate degree, Duncan passes the hotel where he and his partner stayed before and after his stem cell donation. It's a constant reminder of how much his life has changed and why.
"Making a difference is something that a lot of people talk about wanting to do, but that was the first time I felt like I really did," he says.
What Duncan is too humble to say is that he didn't just make a difference — he made all the difference.