Alberta boy inspires Wolfe Pack Warriors to donate blood
Kane Wolfe received blood during heart surgeries. Now his family rallies blood donors to help others
December 23, 2021
Kane Wolfe, seen here with his parents Kristy Wolfe (left) and Harrison Wolfe (right) in 2019, received blood when he had heart surgery. (all photos courtesy of Kristy Wolfe Photography)
On November 22, 2012, Kristy and Harrison Wolfe welcomed their first child, Kane, into the world. Even before he was born, they knew he had a congenital heart defect. As they looked forward to being parents for the first time, the couple took this information in stride, but weren't sure what to expect.
"I think we were kind of just waiting to see what happened," says Harrison. "I thought if it was something like a broken limb it could be fixed. It turned out that it wasn't that simple."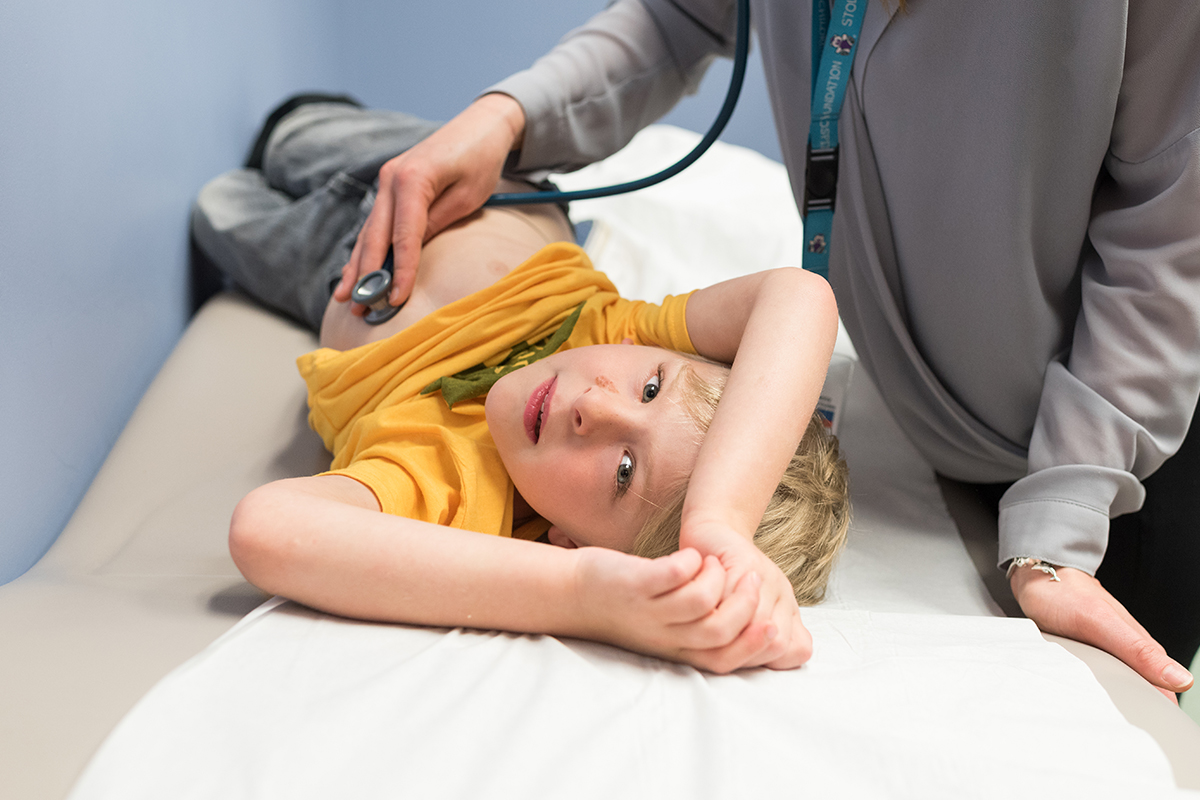 Kane Wolfe, who was born with a heart defect and received blood products during surgery, attended a cardiology check-up in May 2018.
Kane was born eight weeks premature at the Royal Alexandra Hospital in Edmonton. He was immediately taken to the Neonatal Intensive Care Unit (NICU), with doctors anticipating he would need to go directly to the Stollery Children's Hospital for surgery.
Although no surgery was required at that point, it was determined that Kane had two holes in his heart. He had a Ventricular Septal Defect (VSD) — a hole that occurs in the wall (septum) that separates the heart's lower chambers (ventricles), allowing blood to pass from the left to the right side of the heart — and an Atrial Septal Defect (ASD), a hole in the wall that divides the heart's upper chambers (atria).
As a result, Kane had to stay in the NICU for two months to monitor his condition and have regular cardiology exams after he was discharged.
Later, when Kane was a year old, doctors discovered that both holes in his heart had closed on their own, which was not expected. However, they found another congenital heart defect called Supra valvular aortic stenosis, a narrowing of the large blood vessel that carries blood from the heart to the rest of the body. That required Kane to have his first heart surgery the next month, two days after Christmas in 2013.
Although Kane required blood products at that time, the surgery went well, and he was discharged from hospital within four days. "We actually assumed that we were kind of out of the heart world," shared Kristy. "We thought great, it's fixed, let's move on."
In the years that followed, Kane became a big brother. Kristy and Harrison's second son, Maverick, actually shares Kane's birthday. But then, in 2019, there was more bad news. Kane needed a second surgery.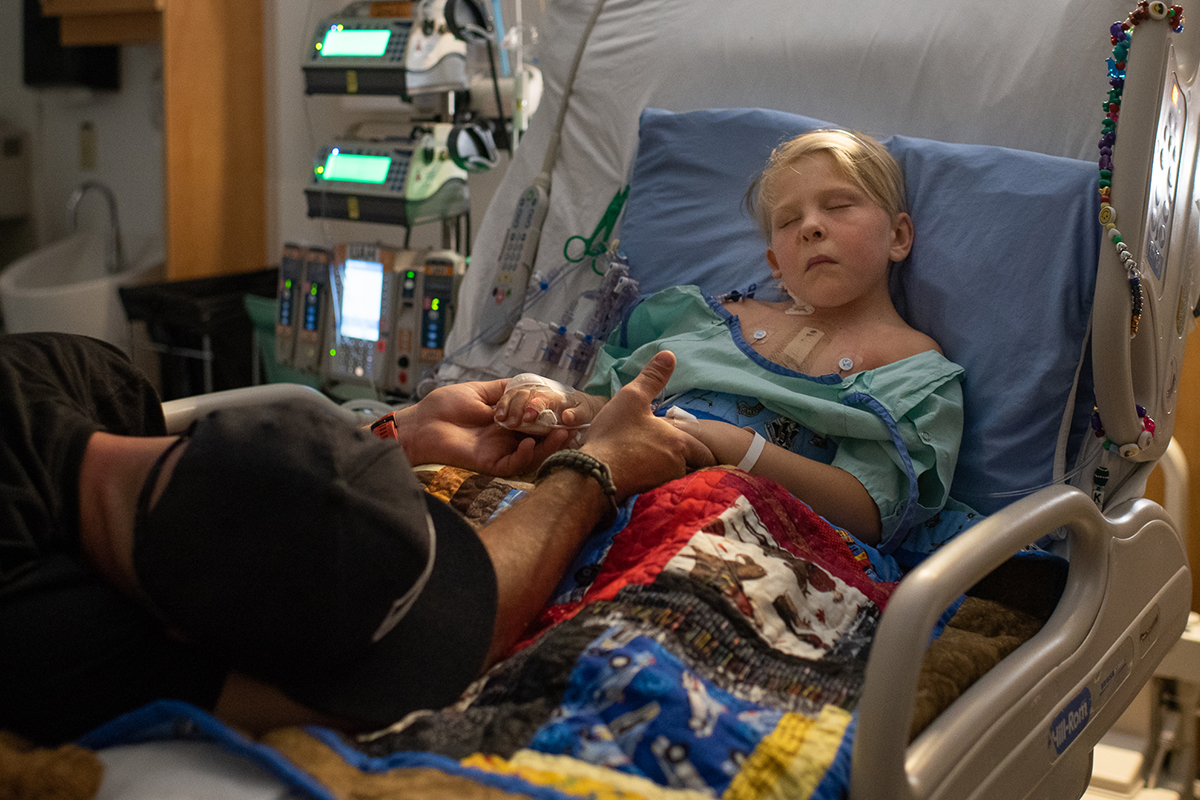 Harrison Wolfe holds his son, Kane's hands while in the Pediatric Cardiac Intensive Care Unit the day after Kane's open-heart surgery in September 2019.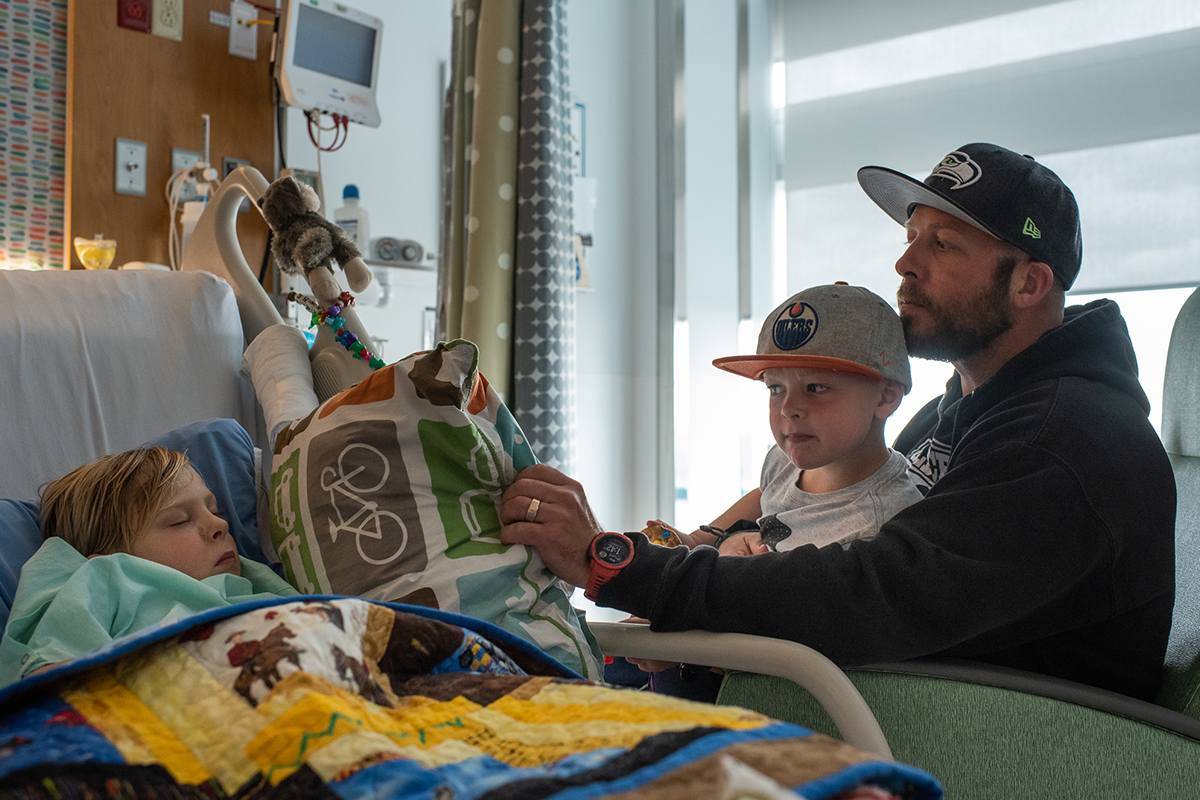 Harrison Wolfe and his son Maverick Wolfe visits Maverick's big brother, Kane, following Kane's open-heart surgery at the Stollery Children's Hospital in September 2019.
Unfortunately, after that second heart surgery, Kane had complications.
"The surgery knocked out his heart's electrical system, so a few days after that, the surgeon needed to go back in and put in a pacemaker," says Kristy
That was their hardest surgery to date because Kane was old enough to express his feelings.
"It was tough watching your child experience an emotional rollercoaster." says his father. "It was scary for Kane, but he's pretty good with it now."
Wolfe Pack Warriors rally blood donors
Harrison Wolfe's great grandfather started Wolfe Automotive Group 100 years ago. The founding of an automotive repair shop in Edmonton, Alta., planted the seeds for a family business with five dealerships across the province. Recently, the family also created the Wolfe Pack Warriors to support their communities.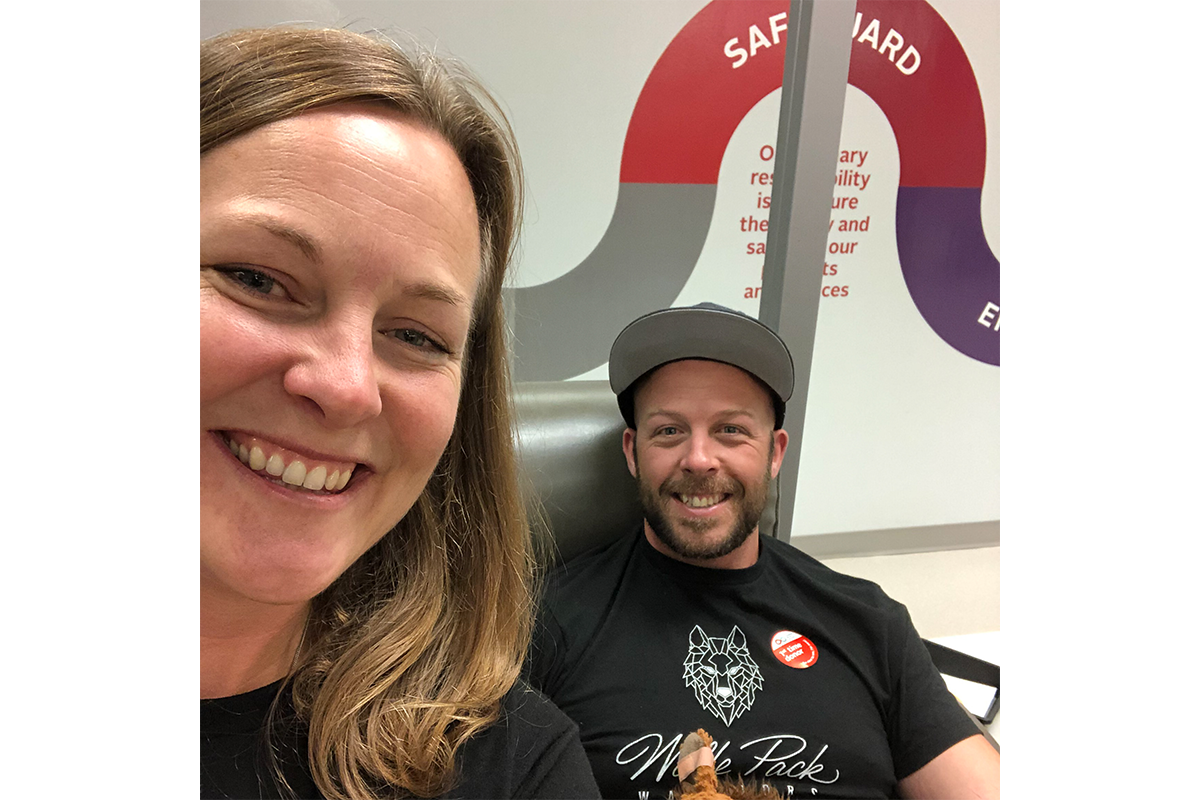 Kristy and Harrison Wolfe both donated blood for the first time in September 2019 when their son, Kane, was undergoing heart surgery at the Stollery Children's Hospital.
During Kane's second heart surgery, Kristy and Harrison donated blood for the first time. The experience led Kristy to rally the Wolfe Pack Warriors to also donate blood in support of Kane and other patients.
"We have a pretty strong team, so members from the automotive group and a couple of my friends came with me. We all wore Wolfe Pack T-shirts," says Kristy. "It was great!"
Am I eligible to donate blood?
How can I organize a group blood donation?
Kristy and the Wolfe Pack Warriors have since joined Canadian Blood Services' Partners for Life program and organized several group donations across the province.
"One of the first things we did was ask people to donate on Sept. 23, the anniversary of Kane's second heart surgery. With support from our members in Edmonton, Calgary and Canmore, we also started a Heart Day donation the week of Feb. 14 in honour of Kane."
The group now has 41 members, many with their own personal reasons for donating. Kristy encourages supporters to donate with the group or at a time that is convenient for them.
"We've had quite a few first-time donors, which is really exciting because every couple times we donate as a group, a few more people join us."
This year, The Wolfe Pack Warriors have added other blood donation events in May and December.
"We added an event in May when we realized that women could donate every 84 days," says Kristy, "and we are donating in December this year because we know that it can be difficult to fill open appointments over the Holiday Season."
The safety restrictions in place in response to COVID-19 have curtailed The Wolfe Pack Warriors' plans.
"It would be great to rally a big group at the donor centre and invite Kane to come and talk with people, but because of COVID we can only go in one at a time," says Kristy.
A message to blood donors
"We are donating because we can. Because it's something we can do. We can do it for all those kids (and adults) like Kane who require blood products due to illness, surgery or accidents." says Kristy.
"We will never be able to thank our Pack for all the support they have given our family. This is not the end of Kane's heart story. We know there will be more heart surgeries in his future and Kane will need blood products again. And we know there are countless others that need your support. Please share your heart along with us, it's in you to give."
During the season of giving, families across Canada are counting on life-saving transfusions. You can support patients by booking an appointment to donate blood. Use the GiveBlood app, book at blood.ca, or call 1 888 2 DONATE.
Organizations that partner with Canadian Blood Services also provide incredible support for patients in a range of ways, from blood donation events to fundraisers. Learn more about becoming a Partner for Life.