Sidewalk art boosts spirits and blood donations
Brittany Lewis's artwork features portraits of blood recipients in Lethbridge, Alta.
July 10, 2020
What began as a neighbourly gesture to cheer pandemic-weary residents of Lethbridge, Alta., has grown into a project that encourages people to give blood. 
"Early on in the pandemic, my husband encouraged me to do sidewalk art as a way to lift people's spirits," said Brittany Lewis, a local artist. "When people saw the quality of my work, my phone began to ring. Many people hired me to do chalk portraits for birthday parties."
Artist Brittany Lewis drew this portrait over several hours, but you can watch her finish it in 30 seconds in this time-lapse video.
One of the portraits caught the eye of a Canadian Blood Services event coordinator, Cinnamon Meldrum. Cinnamon normally spends her days organizing promotional events in and around Lethbridge to encourage blood donation. With such events cancelled due to COVID-19, she was on the lookout for other ways to attract blood donors.   
"With summer vacations looming and our bookings likely to drop off even more, I knew I had to do something," Cinnamon says. "Then I spotted one of Brittany's amazing chalk drawings while walking with my kids one evening, and a light bulb came on in my head." 
Image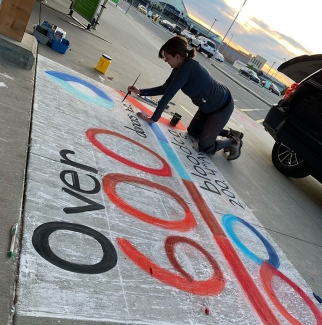 Brittany Lewis, an artist in Lethbridge, Alta., is creating a series of sidewalk chalk artworks to inspire people in her community to give blood.
A unique way to inspire blood donation 
Cinnamon got Brittany's contact information, viewed some of her artwork on Instagram and got in touch with an idea for a promotional campaign. She found local recipients of blood products who agreed to have their portraits done in sidewalk chalk. She also found local community partners willing to "host" Brittany and her artwork, and to promote blood donation on social media.   
"When I first spoke with Brittany Lewis about it, I was a little nervous," said Cinnamon, "because it sounded like such a crazy idea. But she was enthusiastic and agreed to it right away."  
Brittany earned a bachelor's degree in studio art from the University of Lethbridge and does commissioned artwork – mostly charcoal portraits – on a part-time basis. Her business, Jasmine and Charcoal, is named for her first daughter and her favourite medium.  
Throughout the month of July, Brittany will complete a series of 12 chalk drawings for Canadian Blood Services on select sidewalks across the city, promoting the need for blood donors.  
What happens when you donate blood? 
 
ABCs of blood donation eligibility 
"It's an honour to be involved in this project," said Brittany. "Not many artists get an opportunity to create something that the public walks by every day. And the fact that it's for such a good cause – donating blood – somehow takes it to a higher level." 
Image
A chalk portrait of Mason Lammers on the sidewalk of a grocery store in Lethbridge, Alta., encourages people to donate blood. The portrait was created by artist Brittany Lewis.
Portraits 'tell a bigger story' about need for blood donors 
The project is well underway. The first piece, in front of Real Canadian Superstore in Lethbridge, is a portrait of Mason Lammers, a child from nearby Coaldale who has relied on donated blood and stem cells. Other works will adorn sidewalks outside grocery stores, city parks, a movie theatre, the YMCA, an ice cream shop, a golf course and the local hospital.  
Another of Brittany's subjects was seven-year old Maryn Slovack, a girl who needed a series of blood transfusions.  
"Maryn was delighted to be featured in the drawing," says mother Abby Slovack, "although her twin sister was more than a little jealous. I'm a regular blood donor and I know that the need for blood is constant, so I'm always encouraging my friends and family to book appointments. The sidewalk art campaign is a great idea."  
Image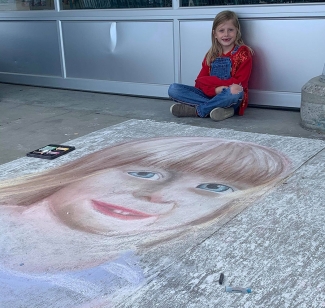 Maryn Slovack, a recipient of blood products, had her portrait drawn in chalk by artist Brittany Lewis. A series of chalk artworks is intended to promote blood donation this summer. 
Brittany, Canadian Blood Services and the hosting community partners promote each installation on social media and encourage people to join Canada's Lifeline.  
"Part of what makes the project special is that it's both simple and complex," said Brittany. "In one sense, they're just chalk drawings and will eventually fade away. But they tell a bigger story about the ongoing need for blood donors. When I drew the portrait of the seven-year old girl who relied on blood products to save her life, I couldn't help but think of my own daughter. Any one of us might need blood or a blood product someday. It's given me a new perspective and inspired me to become a blood donor."   
"The best part is that appointment bookings at the local donation centre are filling up," said Cinnamon. "The artwork has grabbed the attention of the community. They've certainly raised awareness of the need for blood donors. It's a beautiful thing."
Image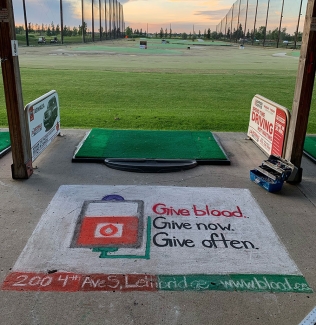 There is an immediate need for blood as demand is rising. Canadian Blood Services has more than 26,000 appointments to fill across Canada this month. Appointments are required to ensure physical distancing. To book, visit blood.ca/donate or download the GiveBlood app.