A Q&A with PhD candidate Ruqayyah Almizraq
---
Thursday, May 11, 2017
Jenny Ryan
Can you tell me a bit about yourself?
My name is Ruqayyah Almizraq. I am a graduate student at the University of Alberta sponsored by the Saudi Arabian Cultural Bureau in Canada, a recipient of a scholarship from the Government of Saudi Arabia. I did my Bachelor of Science back home in Saudi Arabia, graduated with top honours and earned the King Abdullah Scholarship. This scholarship allowed me to explore science around the world. It led me to study English here in Canada and later, in 2010, to begin my Master's degree under the supervision of Drs. Jason Acker and Jelena Holovati in the Canadian Blood Services' Centre for Innovation lab at the University of Alberta. I am now a PhD candidate once again working under Dr. Jason Acker's supervision.
Image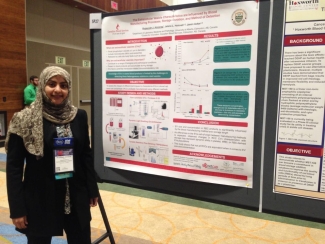 Ruqayyah Almizraq presenting research poster at the 2016 AABB annual meeting. 
Why did you decide to pursue a career in science?
I became interested in science because it is like a magic window that opens up a whole new world.
Can you describe your current research project?
My current project is looking at the role of extracellular vesicles in transfusion-related immunomodulation (also known as TRIM, which refers to an inflammatory response or a suppression of the immune system following red blood cell transfusion) and the impact of blood manufacturing and storage duration on the quality of the red blood cell concentrates.
Why is this research important? 
This research is important because the role, the mechanism, and the type of each factor or mediator that can potentially cause transfusion-related immunomodulation needs to be clarified. And, better understanding of current blood products will greatly help the development of even better products.
Our research goals are to identify strategies that could eliminate these factors that may cause poorer clinical outcomes for patients, highlight issues with blood products, and contribute to the development of better manufacturing processes, better preservation methods and improved transfusion experiences for patients.
What's next?
When we successfully identify the main causes or the triggers that leads to poor outcomes, we can then work on finding ways to eliminate those factors, which will ultimately improve the quality of the products and reduce poor outcomes for patients post transfusion.
How did you get interested in this kind of research?
I really care a lot about our patients and I believe that through research like this I can do something to help provide the best treatment for all patients. In addition, Dr. Acker's work has had a real impact on me and opened my eyes to the impact research can have. He's a great supervisor and he always motivates me…
What is a next step for you in your career?
Although I have not decided for certain yet what's comes next in my career, I would love to continue on this same path of research.
Further reading
Fostering the future in transfusion medicine
Through a variety of programs and partnerships, Canadian Blood Services provides bright and eager minds the support they need to pursue careers in transfusion science and medicine. For example, last year a Summer Research Scholarship Program supported nine undergraduate students to complete a short research project within a Canadian Blood Services research laboratory. The Graduate and Postdoctoral Fellowship Programs provides stipend or salary support to a number of junior researchers. And, the Centre for Innovation's eleven principal investigators, who have cross-appointments with academic institutions, supervise graduate trainees and post-doctoral fellows, like Ruqayyah, with funding from research grants and other ources. Learn more about some of the Centre for Innovation funding and fellowship opportunities.
---
Canadian Blood Services – Driving world-class innovation
Through discovery, development and applied research, Canadian Blood Services drives world-class innovation in blood transfusion, cellular therapy and transplantation—bringing clarity and insight to an increasingly complex healthcare future. Our dedicated research team and extended network of partners engage in exploratory and applied research to create new knowledge, inform and enhance best practices, contribute to the development of new services and technologies, and build capacity through training and collaboration.
The opinions reflected in this post are those of the author(s) and do not necessarily reflect the opinions of Canadian Blood Services.
Related blog posts
---
Thursday, April 27, 2017
Jenny Ryan
Last week, the 2017 Canadian Society for Transfusion Medicine Conference "Transfusion for All Ages" rolled into Ottawa. Each year, the CSTM presents this event in partnership with Canadian Blood Services and Héma-Québec.
---
Wednesday, June 08, 2016
Jenny Ryan
Ms. Tong is a Canadian Blood Services' graduate fellowship program award recipient working with Dr. Don Branch in his Centre for Innovation lab in Toronto. She has also been selected to participate in a highly competitive Canadian Institutes for Health Sciences (CIHR) Travel Award Summer Program in...