Join Canadian Blood Services and the Fitzpatrick family in November as we honour those who serve and have served our country.
---
In 2016, Colleen Fitzpatrick was named the 2016-2017 National Silver Cross Mother. Both Colleen and her husband Jim understand how important it is to be a blood donor and an advocate for blood donation. Their son, Corporal Darren Fitzpatrick, was fatally wounded while serving in Afghanistan. He is fondly remembered for his passion for football, snowboarding and spending time with his family and friends.
His parents credit blood donation for prolonging Darren's life, enabling him to spend his final weeks with his family before succumbing to his injuries. Colleen passionately reminds us that while blood donation often saves lives, it is equally important to recognize that blood donation prolongs lives as well.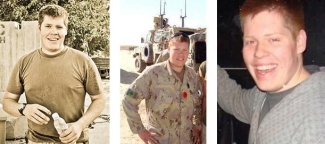 The Fitzpatrick family's story inspired the Remember the Power of Giving campaign which ran throughout western Canada. This November, Colleen and her family ask that you share Darren's story with your employees, customers and networks and inspire them to donate in his honour.
In honour of Remembrance Day, Canadian Blood Services is partnering with the Department of National Defence and KIND snacks for the month of November. This partnership will encourage Canadians to honour the women and men of the Canadian Armed Forces by donating blood or making a financial gift.