Curiosity on Stage – getting up close and personal with a real live scientist
---
Wednesday, March 14, 2018
Jenny Ryan
Curiosity on Stage is a clever new program at the Canada Science and Technology Museum. It invites visitors of all ages to learn directly from scientists and researchers. It's a wonderful opportunity for the audience to ask questions and to interact with a scientist in person. It truly provides insight into what people who are working in science and technology fields do and why that work really matters. The program is sure to inspire curious kids to consider careers in science, technology, engineering and math.
Image
A few weeks ago, our own Chief Scientist, Dr. Dana Devine, was on "display" at Canada's national science museum. We were delighted to be invited to participate.  
Dr. Devine provided the audience a brief look at the components of blood, blood types and why blood types matter, and she also spoke about blood safety.
An interactive Q&A followed: audience questions – from both adults and children – were interesting and diverse.
Alongside Dr. Devine's presentation, guests were given the opportunity to find out their blood type.
Image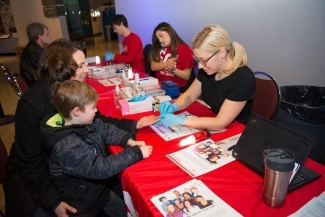 On the walls behind the blood typing tables, a primer video about blood, plasma, stem cell and organ and tissue donation played.
"What a great experience and a wonderful opportunity to convey the excitement of science to kids and to share a bit about how one gets to be a scientist. The added benefit to focusing on blood research was to be able to get the message out to both the kids and their parents about blood donation and being able to help others." ~ Dr. Devine
Image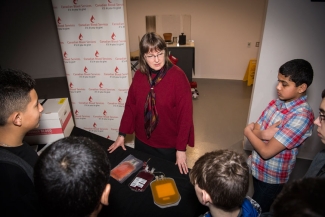 The museum is a fantastic place for hands-on learning, and real engagement with science and technology. The staff are amazing and the programming is top-notch! We hope to partner with the Canada Science and Technology Museum again sometime soon. 
"Curiosity on Stage invites you to learn directly from people working in the science and technology-related fields. Find out what they do and why it matters – and leave inspired by their stories of curiosity, overcoming obstacles, and innovation." ~ Canada Science and Technology Museum 
Photo credits:Ingenium – Canada's Museums of Science and Innovation
---
Canadian Blood Services – Driving world-class innovation
Through discovery, development and applied research, Canadian Blood Services drives world-class innovation in blood transfusion, cellular therapy and transplantation—bringing clarity and insight to an increasingly complex healthcare future. Our dedicated research team and extended network of partners engage in exploratory and applied research to create new knowledge, inform and enhance best practices, contribute to the development of new services and technologies, and build capacity through training and collaboration. Find out more about our research impact. 
The opinions reflected in this post are those of the author and do not necessarily reflect the opinions of Canadian Blood Services nor do they reflect the views of Health Canada or any other funding agency.
Related blog posts
---
Tuesday, May 16, 2017
Jenny Ryan
It's Science Odyssey Week in Canada from May 12 to 21. Enjoy 10 days of discovery and innovation across the country. Find out where activities are taking place near you. In the spirit of Science Odyssey 2017 we worked out a little hands-on experiment to try at home or in class. Ever wonder why your...