Clinical Guide to Transfusion co-editor passes the reigns after 20 years
---
Thursday, September 22, 2022
Tricia Abe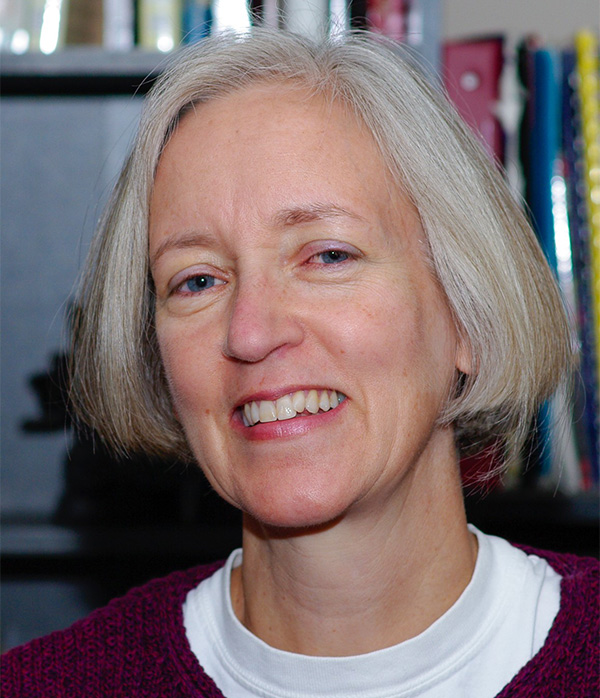 Canadian Blood Services' Clinical Guide to Transfusion co-editor Dr. Gwen Clarke is stepping back from her role after 20 years with the publication. Since 2002, Clarke has helped shape the Guide into one of the most visited resources on our professional education website, including overseeing its transition from a printed book to an online resource in 2006. Last year, the Guide's 18 chapters had over 100,000 page views combined, and its popularity keeps growing.
The Guide is a well-known resource for transfusion medicine experts in Canada—doctors who have undergone additional training that prepares them to practice all aspects of transfusion medicine, including the most complex transfusion cases.
But, according to Clarke, it is especially valuable for health-care professionals who aren't transfusion medicine specialists and are involved in some aspect of transfusion medicine: those who prescribe blood transfusions for their patients, test donor and recipient blood for compatibility, administer blood components or therapeutics derived from plasma, or develop hospital transfusion policies. "With the exception of transfusion medicine specialists, many health-care professionals don't get a lot of formal training or education in transfusion medicine; the Guide helps support their work with concise guidance that's specifically geared to a Canadian audience," she says.
Clarke, who also serves as associate medical director for laboratory services at Canadian Blood Services, says her aim for the Guide has been to provide a practical summary of current knowledge in transfusion medicine practices. "It answers basic questions about blood components and clinical transfusion practice. The authors are Canadian experts who write the chapters based on their own practice experience and focus on what they would teach trainees in their own programs," she explains. "I think this keeps the content accessible to a range of health-care professionals."
Making sure the Guide gets regularly updated to reflect changes in practice or products is an ongoing, collaborative effort between Canadian Blood Services' medical experts; the Knowledge Mobilization and Strategic Alliances team, which manages the professional education website; and hospital- and university-based experts from across Canada. "One of the reasons we are constantly engaging experts to regularly update the chapters is because the field of transfusion medicine changes over time," she says. "Our understanding of best practices evolves with the science."
As Clarke points out with some nostalgia, her work with the Guide has been a through line in her career at Canadian Blood Services. "Becoming co-editor of the Guide was one of the first roles I took on when I began working with Canadian Blood Services; it feels like the end of a chapter in my career, but I am happy to be leaving it in excellent hands."
Clarke plans to pass the co-editor reigns on to Dr. Aditi Khandelwal, Canadian Blood Services medical officer, at the beginning of October.
---
Canadian Blood Services – Driving world-class innovation
Through discovery, development and applied research, Canadian Blood Services drives world-class innovation in blood transfusion, cellular therapy and transplantation—bringing clarity and insight to an increasingly complex healthcare future. Our dedicated research team and extended network of partners engage in exploratory and applied research to create new knowledge, inform and enhance best practices, contribute to the development of new services and technologies, and build capacity through training and collaboration. Find out more about our research impact.
The opinions reflected in this post are those of the author and do not necessarily reflect the opinions of Canadian Blood Services nor do they reflect the views of Health Canada or any other funding agency.
Related blog posts
---
Tuesday, October 05, 2021
Tricia Abe
The latest evidence on managing patients with massive hemorrhage, a major cause of potentially preventable deaths, is now available in a recently updated chapter of Canadian Blood Services' Clinical Guide to Transfusion.
---
Friday, July 15, 2022
Abby Wolfe
Two chapters in Canadian Blood Services' Clinical Guide to Transfusion were recently updated to provide health-care providers with the latest guidance on treating patients with hemostatic disorders and hereditary angioedema. Both chapter updates, available on Canadian Blood Services' professional education website, were completed by a team of experts led by Dr. Man-Chiu Poon, emeritus professor of medicine, pediatrics and oncology at the University of Calgary, Cumming School of Medicine.