Canadian transfusion community converges in Ottawa for annual meeting
---
Thursday, May 04, 2017
Dr. Kendra Hodgkinson
This post was written with contributions from Dr. Miguel Neves, a post-doctoral fellow in Dr. Heyu Ni's Centre for Innovation lab at St. Michael's Hospital in Toronto.
"Transfusion For All Ages," the 2017 Canadian Society for Transfusion Medicine (CSTM) annual meeting organized in partnership between CSTM, Canadian Blood Services and Héma-Québec, was recently held in Ottawa. We've gathered a few highlights from this annual gathering that brought together hundreds of transfusion medicine professionals. Check out the CSTM 2017 Photo Gallery.
An inspiring keynote lecture by Juno award-winning musician and creativity expert David Usher encouraged the audience to push boundaries, innovate by moving out of comfort zones, explore ideas and solve problems by looking at them from different perspectives. His powerful storytelling combined with his musical talents resonated with many and made for a great 'upbeat' start to the meeting.
Image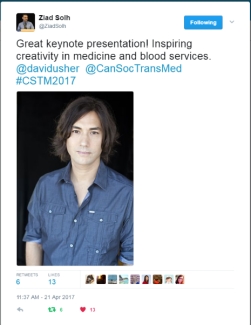 The scientific program covered topics around the efficiency of blood and blood product utilization as well as advances in new therapies. Dr. John Freedman, professor emeritus at the University of Toronto and the former director of transfusion medicine at St. Michael's Hospital, discussed the importance of patient blood management, a multidisciplinary approach to optimizing the use of blood products while ensuring optimal transfusion patient outcomes.
Dr. David Lillicrap, a professor at Queen's University and Canada Research Chair in Molecular Hemostasis, explained current challenges with Hemophilia A and took us on a fascinating tour of the latest advances in emerging therapies based on bioengineered proteins and genetic engineering.
Dr. Denis-Claude Roy, a professor at the Université de Montréal and the director of the Center of Excellence in Cellular Therapy, spoke about CellCAN and highlighted the many cellular therapies clinical trials that are ongoing in Canada. One of those trials was presented by Dr. Lauralyn McIntyre, an associate professor at the University of Ottawa and a critical care physician at the Ottawa Hospital, who is leading a study to evaluate the efficacy of using stem cells to treat septic shock. Dr. McIntyre's study is supported by the Centre for Innovation and was highlighted in an earlier blog post.
In addition to helping with planning and organizing the meeting, Canadian Blood Services staff contributed greatly to the content by moderating 12 sessions, delivering 25 invited oral presentations and abstracts, and presenting 47 posters that are published in the CSTM abstract book. Of note were the honours awarded to Dr. Jason Acker, who received the Ortho Award, and Bonnie Lewis, who won Best Abstract, which we highlighted in this blog last week.
Dr. William Sheffield moderated the session entitled "Research Highlights: Canadian Blood Services and Héma-Québec" featuring four excellent speakers including two from our Center for Innovation. Dr. Nicolas Pineault described his research with new freezing solutions that may improve the recovery of umbilical cord blood stem cells after frozen storage and thus improve engraftments in patients. Dr. Alan Lazarus discussed the current state of affairs with IVIg substitutes that, one day, may make us less dependent on IVIg, which is costly and in limited supply.
The contribution of our scientists continued onto the Selected Oral Abstracts-Scientific session where three of the six talks featured work supported by the Centre. Dr. Heyu Ni discussed the mechanisms of immune thrombocytopenia (ITP), a condition that is responsible for the use of a vast amount of IVIg. Dr. Ni's postdoctoral fellow, Dr. Miguel Neves, talked about their recent advances in the detection of antibodies involved in ITP, which could lead to more appropriate use of IVIg. Dr. William Sheffield discussed work from his group that demonstrates how early γ‐irradiation of red blood cells accelerates the red cell stress‐induced cell death, which may potentially diminish post‐transfusion clinical benefits.
Image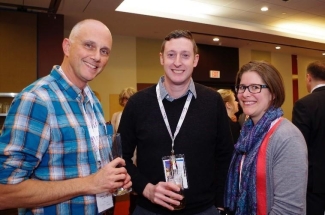 Left to right: Drs. William Sheffield, Jeff Keirnan, and Mia Golder. Photo credit: CSTM 2017 photo gallery. 
 In addition to the many opportunities to share knowledge and develop new collaborations, the Friday evening's poster session once again turned out to be a great networking opportunity along with the social events organized throughout the conference.
Image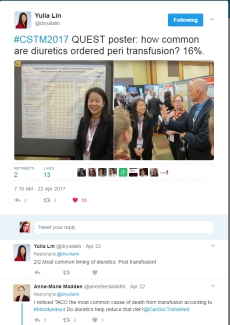 These are just a few highlights from what was a truly engaging conference program. There were so many outstanding presentations we simply don't have room to cover them all.
In June 2018, the ISBT Congress will be held in Toronto in conjunction with annual conference of the CSTM.
Further reading
Celebrating innovation at CSTM 2017
---
Canadian Blood Services – Driving world-class innovation
Through discovery, development and applied research, Canadian Blood Services drives world-class innovation in blood transfusion, cellular therapy and transplantation—bringing clarity and insight to an increasingly complex healthcare future. Our dedicated research team and extended network of partners engage in exploratory and applied research to create new knowledge, inform and enhance best practices, contribute to the development of new services and technologies, and build capacity through training and collaboration.
The opinions reflected in this post are those of the author(s) and do not necessarily reflect the opinions of Canadian Blood Services.
Related blog posts
---
Thursday, April 27, 2017
Jenny Ryan
Last week, the 2017 Canadian Society for Transfusion Medicine Conference "Transfusion for All Ages" rolled into Ottawa. Each year, the CSTM presents this event in partnership with Canadian Blood Services and Héma-Québec.
---
Friday, May 27, 2016
Dr. Geraldine Walsh
Opportunities for knowledge exchange lead to powerful meetings, new discoveries and well-deserved awards.