Canadian Blood Services' scientist recognized for his mentorship of graduate students
---
Wednesday, May 22, 2019
Dr. Geraldine Walsh
Congratulations to Canadian Blood Services' Dr. Jason Acker, who was awarded the University of Alberta Graduate Students' Association Graduate Student Supervisor Award at a ceremony on March 22, 2019. This award recognizes "those faculty members who excel in the supervision of graduate students". What makes this award even more special – Dr. Acker was nominated by one of his graduate students, Ruqayyah Almizraq. We chatted to Dr. Acker to learn more.
Image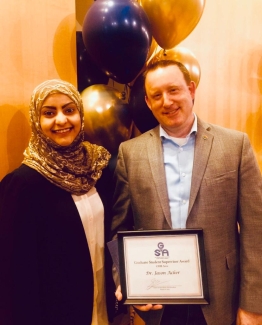 Dr. Jason Acker and Ruqayyah Almizraq at the University of Alberta Graduate Students' Association award ceremony
Q: Tell us more about this award?
"I have been very fortunate to have had the opportunity to mentor and work alongside an outstanding group of graduate students over the past 17 years that I've been at the University. While the GSA Graduate Student Supervisor Award is intended to recognize faculty who excel in the supervision of graduate students, I think this award really recognizes the environment that we create to allow students to explore and grow as researchers. At Canadian Blood Services we have been very intentional in providing our scientists and clinicians with the resources and tools to create a supportive environment for our trainees to excel in transfusion science research. This award is a testament to our pursuit of excellence in training the next generation of transfusion scientists."
Q: What makes this award so special for you?
"I am particularly humbled by this event as it was a student-nominated award presented by the Graduate Students' Association which I received. To be nominated by the graduate program would have been great, but to be nominated and selected by the students is extra special!
I do not see myself as the wise man sitting on the mountain and the students as the seekers of knowledge or wisdom. I see myself as the experienced tour guide who has been fortunate to have traveled many of the back roads and trails of an interesting scientific discipline. While I may be worldly in my travels, I am not the world's traveler and as such I do not have all of the answers nor have I come to my final destination. I enjoy traveling together with my students as I am a learner too!"
---
Canadian Blood Services – Driving world-class innovation
Through discovery, development and applied research, Canadian Blood Services drives world-class innovation in blood transfusion, cellular therapy and transplantation—bringing clarity and insight to an increasingly complex healthcare future. Our dedicated research team and extended network of partners engage in exploratory and applied research to create new knowledge, inform and enhance best practices, contribute to the development of new services and technologies, and build capacity through training and collaboration. Find out more about our research impact. 
The opinions reflected in this post are those of the author and do not necessarily reflect the opinions of Canadian Blood Services nor do they reflect the views of Health Canada or any other funding agency.
Related blog posts
---
Thursday, June 07, 2018
Dr. Kendra Hodgkinson
For this instalment of "Meet the researcher", we met with Dr. Jason Acker, a senior research scientist at Canadian Blood Services who specializes in the manufacturing and storage of blood components. "What gets me up in the morning is the knowledge that through the work of my team and my...